Pretzel recipes are easy to follow, fun to make, and they create tons of delicious snacks. If you're in the mood for something hot, look no further. Here are some of the best pretzel recipes to follow for a delicious snack:
---
1

Pretzel Bites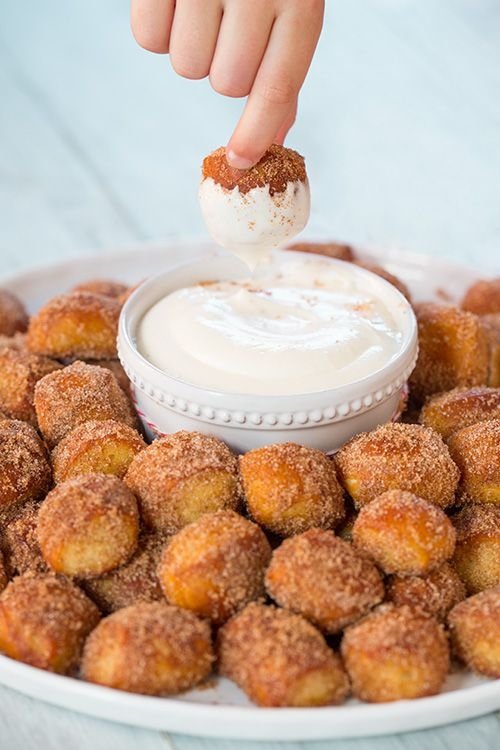 Don't go through the trouble of twisting dough into the traditional pretzel shape. You can simply make them into little bite sized pieces that are easy to pop into your mouth. This is one of the best pretzel recipes out there, because it doesn't take all that much work.
Ingredients:
1 package dry active yeast
1 1/2 cup warm water
1 tablespoon granulated sugar
4 cups all purpose flour
1/2 teaspoon salt
1 large egg
Coarse salt
1 tablespoon unsalted butter
Instructions:
Preheat oven to 425F. Combine yeast and water. Let sit for 2-3 minutes. Stir in the sugar, then add flour and salt. Stir to combine. Move dough onto flour board and knead with floured hands until smooth. Lightly beat an egg in a small bowl. Divide dough into 5 portions. Role into ropes 1-inch in diameter. Cut 1-inch lengths of dough. Drop each piece of dough into egg mixture and place on baking sheet. Sprinkle with salt. Bake for 8-10 minutes. Melt butter and spread on bites, then sprinkle with salt.
Source: bettycrocker.com
---
2

Cinnamon Sugar Soft Pretzels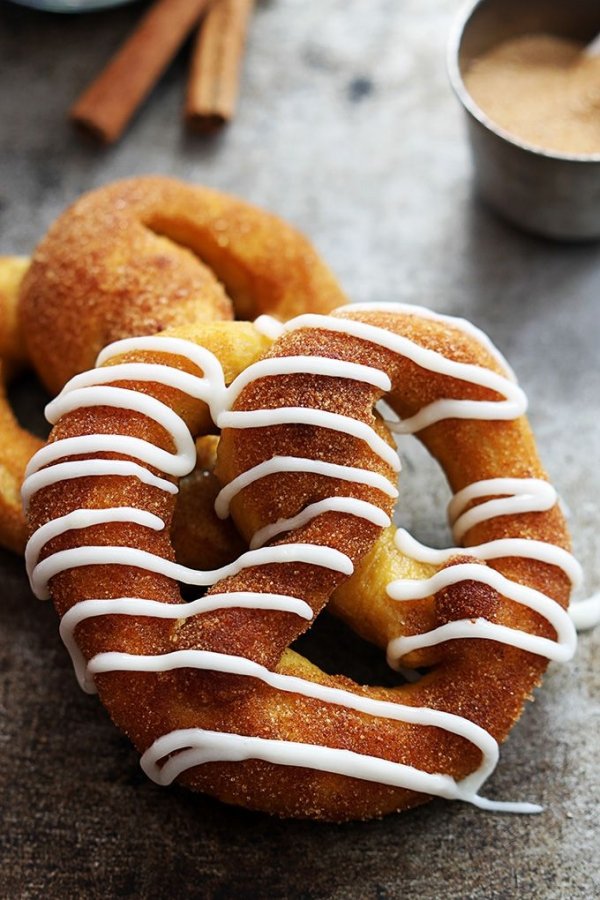 Instead of creating a normal, bland pretzel topped with salt, top it with cinnamon. It'll add a new flavor to a traditional treat.
Ingredients:
2 loaves frozen bread dough
1 quart boiling water
1/4 cup baking soda
2 cups warm water
1 stick of melted butter
1 cup granulated sugar
2 tablespoons cinnamon
Instructions:
Warm oven to 200F, then turn off. Put boiled water onto lowest oven rack. Put bread in oven, and allow to thaw and rise for 2-4 hours. Cut each loaf into 14 pieces. Mix together baking soda and water, then dip bread into solution. Bake pretzels at 425F for 7-9 minutes. Mix together sugar and cinnamon. Dip sticks into melted butter and roll in mixture.
Source: thegunnysack.com
---
3

Cocoa Pretzels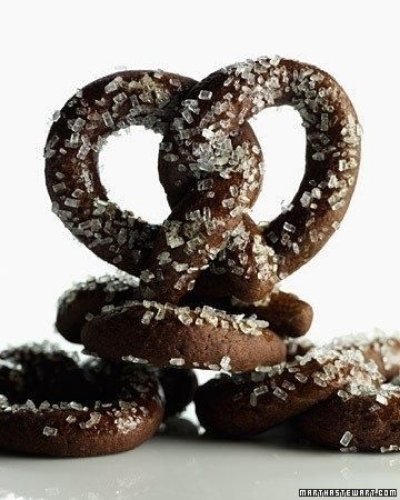 It's never a bad time for some chocolate. Instead of choosing between pretzels and chocolate, mix the two together for double the fun.
Ingredients:
1 cup sugar
4 tablespoons unsalted butter, at room temperature
1/4 teaspoon salt
1 egg
1 teaspoon pure vanilla extract
1/2 cup unsweetened cocoa powder
3/4 cup flour
Cocoa powder, for dusting
1 egg white, beaten
White nonpareils or coarse sanding sugar
Instructions:
Using an electric mixer, cream the sugar, butter, and salt together. Add egg and vanilla, and beat for 1 minute. Beat in the cocoa. Add flour. Preheat oven to 350F. Divide dough into 10 pieces and roll into balls. Twist into pretzel shapes. Brush pretzels with egg whites, sprinkle with nonpareils. Bake for 13 minutes.
Source: rachaelraymag.com
---
4

Chocolate Chip-Pretzel Cookies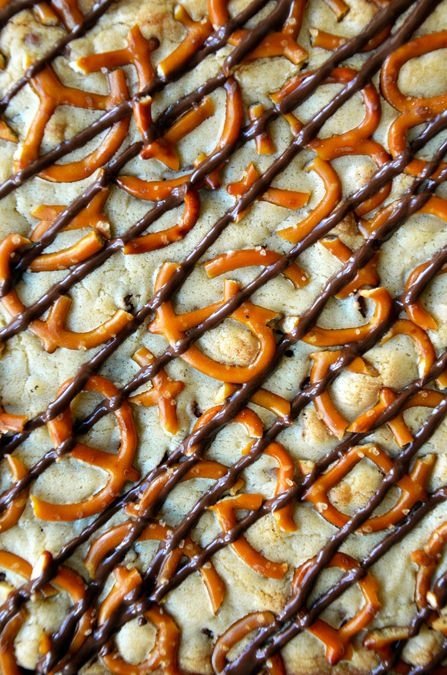 Pretzels don't have to be a snack of their own. You can put them into other desserts, instead. If you aren't in the mood for a soft pretzel, just buy a bag of them and throw them into a cookie mixture.
Ingredients:
3/4 cup butter, softened
3/4 cup granulated sugar
3/4 cup firmly packed dark brown sugar
2 large eggs
1 1/2 teaspoons vanilla extract
2 1/4 cups plus 2 Tbsp. all-purpose flour
1 teaspoon baking soda
3/4 teaspoon salt
1 1/2 (12-oz.) packages semisweet chocolate morsels
2 cups coarsely crushed pretzel sticks
Instructions:
Preheat oven to 350F. Beat butter and sugar at medium speed. Add eggs and vanilla. Combine flour, baking soda, and salt in a small bowl. Add to butter mixture. Beat in pretzel sticks and morsels. Drop by tablespoon onto baking sheet. Cook for 10-14 minutes.
Source: myrecipes.com
---
5

Salted Pretzel Caramel Brownies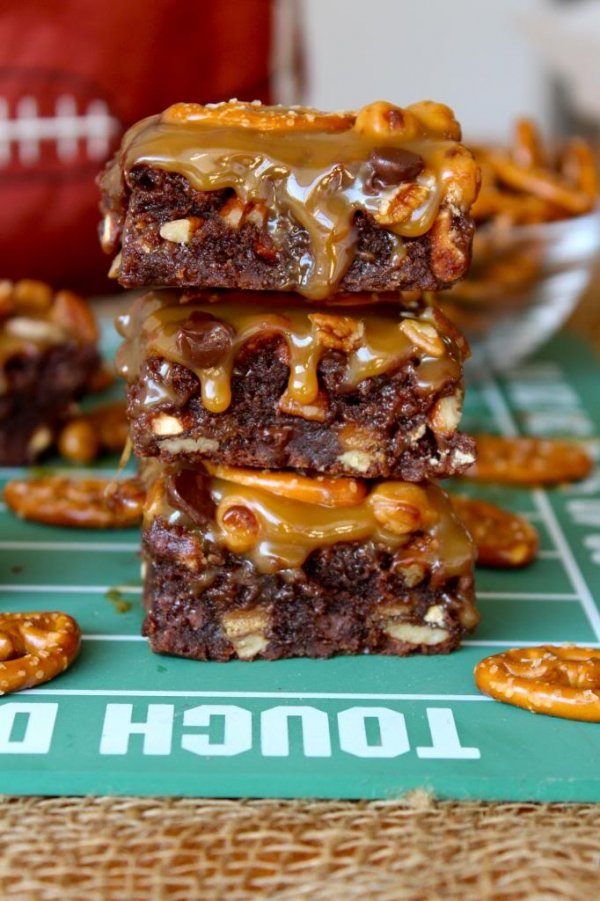 Here's another dessert to make if you're working with a bag of pretzels. Toss them into brownie batter, mix them together, and you're almost done!
Ingredients:
1 box Betty Crocker fudge brownies (for a 9x13 pan)
2 eggs
1/4 cup water
2/3 cup vegetable oil
3 cups pretzels
1 jar caramel sauce
coarse sea salt
Instructions:
Preheat oven to 350F. Prepare brownie batter and pour 1/3 into baking sheet. Add 2 even layers of pretzels. Spoon the remaining batter onto pretzels. Bake for 30 minutes. Spoon caramel sauce onto top of brownies. Sprinkle with sea salt.
Source: tablespoon.com
---
6

Mini Soft Pretzels and Dip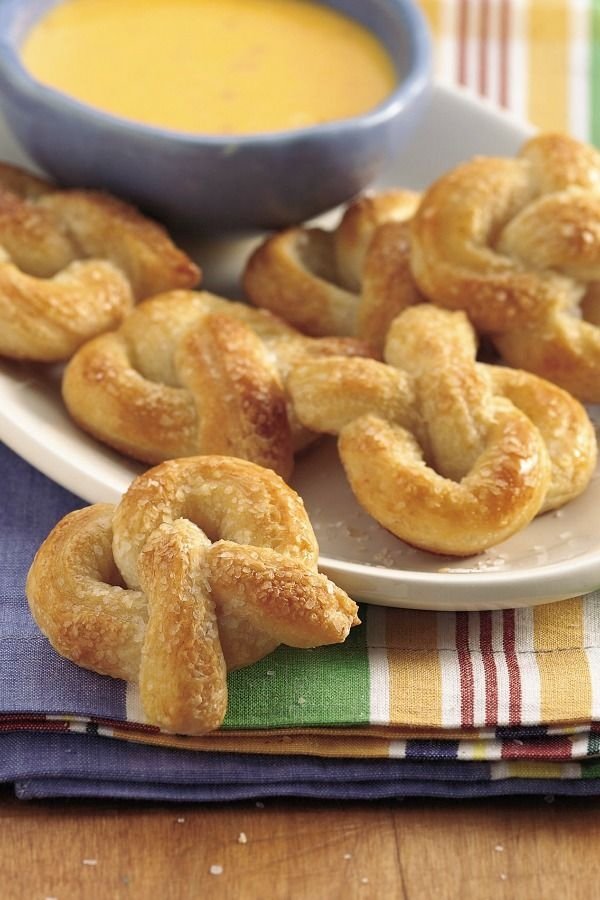 Instead of making one large, ballpark sized pretzel, make a few small ones so you can share with your friends. Next time, they might be the ones to volunteer to cook.
Ingredients:
1 can (11 oz) Pillsbury refrigerated breadsticks
1 egg, beaten
Kosher (coarse) salt, if desired
1 jar (5 oz) pasteurized process cheese spread with bacon
2 tablespoons milk
Instructions:
Heat oven to 375F. Unroll dough and separate into 12 breadsticks. Cut each in half. Roll into 10-inch long rope. Shape pretzel. Brush each one with beaten egg and sprinkle with salt. Bake for 13-15 minutes. Mix cheese spread and milk in separate bowl. Microwave on high and serve with pretzels
Source: tablespoon.com
---
7

Garlic Pretzels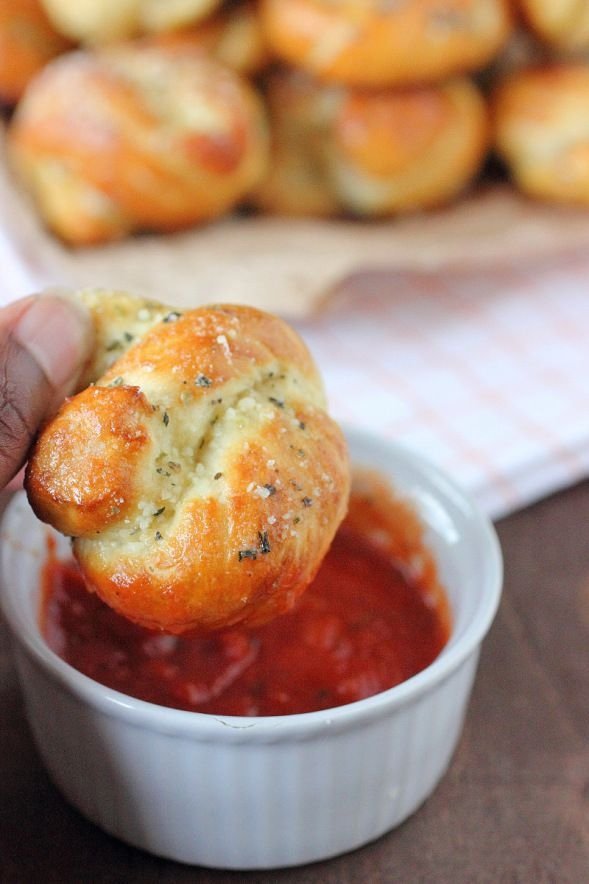 Add some spice to your food. Sprinkle your pretzels with whatever kind of topping you'd like. If you're not a fan of garlic, replace it with something more delicious.
Instruction:
1 bag of hard pretzels
3/4 cup oil
1 and 1/2 tablespoons lemon pepper
2 teaspoons garlic powder
2 teaspoons dill weed
Instructions:
Preheat oven to 200F. Break pretzels into pieces and place in a zipped-top bag. Add oil and spices. Shake well. Place on baking sheet and cook for 50 minutes.
Source: sallysbakingaddiction.com
Who knew there were so many ways to cook pretzels? With a little creativity, all kinds of recipes are possible. How do you usually eat your pretzels?
More
Popular
Recent