If you're planning a friend's party or just want a snack to get you through the night, there are ice cream cake recipes that you need to try. The concept sounds difficult, but it's actually pretty easy to do. Here are the most manageable ice cream cake recipes that are super scrumptious:
---
1

Oreo and Fudge Ice Cream Cake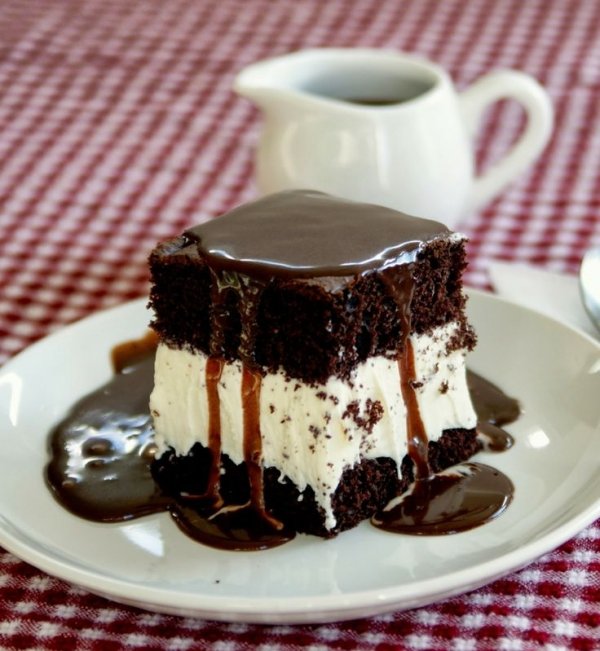 If ice cream isn't enough dessert for you, try throwing in some Oreos. I mean, you can never go wrong with chocolate. This is one of the most delicious ice cream cake recipes that you'd be a fool not to try.
Ingredients:
1/2 cup hot fudge ice cream topping, warmed
1 tub (8 oz.) Cool Whip Whipped Topping, thawed, divided
1 packet. (3.9 oz.) Jello-O Chocolate Instant Pudding
8 Oreo Cookies, chopped (about 1 cup)
12 vanilla ice cream sandwiches
Instructions:
Pour fudge into medium bowl. Whisk 1 cup of Cool Whip. Add dry pudding mix, and stir for 2 minutes. Stir in chopped cookies. Arrange 4 ice cream sandwiches onto a 24-inch sheet of foil. Top with half of Cool Whip mixture. Repeat layers. Frost top and sides with remaining Cool Whip. Bring up foil sides, and double fold top and ends. Freeze for 4 hours.
---
2

Yellow Ice Cream Cake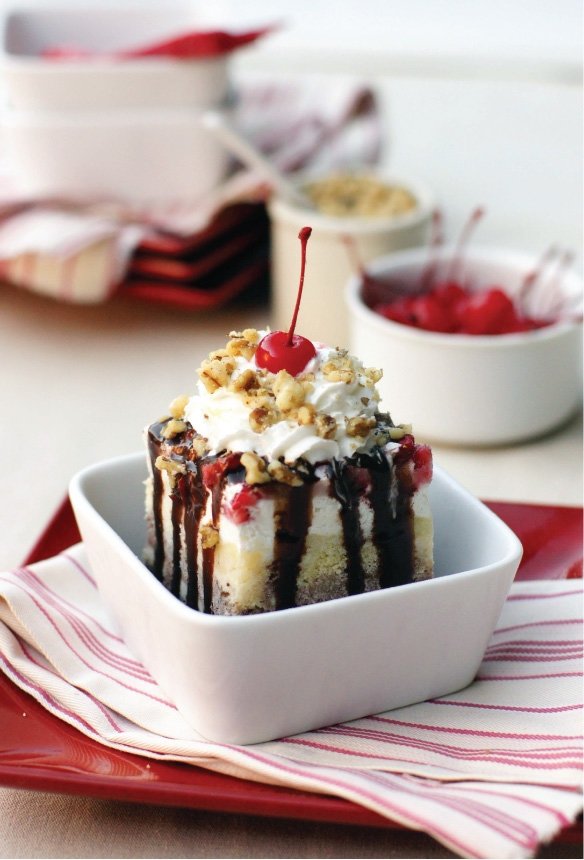 This cake may look normal, but it has some delicious treats hidden inside. Since it's homemade, no one will expect ice cream is a component. You'll shock the whole town.
Ingredients:
1 box yellow cake mix 3 large eggs 1/3 cup vegetable oil 2 quarts coffee (or any other flavor) ice cream, softened slightly
Instructions:
Turn your freezer to its highest setting. Grease two 8-inch round cake pans. Heat over to 350F. In a large mixing bowl, combine cake ingredients. Divide batter between pans. Bake, then allow to cool for 10 minutes. Spread one quart of frozen ice cream over one of the cake layers with a spatula. Place the remaining layer on top. Let harden in freezer for 1 hour. Frost the top and sides of cake with ice cream.
3

Easy Celebration Ice Cream Cake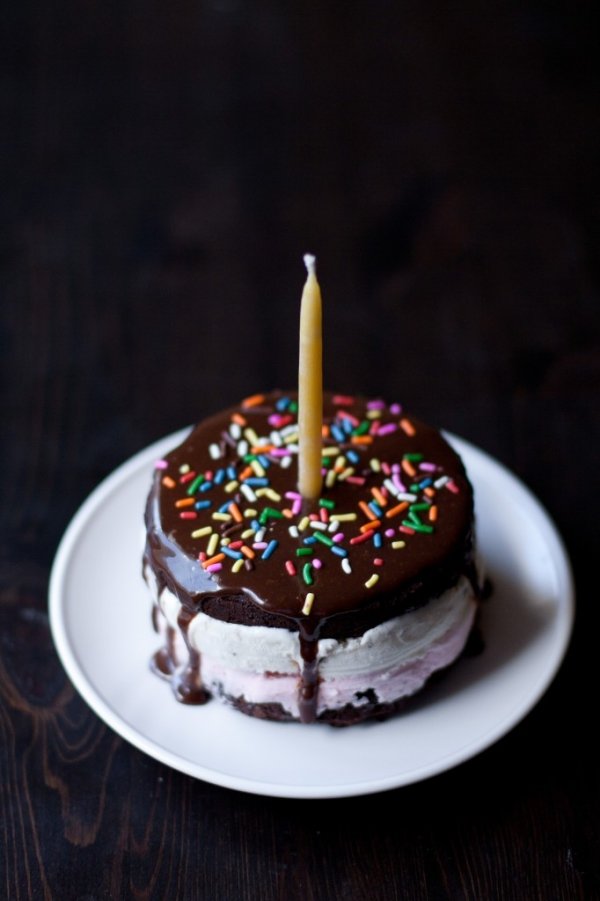 If you can't decide which ice cream flavor you're in the mood for, pick a few. You certainly shouldn't settle for one when you're itching for more. Let yourself go a little crazy.
Ingredients:
24 Oreo Cookies, divided
2 cups strawberry ice cream, softened
2 cups thawed Cool Whip Whipped Topping, divided
2 cups chocolate ice cream, softened
2 Tbsp. hot fudge ice cream topping
Instructions:
Line a 9-inch pan with plastic wrap, with ends extending over the side. Stand 14 cookies around edge of pan. Crush remaining cookies and sprinkle half over bottom of pan. Spread strawberry ice cream over crumbs. Top with Cool Whip and other half of crumbs. Cover with chocolate ice cream. Freeze for 4 hours.
---
4

Mocha Chip Ice Cream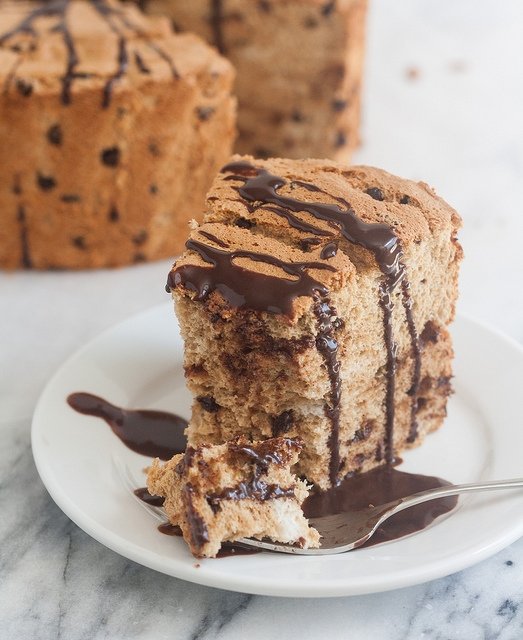 Who could resist something this delicious? You'll get hungry just thinking about creating it. Don't let your sweet tooth down, and get to work.
Ingredients:
1 pt. premium dark chocolate chunk-coffee ice cream, softened
3 sugar cones, crushed
1/3 cup chocolate fudge shell topping
1 (14-oz.) container premium chocolate-chocolate chip ice cream, softened
6 cream-filled chocolate sandwich cookies, finely crushed
Instructions:
Line pan with plastic wrap, and allow 3 inches to extend over the side. Spread chocolate-chunk coffee ice cream into pan. Sprinkle with cones and drizzle with shell topping. Freeze for 30 minutes. Spread chocolate chip ice cream over topping. Top with crushed cookies. Freeze for 4 hours.
---
5

Mint Chocolate Chip Ice-Cream Cake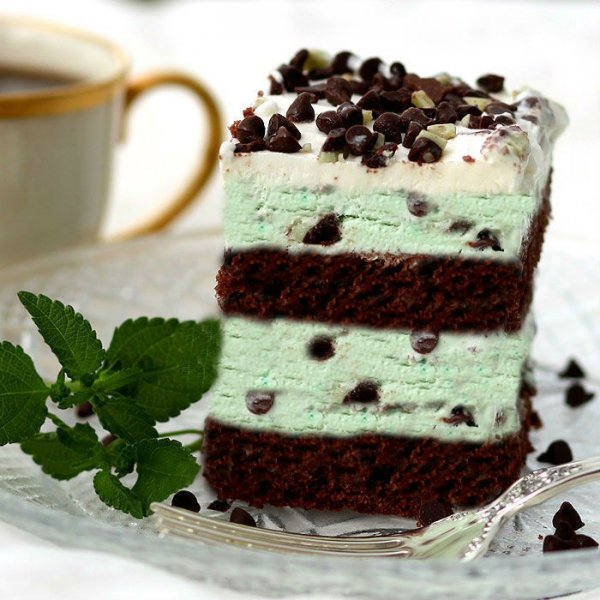 Here's a little secret--you can create this ice cream cake with whatever flavor you like the best. You're not required to stick to mint, although it is quite a good choice. It works well with chocolate.
Ingredients:
Parchment paper
Devil's Food Cake Batter
1/2 gal. mint chocolate chip ice cream, softened
10 chocolate wafers, coarsely crushed
Instructions:
Preheat over to 350F. Line 3 round cake pans with parchment paper. Prepare cake batter and spoon into pans. Bake for 14 minutes. Cool for 10 minutes. Remove from pans, peel off parchment paper, and cool for 1 hour. Place one-third of ice cream onto one layer of cake. Sprinkle with half of crushed wafers. Repeat layers once. Top with remaining cake layer and ice cream. Freeze for 10 hours.
---
6

S'mores Ice Cream Cake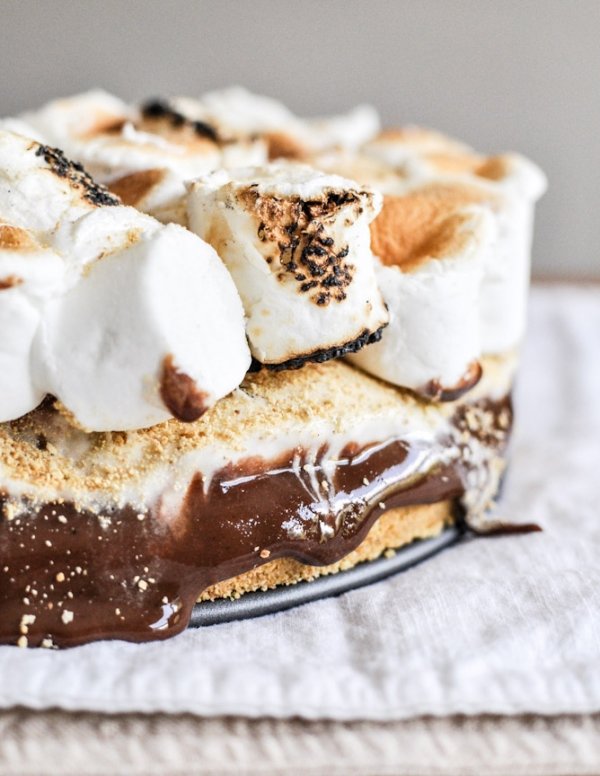 You don't need to be sitting around a campfire in order to enjoy s'mores. This tasty treat is meant to be eaten all year 'round, so don't ignore that bag of marshmallows sitting on your shelf.
Ingredients:
3 cups graham cracker crumbs
6 1/2 tablespoons unsalted butter, melted
1 (12-ounce) can evaporated milk
1 cup granulated sugar
2 ounces semi-sweet baking chocolate
4 cups toasted marshmallow, s'mores or even vanilla ice cream
1 (10 ounce) bag marshmallows, toasted
Instructions:
Combine melted butter and graham crumbs. Press into pan and place in freezer. Heat milk, sugar, and chocolate in a saucepan over medium heat. Bring to a boil, then reduce to a simmer and stir for 20 minutes. Remove and let cool for 15 minutes. Remove crust from freezer and immediately poor cooled chocolate on top. Freeze for 2 hours. Allow ice cream to soften, and spread over fudge sauce. Freeze for 2 hours. Toast marshmallows and top cake with them.
---
7

Nutella Ice Cream Cake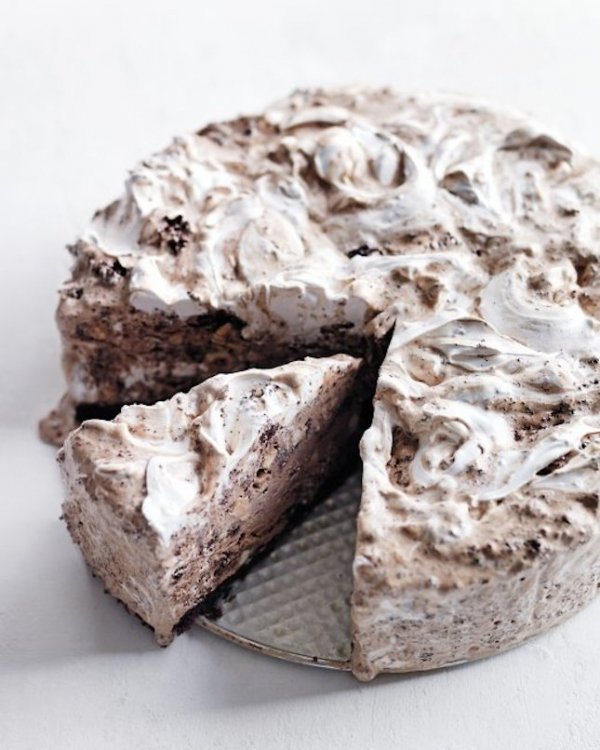 When the word 'Nutella' pops up in a recipe, you know it's bound to be delicious. You might as well prove it by whipping up this tasty treat and trying it yourself.
Ingredients:
2 cups Nutella
6 cups Rice Krispies cereal
1 gallon vanilla ice cream
Instructions:
In a large saucepan over low heat, combine Nutella and Rice Krispies. Line pan with parchment paper and pour mixture onto it. Place in freezer for 30-45 minutes. Cut into pieces with a fork and knife. Combine softened ice cream and Nutella pieces in a mixing bowl, but reserve 2 cups of Nutella pieces. Top with the reserved Nutella mixture. Freeze for 4-6 hours.
These recipes require a few hours of your time, but they'll be minutes well spent. What's your favorite type of ice cream cake?
---
Popular
Related
Recent