Though I'm not an exclusive vegan, I do avoid dairy by all means, so being a yogurt lover, I had to find vegan yogurts that satisfied my yogurt fix, while also being reasonably healthy.
What I discovered was that all vegan yogurts are different from one another, and they can be a tremendously healthy and yummy replacement for dairy yogurt. I love yogurt for the healthy amounts of probiotics it contains, along with calcium and some vitamins.
Vegan yogurts come from alternative milk sources such as coconut milk, almond milk, soy milk, and a few other sources. There are so many vegan yogurts on the market, it may seem a little overwhelming.
I generally tried to avoid those with added sugars and have found these vegan yogurts to be some of the best for taste, variety and price, along with having a decent nutritional profile. I hope you enjoy and try one in place of dairy yogurt next time you are at the store to see how you like them!
---
1

So Delicious Cultured Coconut Milk Yogurt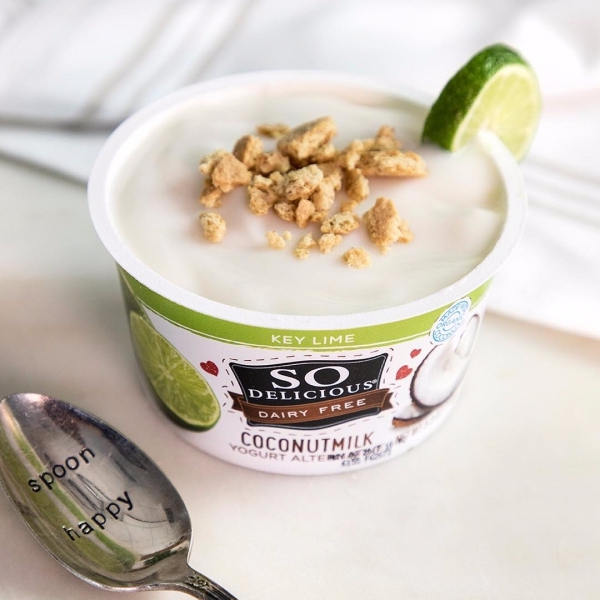 So Delicious is one of the top sources for vegan yogurts, made from sources such as coconut milk and almond milk. The brand also carries some soy products, but no yogurt to date. I especially love the plain So Delicious Cultured Coconut Milk yogurt that the brand came out with several years ago. It is a little pricey, but I've found if you buy it by the dozen at Whole Foods, they will give you a nice little discount.
Though yummy flavors are available such as vanilla and chocolate, those tend to be very high in sugar, so I try to avoid those whenever possible, and just sweeten the plain variety with some stevia myself and a little vanilla extract or cocoa powder.
I love using coconut milk yogurt in smoothies, on top of trail mix as a snack, freezing it into ice cubes and then blending to create a homemade frozen yogurt, or just diving into it with a spoon for an afternoon or morning snack.
So Delicious also offers a cultured coconut milk coconut kefir in plain, chocolate, vanilla and strawberry flavors if you are interested. I personally love the plain coconut kefir as it is exceptional in consistency, similar to dairy kefir with a slightly sweeter taste. Both the coconut milk yogurt and kefir are gluten-free, dairy-free, vegan, soy-free, organic and non GMO.
2

Amande Cultured Almond Milk Yogurt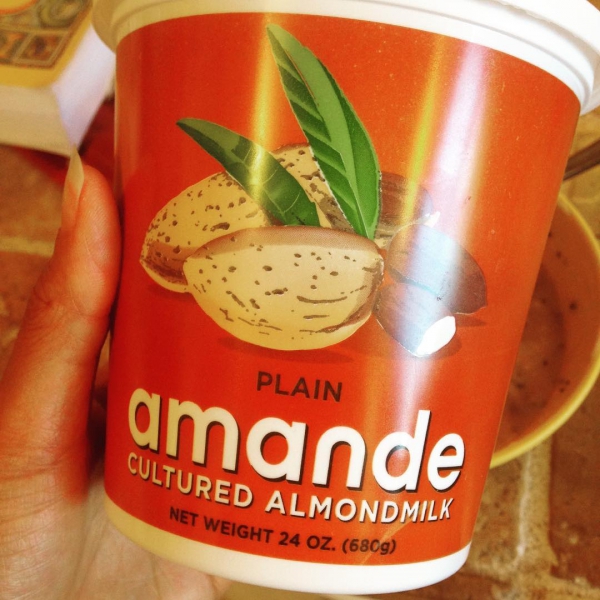 This is a great almond milk yogurt variety if you're looking to eat yogurt made from almond milk. I love that this isn't thin or watery, which many almond milk varieties can be. The plain variety is also only sweetened with fruit juice, and not from refined sugars.
The Amande brand offers 8 flavors and offers a 6 ounce size, along with 24 ounce size container.
All Amande yogurts are gluten-free, vegan, soy-free and contain no GMOs. You can find this brand at Whole Foods and select retailers nationwide.
---
3

So Delicious Cultured Coconut Milk Greek Style Yogurt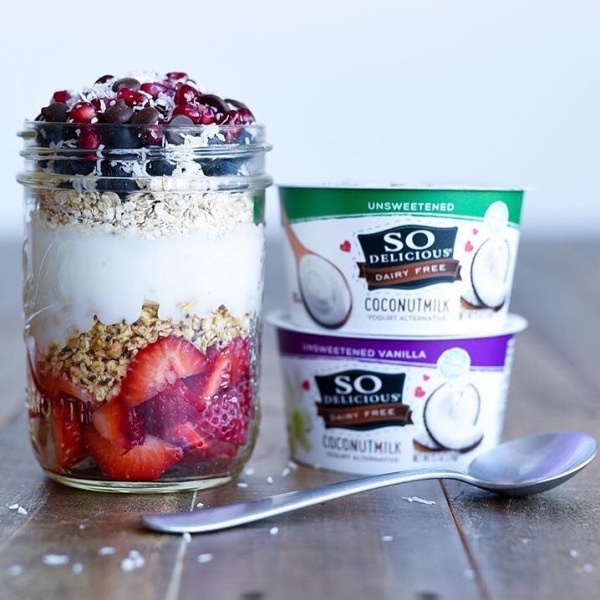 This yogurt is nutritionally similar to the original yogurt by the brand, but is designed to have the same texture as dairy sourced Greek yogurt, which offers a thicker consistency.
This Greek style yogurt was made available by So Delicious a couple years ago, and is extremely tasty. Again, the plain variety will be the lowest in sugar, and the smartest choice nutritionally. If you're not concerned with your sugar intake, however, choose whatever flavors you like.
Note, this Greek yogurt is not high in protein like dairy Greek yogurt, but it is very high in fiber, which can keep you full longer. This yogurt is gluten-free, dairy-free, vegan, soy-free, organic and non GMO.
---
4

Almond Dream Almond Yogurt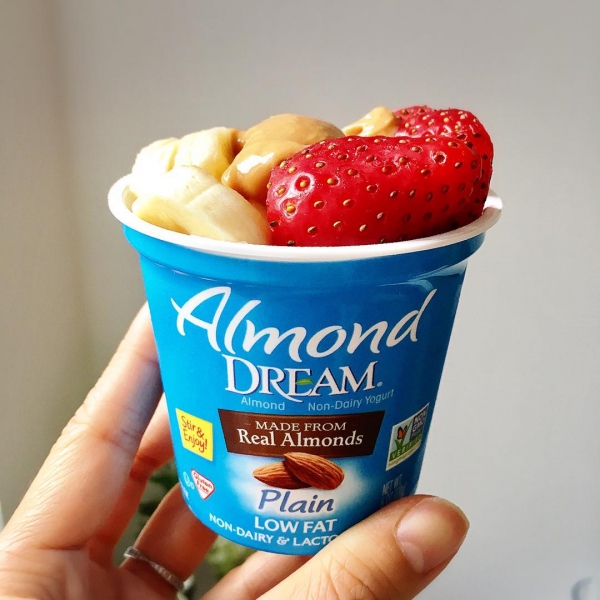 Almond Dream milk has been on the market for some time, and the unsweetened was always one of my favorites, as it contains many vitamins and nutrients. Now, the brand offers an almond milk yogurt, which comes in different flavors including plain, mixed berry, strawberry, vanilla, and coconut.
The plain is lowest in sugar, though all varieties do include evaporated cane juice, a concentrated source of sugar. Nonetheless, this is a great alternative to dairy yogurt if you don't like dairy yogurt, and is low in fat and high in calcium, along with many strains of probiotics.
This brand is also non-GMO, and gluten-free.
---
5

Whole Soy and Co. Soy Yogurt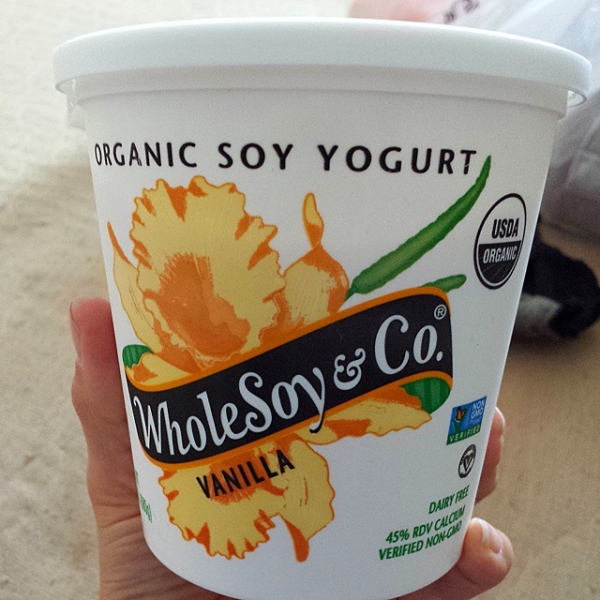 I am extremely impressed with this soy based yogurt. I typically avoid soy, since it often contains GMO, or is non-organic, however this brand takes care of all those worries.
Whole Soy and Co. soy yogurt is GMO-free, gluten-free, vegan, USDA certified organic, and comes in a variety of flavors, sure to please about anyone.
It is high in protein, healthy fats, and the sugar content in most of the flavors compares similarly to other brands mentioned in this article.
An unsweetened variety is offered in a 24 ounce size, which is nice, compared to other brands that don't offer unsweetened varieties. All varieties are high in multiple probiotic strains, which make it excellent for your immunity and digestion.
These soy yogurts also contain good amounts of fiber, calcium, and are lower in sodium than other brands.
---
6

So Delicious Cultured Greek Style Almond Milk Yogurt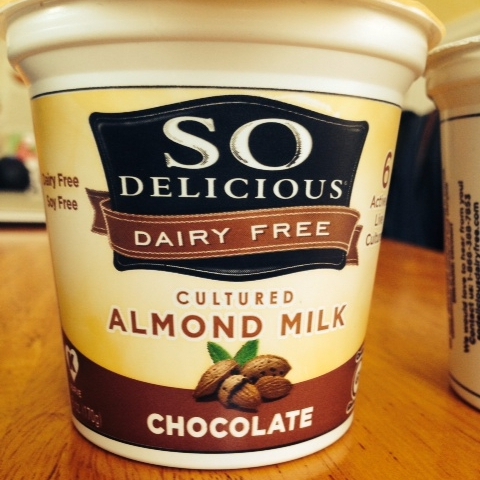 Once again, this brand is excellent for providing a quality non-dairy yogurt variety, especially in this form, which is an almond milk variety.
For those looking to avoid the saturated fats in coconut, which are actually pretty healthy for you, or who just prefer the taste of almond milk versus coconut milk, this yogurt is for you!
It is relatively low in saturated fat, slightly higher in protein than the coconut variety, and contains about the same amounts of sugar as the coconut milk Greek yogurt variety by the brand. It comes in plain, blueberry, chocolate, vanilla and strawberry flavors. I, of course, like the plain variety for less sugar and more fiber per container.
This yogurt is gluten-free, dairy-free, vegan, soy-free, organic and non GMO. These yogurts, along with all other So Delicious varieties, are available at Whole Foods, and select retailers nationwide.
---
7

Silk Soy Yogurt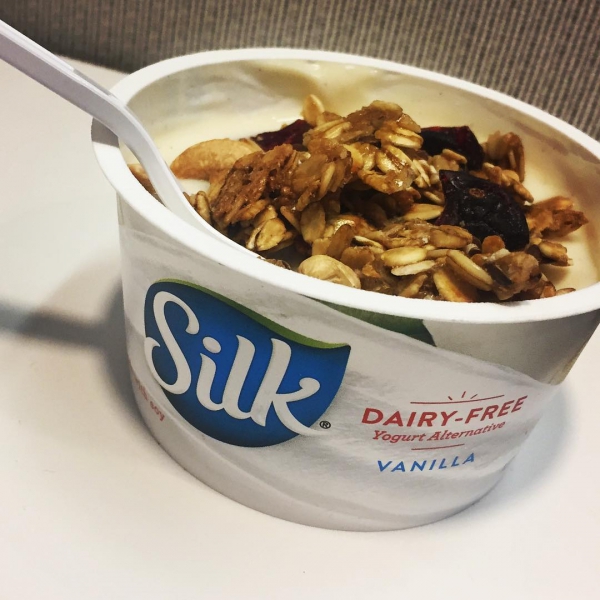 Silk soy yogurt is a mainstream in the world of vegan yogurts, and with good reason. Their unsweetened vanilla almond milk is by far the best tasting almond milk, in my opinion, and the only shelf stable non-dairy milk I will buy.
Their soy yogurt has been popular with vegans for years, and they have now redone their yogurts to create fruity and creamy varieties. The flavors come in blueberry, mango and strawberry, and are relatively low in fat, high in protein, though they are slightly higher in sugar. A plain variety isn't offered.
I do love that Silk only uses the best ingredients, including non-GMO soybeans and almonds, contains no gluten, dairy or MSG, and all of their dairy alternative products are high in calcium and potassium.
---
8

Stonyfield O'soy Yogurt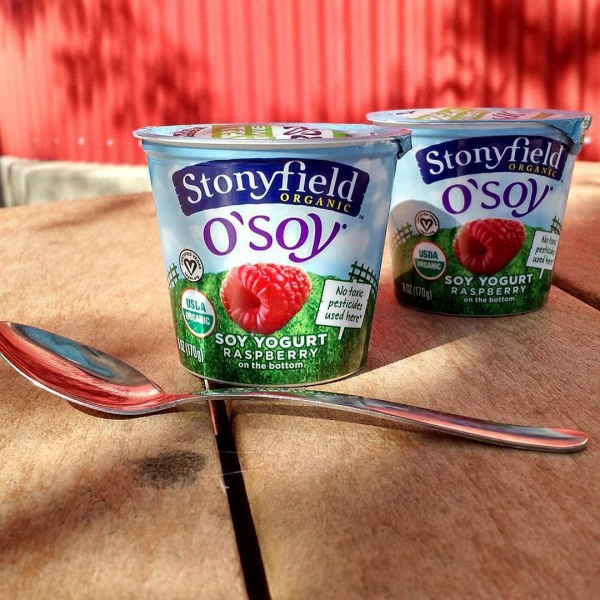 Soy milk is the obvious choice for most vegans and this soy yogurt really can't be beat. It has a smooth and silky texture and a flavor that rivals any cow's milk yogurt.
The yogurt is gluten-free, non-GMO, vegan and USDA certified organic so it's definitely something you can eat without any guilt. There is no saturated fat and plenty of protein in this choice as well, though it's a bit higher in sugar than some other choices so be sure to balance it with your other choices.
Stonyfield O'Soy yogurt comes in strawberry, blueberry, raspberry and vanilla, so you have plenty of choices when it comes to great flavor.
---
9

Daiya Greek Yogurt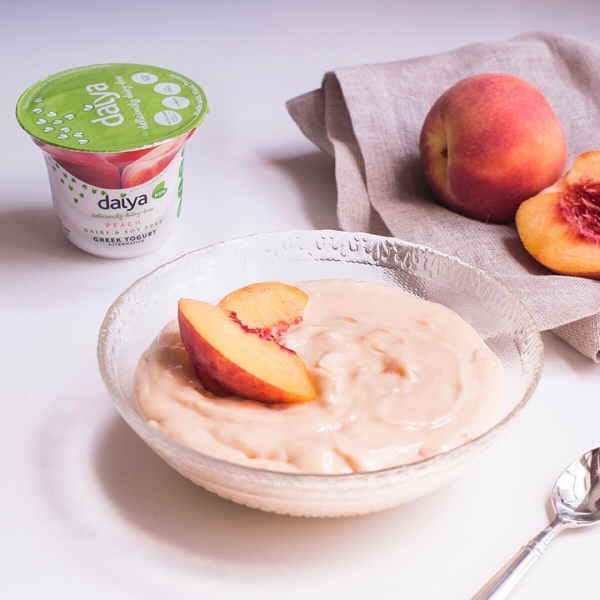 Daiya is a brand that makes a wide range of dairy free foods for vegans to enjoy. Luckily, you won't have to give up great taste because the yogurt from Daiya tastes wonderful and has that silky texture you crave so much.
This Greek style vegan yogurt is packed with protein and other vitamins and minerals. It's also got live active cultures, which are great for gut health and plenty of flavor to keep you from being disappointed.
Look for all of your favorite yogurt flavors, including plain, peach, blueberry, strawberry, black cherry and vanilla. You're going to love all the great taste and ingredients that go into each cup of Daiya Greek yogurt.
---
10

Forager Project Cashewgurt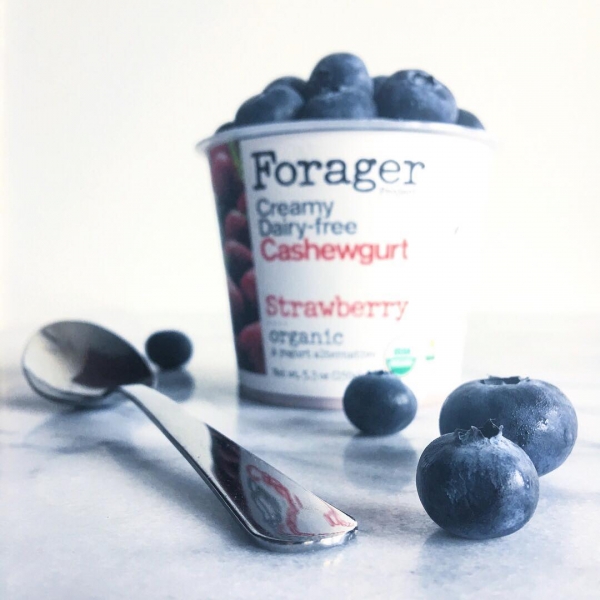 Made from cashews, this is a creamy, dairy-free yogurt alternative that's perfect for anyone, vegan or otherwise. Each cup is made with organic, plant-based ingredients that will please your palate and your lifestyle.
Cashewgurt is packed with probiotics and a creamy cashew goodness you won't find anywhere else. The yogurt has a wide range of nutrients and is low in saturated fat, making it a healthy choice for just about anyone.
Enjoy a wide range of flavors that include lemon, vanilla, strawberry, cherry, blueberry, plain and coconut. The yogurt is also kosher and gluten-free so you can really feel great about each spoonful.
---
11

COYO YOgurt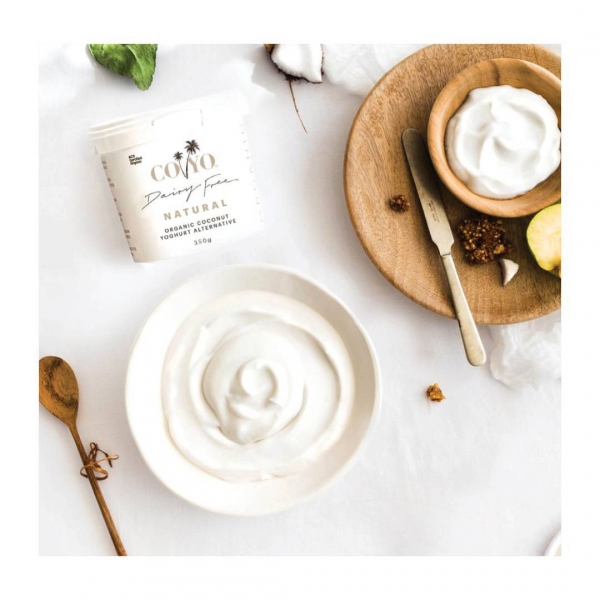 This is a dairy free coconut yogurt that you are going to adore. It's made from the squeezed flesh of the coconut fruit, giving it a wonderful flavor and loads of health benefits.
COYO yogurt is free of added sugars and preservatives and has a healthy mix of probiotics added to ensure gut health. It has a delicious velvety texture and is low in sugar, making it a clear choice for the vegan lifestyle.
If exotic flavors is what you want, you will find them with COYO yogurt. Choose from such delightful choices as mixed berry, mango, plain and chocolate.
If you're looking to incorporate yogurt into your diet without eating dairy yogurt, these are some excellent yogurts to start with. There are several others on the market, however, that you can try, so be sure to pick one that meets your needs nutritionally and in taste. I would love to hear your favorite vegan yogurts, so please share them with me!
This article was written in collaboration with editor Eliza Martinez
---
Comments
Popular
Related
Recent