7 Potato Salad Recipes to Try Right Away ...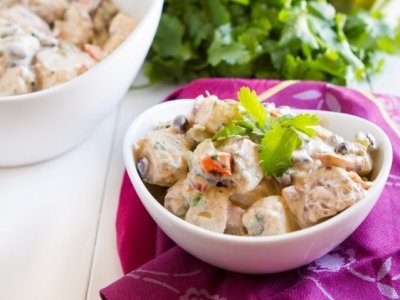 Maybe you only pull out your potato salad recipes when it's summer and you're headed to a picnic. But, potato salad is great any time of year and since it's so easy to make, you can have it for dinner or lunch whenever the mood strikes. If you've never made potato salad or are looking for new ideas, check out these potato salad recipes and get started today.
1.

Texas Ranch Potato Salad
If you want something new, this is a great choice to add to your rotation. It's also one of the easiest potato salad recipes out there. The unique flavor of the ranch dressing in combination to the usual mayo will have friends and family wondering what your secret is.
Ingredients:
1 ounce packaged ranch dressing mix
2 cups mayonnaise
¾ cup chopped green onion
1 pound bacon slices
5 pounds unpeeled red potatoes
Directions:
Bring a large pot of water to a boil. Cook the potatoes in the water for about 15 minutes, or until soft. Drain the potatoes, cool under cold water and cut into bite-size chunks. Cover and chill for 2 hours. In a bowl, mix the ranch dressing, mayonnaise and the green onions. Cover and refrigerate for about 2 hours. Cook the bacon until crisp and crumble. Stir the mayonnaise mixture into the potato mixture, then add the bacon and stir gently to combine.
Source: allrecipes.com
2.

Green Bean and Potato Salad
Potatoes contain a wealth of nutrients all on their own, but if you toss some crisp green beans into your next batch of potato salad, you increase the health factor by degrees. Plus, the flavor of green beans pairs so well with potatoes.
Ingredients:
1/3 pound thin green beans, trimmed and cut into thirds
2 pounds small Yukon potatoes, quartered
3 tablespoons extra virgin olive oil, plus more for drizzling
3 to 4 slices bacon, finely chopped
2 large shallots, finely chopped
1 small red Fresno chile, seeded and finely chopped
3 tablespoons cider vinegar
1 tablespoon sugar
¼ cup chicken stock
¼ cup chopped flat-leaf parsley
Freshly ground black pepper
Directions:
Blanch the green beans for 3 to 4 minutes in boiling water. Remove the beans from the water, rinse and set aside. Add the potatoes to the water and boil for about 12 minutes, or until tender. Heat a drizzle of olive oil in a large skillet and cook the bacon over medium-high heat until crisp, then add the shallots and the chile. Cook for about 2 minutes, then add the vinegar, sugar and chicken stock. Drain the potatoes, but leave them in the pot. Add the bacon mixture and toss to combine. Add the green beans, parsley, black pepper and olive oil and stir well.
Source: foodnetwork.com
3.

Lemon Garlic Potato Salad
The lemon in this recipe gives the salad a super refreshing flavor unlike any you've ever tasted. Without mayo, the salad is light and flavorful and the addition of sweet potatoes gives is loads of good taste and lots of extra nutrition. Could you ask for more?
Ingredients:
1 ½ pounds Yukon gold potatoes
1 ½ pounds sweet potatoes
2/3 cup olive oil
2 teaspoons lemon zest
¼ cup fresh lemon juice
3 garlic cloves, minced
1 tablespoon Dijon mustard
1 teaspoon salt
¾ teaspoon black pepper
½ cup chopped and lightly salted roasted pecans
¼ cup chopped fresh basil
Directions:
Cook the potatoes in boiling water for about 30 minutes, or until they're soft. Drain and cool. In a bowl, mix together the olive oil, lemon zest, lemon juice, garlic, mustard, salt and pepper and let stand for 30 minutes. Peel the potatoes and cut into slices. Put the potatoes in a baking dish in rows, alternating the sweet potatoes with the regular potatoes. Pour the olive oil on the potatoes and top with the pecans and basil just before serving.
Source: myrecipes.com
I love shrimp, so incorporating it into potato salad is genius! If you're the same, this recipe is sure to become your favorite. The shrimp pairs well with the creamy texture of the potatoes and makes a simple recipe taste really decadent without any extra effort.
Ingredients:
1 pound cooked medium shrimp, peeled and deveined
2 tablespoons lemon juice
4 cups cubed, peeled potatoes, cooked and cooled
¼ cup sliced green onions
¼ cup minced fresh parsley
1 cup sour cream
1 teaspoon salt
¼ teaspoon white pepper
¼ teaspoon dried tarragon
¼ teaspoon ground mustard
1/8 teaspoon celery seed
1 garlic clove, minced
Directions:
Toss the shrimp with the lemon juice and refrigerate. Add the potatoes, onions and parsley. In another bowl, mix together the sour cream, salt, pepper, tarragon, mustard, celery seed and garlic. Add the sour cream mixture to the potatoes and mix to serve. Chill before serving.
Source: tasteofhome.com
If you're watching your weight, this is the potato salad recipe for you. It cuts calories and fat grams so you can eat it guilt free. Don't worry – it still tastes great so you won't feel deprived at all.
Ingredients:
3 pounds Yukon gold potatoes, peeled and cut into chunks
1 ¼ teaspoons salt
¼ tablespoon coarse black pepper
¾ cup buttermilk
¼ cup light mayonnaise
2 tablespoons fresh snipped dill
2 tablespoons cider vinegar
1 tablespoon Dijon mustard
2 green onions, thinly sliced
Directions:
Place the potatoes and salt in a large pot and cover with water. Bring to a boil, then simmer for about 10 minutes, or until the potatoes are tender. In an bowl, stir together the buttermilk, mayonnaise, dill, vinegar, mustard, green onions and a ¼ teaspoon each salt and pepper. Drain the potatoes and toss with the buttermilk mixture to coat. Refrigerate at least 2 hours before serving.
Source: delish.com
6.

Mesa Grill Potato Salad
I'm a Bobby Flay fan, so this potato salad is perfect for me. It comes courtesy of his famous restaurant so you know it's going to be the most delicious potato salad you've ever tasted. Whip up a batch and let me know what you think.
Ingredients:
3 pounds new potatoes
Kosher salt
1 cup prepared mayonnaise
2 tablespoons Dijon mustard
2 tablespoons fresh lime juice
2 tablespoons ancho chili powder
½ teaspoon cayenne pepper
Freshly ground black pepper
3 scallions, chopped
1 large ripe beefsteak tomato, seeded and chopped
1 jalapeno, finely diced
1 medium red onion, halved and thinly sliced
4 cloves garlic, finely chopped
1/3 cup freshly chopped fresh cilantro leaves
Directions:
Put the potatoes in a pot and cover with water. Add a tablespoon of salt and boil over high heat for about 15 minutes. Drain, cool and cut into ¼-inch thick slices. Mix the remaining ingredients in a bowl and then pour the combination over the potatoes and toss well to coat. Mash the potatoes slightly as you mix. Season to taste with salt and pepper before serving.
Source: foodnetwork.com
7.

Dilled Potato Salad with Feta
Feta is something you find in any old bowl of potato salad. This recipe combines the strong flavor of the feta with dill for a potato salad you'll want to eat again and again.
Ingredients:
2 pounds small red potatoes, unpeeled
1/3 cup red wine vinegar
1/3 cup vegetable oil
3 tablespoons fresh chopped dill
½ to 1 teaspoon salt
½ teaspoon pepper
1 large red bell pepper, chopped
1 cucumber, cut in half lengthwise and sliced
½ cup sliced green onions
4 ounces crumbled feta cheese
Directions:
Boil the potatoes for about 30 minutes, until tender. Cool and cut into quarters. Whisk the vinegar with the oil, dill, salt and pepper. Pour the mixture over the potatoes. Add the bell pepper, cucumber and green onions and stir to combine. Add the cheese, stir again and chill before serving.
Source: myrecipes.com
Don't you just love potato salad? Are you a classic recipe girl or do you like to try new things?
{{#comments_count}} Show Commnents ({{comments_count}}) {{/comments_count}}