Sinful and Super-Fresh Granitas All the Cool Girls Are Eating This Summer 🍧❄️ ...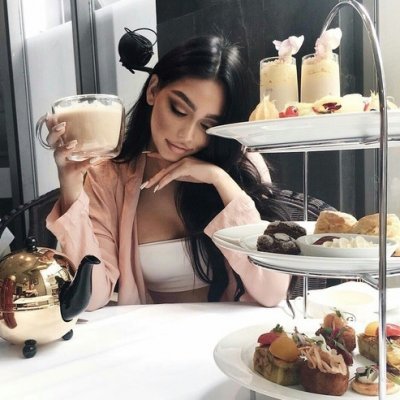 When you don't want a smooth creamy ice cream and a frozen lolly just doesn't cut it, what can satisfy that craving for something cool and delicious? How about a granita? Granita is a frozen treat that's easy to make at home. By scraping a liquid mixture as it freezes, you produce a crystalline structure that is light and airy. The grown-up slushie is a true delight in summer and they're easy to make. I've got a selection of seriously sinful granitas (with alcohol) and fruity and refreshing granitas (sans alcohol) that will make you want to get into the kitchen right away.
1.

Kicked-up Coffee Granita with Baileys and Kahlua
I had to kick off with my favorite. I'm an odd-bod when it comes to coffee. I love a latte but I much prefer iced coffees to hot coffees. And this comes with Baileys and Kahlua. I'm in coffee and liquor heaven.
2.

Elderflower & Cherry Granita
If you have every tried a cocktail that has had elderflower liqueur as one of the ingredients, then you will know exactly just how amazing this granita is going to taste! The unusual combination makes for a more innovative summer treat than some of the more traditional fruity flavors.
Let's be real, whether it is white or red or pink, sangria is always an amazing summer treat to share with your friends and family. Adding the delicate flavor of peach to the equation is only going to do one thing, make it even more irresistible than it was before! I'm whisked back off to the hot spanish beaches of my youth!
4.

Raspberry & Cranberry Granita
Not only is raspberry and cranberry a perfect match in terms of their rich colors, but blended together for this granite recipe they become a match made in flavor heaven as well! There is something about the deep red that screams summer to me.
If you are looking for something a little bit different to the fruity flavors that the majority of granitas tend to have, then look no further than this sensational fresh herb recipe. It proves to be the perfect combination of sweet and savory and makes for an unbelievable dessert after a summer BBQ or cook out.
If you want to try to make something that has a bit more drama and personality about it than a more traditional granita, then this dragon fruit recipe might be the one for you. Not only does dragon fruit have a unique distinctive flavor, it also has more dramatic and unusual look when you bring out the finished product.
One for all you southern gals whose summer is incomplete without a mint julep. The classic bourbon and crème de menthe combination is one of the tastiest ways to get your granite hit on a sunny day.
8.

Lemon Champagne Granita
If you want to keep things classy and traditional, then nothing screams sophistication more than champagne! The champagne mixed with lemon and presented in a traditional champagne glass makes for an amazing after dinner treat for all of your guests. Perfect for something like a summer bridal shower!
This particular recipe seems to be the perfect remedy for those hot summer days when you need to stay hydrated but want something more fun and more exciting that a glass of fruit juice or a glass of water. The combination of watermelon and grapefruit will fill you with all the hydrating goodness that you need!
10.

Grapefruit and Campari Granita
Are you one of those who has a stray bottle of Campari in the liquor cabinet? Why is that? It's so 70s but few of us can resist that jewel-like color and its perfect for cocktails (ha - cocktails that contain Campari!) Well here's a way to use some of it up. So pretty and so refreshing.
11.

Lychee and Lime Granita
Give your granita experience something of an Asian twist by mixing up this amazing lychee and lime-based recipe. The Asian and tropical flavors mixed together make for a really memorable and moreish summer treat. (Try it with a hint of fresh grated ginger – it's so zingy and yummy)
{{#comments_count}} Show Commnents ({{comments_count}}) {{/comments_count}}