Squash blossom recipes aren't something you can find just anywhere, but when you do stumble across one, you'll be so happy you did. This is the best time of year to find squash blossoms, especially if you have a garden of your own. There are so many easy and delicious ways to prepare them so you can take your pick. Check out these squash blossom recipes to get yourself started and don't forget to let me know how they turn out.
---
1

Stuffed Squash Blossoms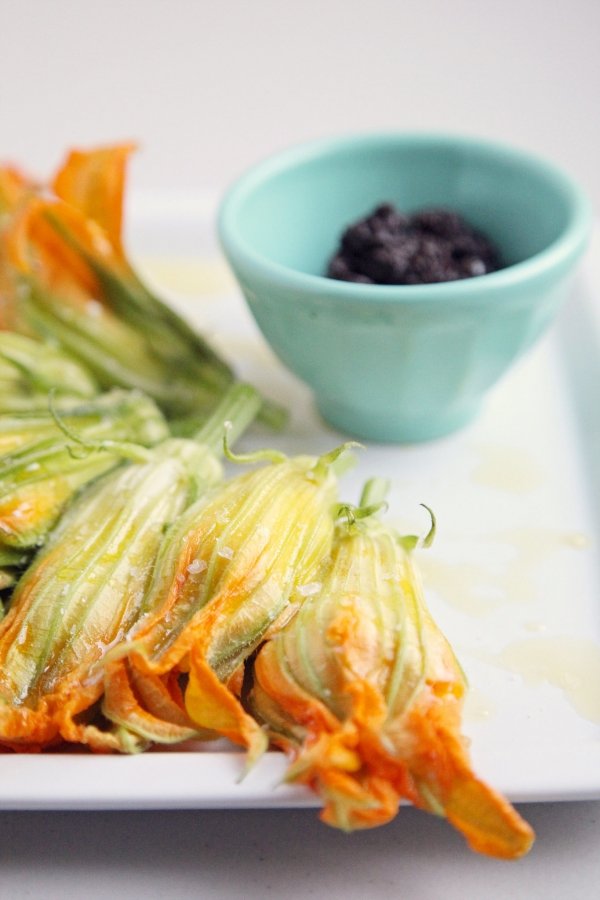 This is one of my favorite squash blossom recipes because it's super easy to execute and tastes wonderful at the same time. The filling is the perfect blend of ingredients that pair perfectly with the flavor of the blossom.
Ingredients:
2 cups oil
2 cups ricotta cheese, at room temperature
1 tablespoon chopped parsley
1 tablespoon chopped basil
1 large beaten eggs
1 cup flour
6 squash blossoms, cleaned and trimmed
Salt and pepper
Directions:
Heat the oil to 350 degrees. Mix the herbs with the ricotta cheese and season to taste with salt and pepper. Place in a pastry bag and set aside. Put the eggs in one bowl and the flour in another bowl. Fill each blossom with an even amount of the ricotta mixture. Dredge the blossoms in the egg and the flour, then fry until golden brown all over.
Source: tastykitchen.com
---
2

Roasted Squash Blossoms with Goat Cheese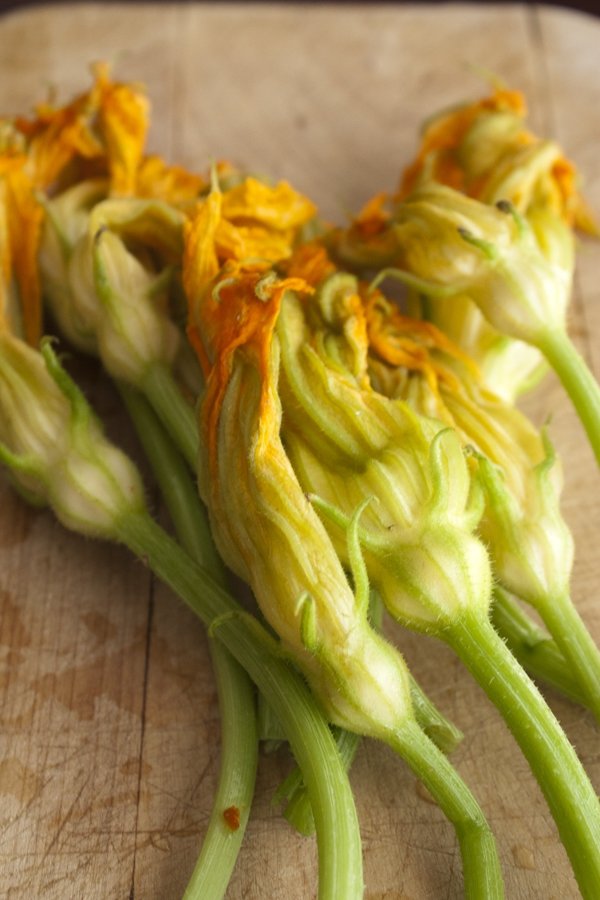 I love goat cheese! If you do too, this is the recipe you have to try. The combination of flavors is perfect and the heat gives the goat cheese the most delicious taste and texture. You're going to love this one!
Ingredients:
12 dry packed sun dried tomatoes, chopped
7 ounces goat cheese, softened and at room temperature
12 fresh basil leaves
½ tablespoon olive oil
9 squash blossoms, cleaned
Directions:
Put the sun dried tomatoes in a bowl and cover with boiling water. Drain after 20 minutes, then set aside. Combine the goat cheese with the basil, olive oil and tomatoes in a small bowl. Put the mixture into a piping bag and chill for 20 minutes. Preheat the oven to 425 degrees and spray a baking dish with cooking spray. Fill each squash blossom with the goat cheese and put into the baking dish. Spritz with cooking spray and bake for 30 minutes, uncovered for the last 5 minutes.
Source: grouprecipes.com
3

Squash Blossom Frittata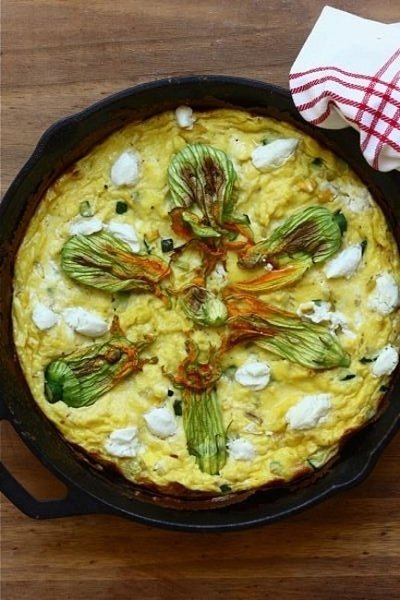 This is a fun twist on a breakfast classic. Serve this at your next brunch and everyone will be begging you for the recipe.
Ingredients:
1 onion, sliced
Olive oil
2 tablespoons fresh cilantro
6 squash blossoms
10 large eggs, lightly beaten
Salt and pepper
4 ounces sliced mozzarella cheese
Directions:
Heat the olive oil over medium heat and sauté the onion until soft and tender. Slice 3 squash blossoms and add them with the cilantro to the pan. Sauté for one minute, then add the eggs. Season with salt and pepper. Transfer to the oven and bake at 375 for 10 minutes. Top with the cheese and remaining squash blossoms and bake for 5 more minutes.
Source: marthastewart.com
---
4

Pan Fried Squash Blossoms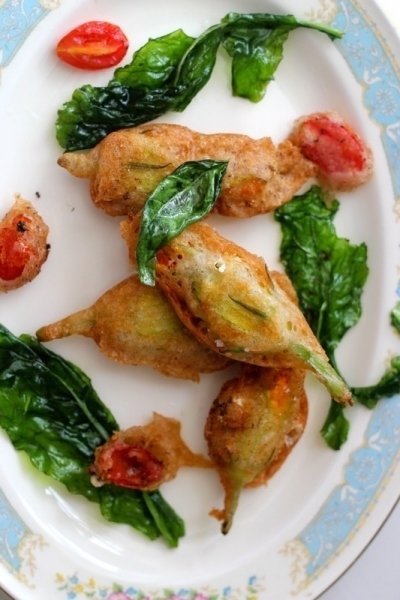 This recipes gives you a super easy way to showcase the squash blossom for a presentation that can't be beat. This is a great appetizer to serve at summertime parties.
Ingredients:
½ cup flour
Paprika
Salt and pepper
Oil
Squash blossoms
Directions:
Heat the oil in a large skillet over medium-high heat. Season the flour with salt, pepper and paprika. Dredge the squash blossoms in the flour and fry until crispy and golden brown.
Source: lifewithlisa.com
---
5

Squash Blossom Sauté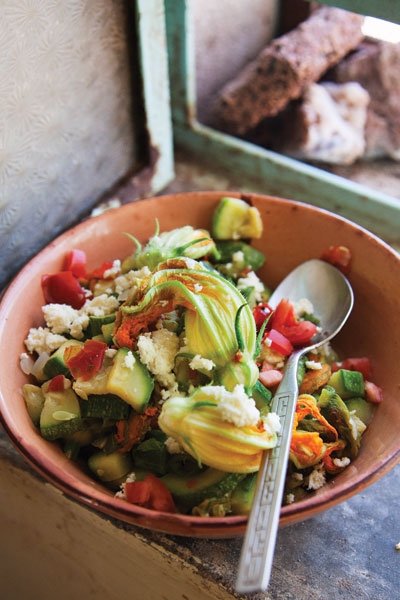 If you prefer to try squash blossoms in a dish with other ingredients, this is a good one to try. The blossoms add lots of flavor and color to the dish, but they won't overwhelm the other items in the stew.
Ingredients:
1 tablespoon oil
¼ small onion, minced
1 minced garlic clove
½ minced red jalapeno, seeds removed
2 Mexican squash, halved and sliced thinly
1 tomato, minced
2 tablespoons fresh epazote, minced
20 squash blossoms, stems removed
Salt and pepper
Directions:
Heat the oil in a large skillet and cook the onion for 2 minutes. Add the garlic and jalapeno and cook another minute. Add the squash and cook for an additional 3 minutes. Add the tomato and cook 5 minutes. Turn off the heat and add the epazote and squash blossoms. Season with salt and pepper before serving.
Source: saveur.com
---
6

Quesadillas with Squash Blossom Filling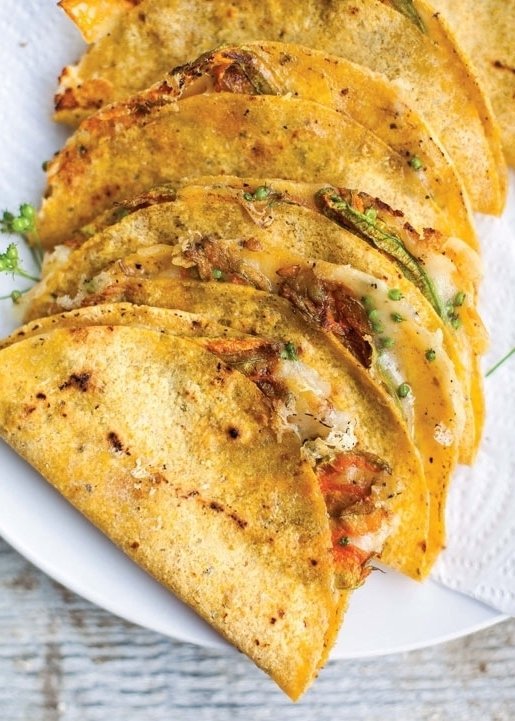 This recipe is fabulous! It's easy to make and takes very little time to put together. My kids love this so it's definitely a crowd pleaser too. The recipe calls for homemade tortillas, but as you can see it's much easier with pre-made ones.
Ingredients:
10 small tortillas
5 ounces crumbled queso fresco
¼ cup crème fraiche
5 squash blossoms, torn into pieces
3 cups vegetable oil
Directions:
Heat the oil in a large skillet over medium-high heat. Top each tortilla with an even amount of queso fresco and squash blossoms. Fold over and secure with toothpicks. Fry the tortillas until golden brown and crisp. Serve with crème fraiche and guacamole.
Source: epicurious.com
---
7

Squash Blossom Grilled Cheese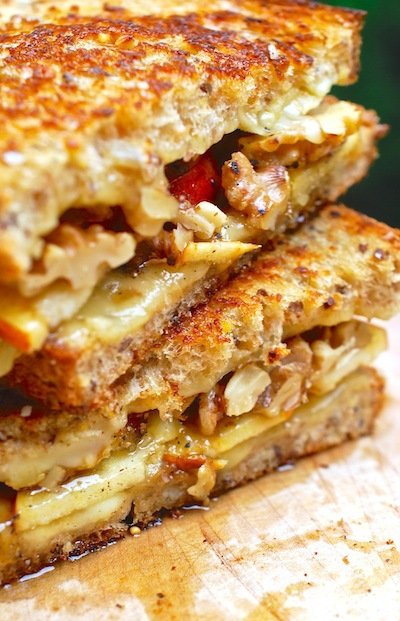 There's nothing better than a grilled cheese sandwich, right? This one totally takes the cake and you'll never want to go back to the traditional version ever again.
Ingredients:
1 tablespoon olive oil
2 peeled and minced shallots
1 tablespoon minced garlic
1 tablespoon fresh tarragon, chopped
1 tablespoon fresh thyme leaves
1 tablespoon fresh basil, chopped
1 tablespoon fresh chives, snipped
6 ounces goat cheese
Salt and pepper
12 fried squash blossoms (see above recipe)
6 ounces shredded mozzarella
12 slices sourdough bread
Directions:
Caramelize the shallots and garlic in the olive oil over low heat. Cool. Whip the goat cheese with the herbs in a food processor. Add the shallot mixture and blend again. Pipe the mixture into the squash blossoms, then dredge and fry (see recipe #4). Heat a panini pan to medium-high heat. Divide the mozzarella among 6 slices of the bread. Top each with 2 squash blossoms and top with another slice of bread. Brush with olive oil and grill for 3 to 5 minutes per side.
Source: paninihappy.com
Have you ever tried squash blossoms? Which recipe will you try first?
---
Comments
Popular
Related
Recent