Sushi Lovers Should Follow These Instagram Accounts ...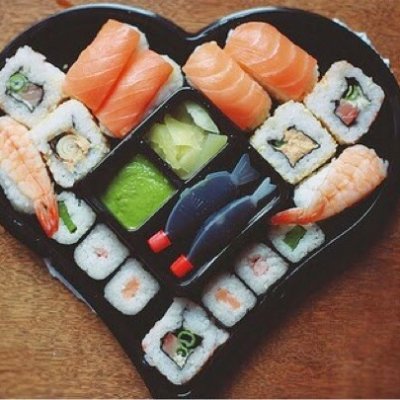 Is sushi your favorite food in the whole world? Instagram is going to be so wonderful for you then. There are loads of accounts dedicated to all things sushi. If you weren't drooling for it before, you definitely will be after having a look at these. Not only can you inspire yourself when it comes time to order your lunch rolls, but you might even be motivated enough to make your own sushi. Get a load of these.
If all you want is to look at pictures of sushi all day, this is the account for you. From super close up pictures of stuffed sushi rolls to dinner table layouts, you won't be disappointed by this account. The images are epic and so varied that you're sure to find something new you want to try.
If those little rolls aren't enough for you, this Instagram account is sure to satisfy. It's dedicated to images of giant burrito-sized sushi rolls that you won't be able to resist. You'll come for more all the time. You'll never look at sushi the same way once you start following this account.
This is an Instagram account from a New York City sushi restaurant. You definitely want to follow it if you want to be up on the latest and greatest sushi inventions so you can order them wherever you stop for dinner.
Want to try your hand at making your own sushi at home? Here's an Instagram account that will totally inspire you. It's filled with beautiful images of rolls you can easily copy in your own kitchen. There are also a couple of videos that can help you on your way.
If all you want is to look at lovely pictures of sushi on plates, this is the account you have been longing for. Each image is a perfectly rendered shot of the most delicious sushi you'll ever see in your life. You're definitely going to be craving sushi after getting a look at this one.
Of course sushi is yummy and you must agree or you wouldn't be looking for Instagram accounts to indulge your craving. This one is maintained by a sushi restaurant so you know you're going to be getting great photos and lots of tasty rolls to drool over, whether you're hungry or not.
If the presentation does it as much for you as the taste of sushi, you will not regret following this Instagram account. It's loaded down with hundreds of the best looking sushi on the planet. It's almost too pretty to want to gobble it all down.
You might not be able to go ahead and buy anything here, but you'll wish you could. The pictures on this account are totally epic and you'll love how they make you hungry for sushi as takeout today. The artful presentation of each of the plates of sushi will satisfy your craving for symmetry and order.
This account get tops ranks amongst Instagram foodies. You are going to love the hundreds and hundreds of pictures depicting the most mouthwatering sushi around. From single rolls to the ultimate stacked creations, this account is likely to turn anyone into a total sushi addict.
Do you love sushi? Which of these accounts are you going to follow? Which others would you add to the list?
{{#comments_count}} Show Commnents ({{comments_count}}) {{/comments_count}}