7 Tostada Ingredients You May Have Never Tried ...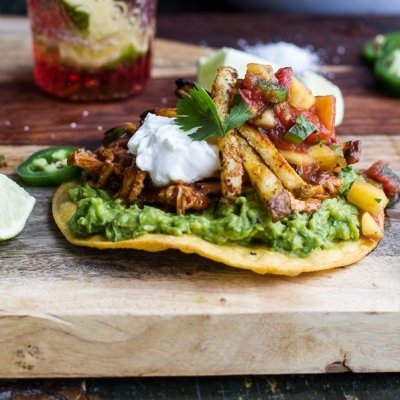 There are loads of tostada ingredients that can make this meal something different every time you eat it. Tostadas are easy to make because all you have to do is fry the tortillas until they are crispy. Then you can go crazy with whatever toppings your heart desires. This won't be like ordering a tostada at a restaurant where your choices are usually beans, chicken or beef. Check out these tasty tostada ingredients and get ready to take dinner to the next level.
Never thought to put fish on a tostada? I'm going to change your mind because this is one of the best tostada ingredients you are ever going to find. Start with the fish. Cod, halibut and tilapia work really well. Flake it a bit so you don't get a huge chunk on your tostada. Then top it with shredded cabbage, a scoop of tomato salsa and some cheddar cheese. Avocado also tastes great on this one!
If you prefer veggies over meat, tostadas are still perfect. Start by spreading the shell with guacamole so the toppings have something to stick to. Then layer on tomato slices, shredded lettuce and cheese. Add a scoop of salsa and you have a meat-free meal you'll love any night of the week.
This is one of my favorite things to top a tostada with. I like grilled shrimp, but you can also use crispy fried shrimp if you like it better. Shrimp works well tossed with lettuce, avocado and some black beans. Top the entire thing with diced onions and cilantro and you are ready to eat.
It's not just for rolls anymore. A crispy tostada shell is the perfect backdrop for shredded pork. Stir in some barbecue sauce and pile it on the shell. Then add coleslaw, sliced red peppers and some pickled jalapeno slices for a bit of heat. This combination is the perfect choice for a backyard barbecue but is also a great way to use up leftover pork chops or pork roast that you don't know what to do with.
I love green chile on lots of foods and tostadas is one of them. The spice works well on the shell and is a bit like eating tortilla soup. You can add the green chile on its own or layer it over beans, chicken or beef. Then add some lettuce, tomato and shredded cheese before serving. You're going to need a knife and fork to eat this one because it's a bit messy if you pick it up.
Squash is in season right now, which means it's easy to find and super affordable. What better reason to use it for tostadas? Roast an acorn or butternut squash and cut it into cubes. Mix it with corn, black beans, tomatoes and cilantro and pile the whole mixture on your shell. You can also puree the squash, spread it on the shell and top it with your other ingredients.
If you want to jazz up the traditional fajitas, try serving them on tostada shells. Make chicken, fish, shrimp or beef fajitas mixed with bell peppers and onions. Then pile the mixture on the shell and top with lettuce, tomato, cheese, sour cream and guacamole. What could be tastier for dinner tonight?
What do you like on a tostada? I love to order them a la carte in restaurants because then I can have one with another yummy favorite. Will you try any of these ingredients on your next tostada?
{{#comments_count}} Show Commnents ({{comments_count}}) {{/comments_count}}