Asparagus recipes are perfect for spring because that's the height of its season. However, you can typically find asparagus year round, depending on where you live and the grocery store you shop at. It'll cost more in the off season, but it still tastes great. If you're willing to shell out a few extra bucks, these asparagus recipes are sure to please.
---
1

Zesty Marinated Asparagus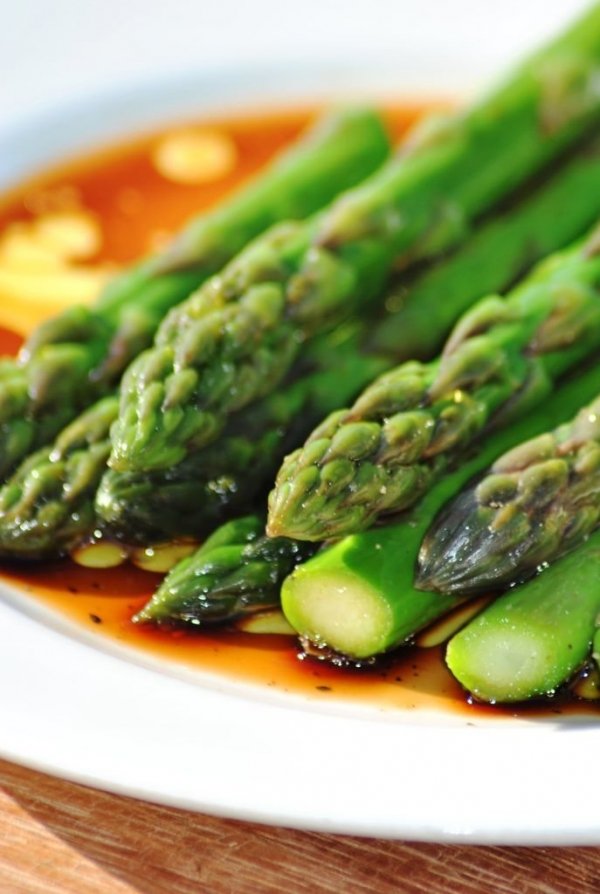 What? Marinated asparagus? I totally wish I would have discovered this technique sooner. This is one of the best asparagus recipes you'll every try. It's super delicious and makes for a yummy side dish that you'll want to serve with everything. It tastes especially great with a thick, juicy steak.
Ingredients:
2 pounds fresh asparagus, trimmed and cut into 2 ½-inch pieces
1 ½ cups balsamic vinaigrette salad dressing
2 teaspoons grated lemon zest
¼ cup chopped fresh parsley
½ teaspoon kosher salt
½ teaspoon freshly ground black pepper
Directions:
Fill a large pot with water and bring to a boil. Blanch the asparagus for about 1 minute, then plunge into ice water to cool. Drain the asparagus and put into a large zip top plastic bag. Add the vinaigrette and seal. Refrigerate the asparagus in the marinade for at least 3 hours, turning the bag every so often. Drain the asparagus, but reserve the marinade. Place the asparagus on a serving plate and sprinkle with lemon zest, parsley, salt and pepper. Serve with reserved marinade.
Source: allrecipes.com
---
2

Sautéed Garlic Asparagus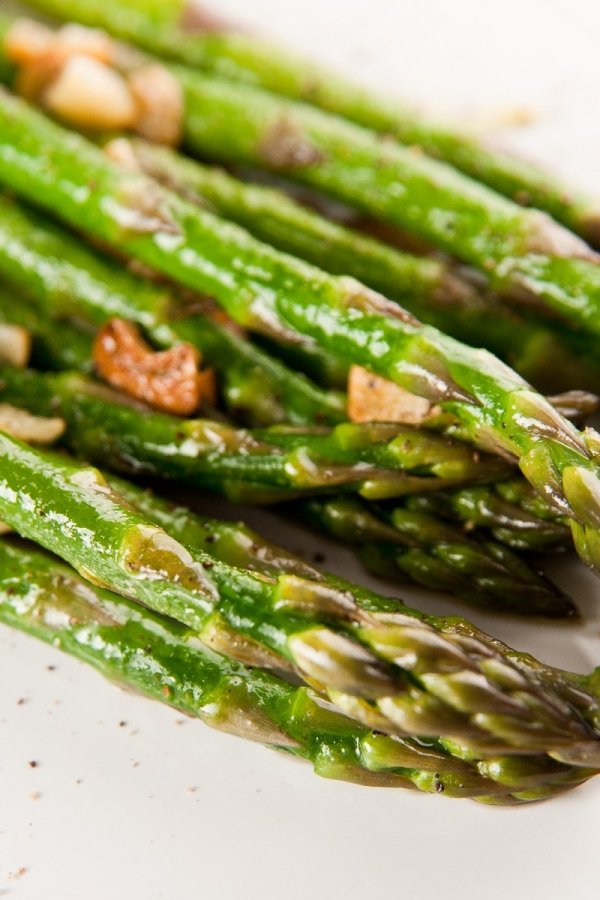 This is another super simple and totally delicious side dish. It makes my mouth water just thinking about it. This works really well with salmon or grilled chicken breasts. Chop the leftovers and add them to tomorrow's salad.
Ingredients:
3 tablespoons butter or margarine
1 bunch fresh asparagus
3 cloves garlic, chopped
Directions:
Heat a large skillet over medium-high heat and melt the butter or margarine. Add the garlic and asparagus, cover the pan and cook for 10 minutes, stirring occasionally. For more well-done asparagus, uncover and cook for 10 more minutes. If not, serve after the first 10 minutes.
Source: allrecipes.com
3

Asparagus Bundles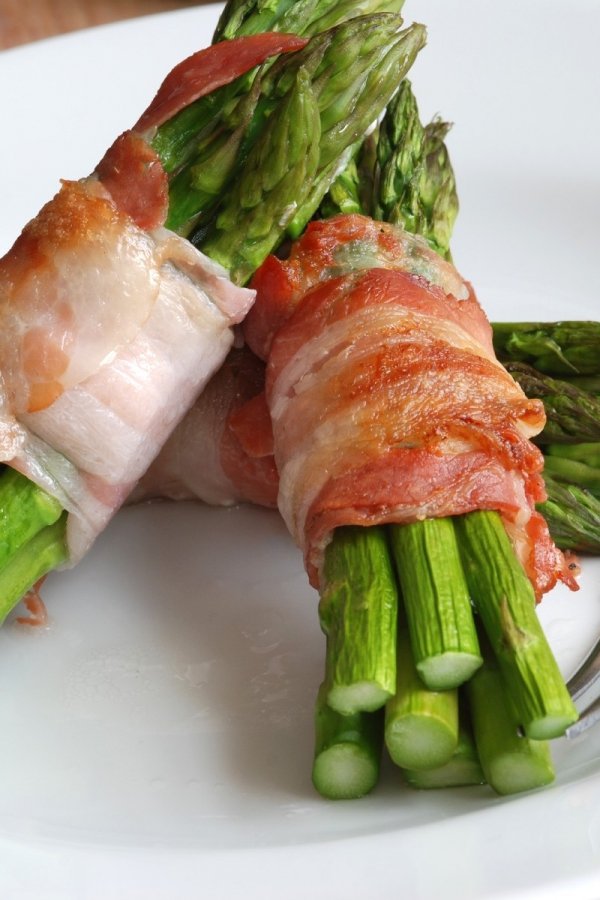 This is the perfect appetizer to serve at any type of party. It looks fancy and elegant, but is so easy you won't believe how fast you can put these delicious treats together. They're wonderful alongside some crostini.
Ingredients:
2 pounds fresh asparagus, ends trimmed
12 slices bacon
½ cup light brown sugar
½ cup (1 stick) butter
1 tablespoon soy sauce
½ teaspoon garlic salt
¼ teaspoon ground black pepper
Directions:
Preheat the oven to 400 degrees. Divide the asparagus into 12 individual bundles of several spears each. Wrap a piece of bacon around each bundle, starting a ½-inch from the bottom. Use a toothpick to hold the bacon in place. Place the asparagus in a shallow baking dish. Stir the brown sugar, butter, soy sauce, garlic salt and pepper in a saucepan and bring to a boil. Pour the sugar mixture over the asparagus and roast in the oven about 25 minutes, or until the bacon is cooked through. Remove the toothpicks before serving.
Source: foodnetwork.com
---
4

Asparagus Fritter Sticks with Dill Mustard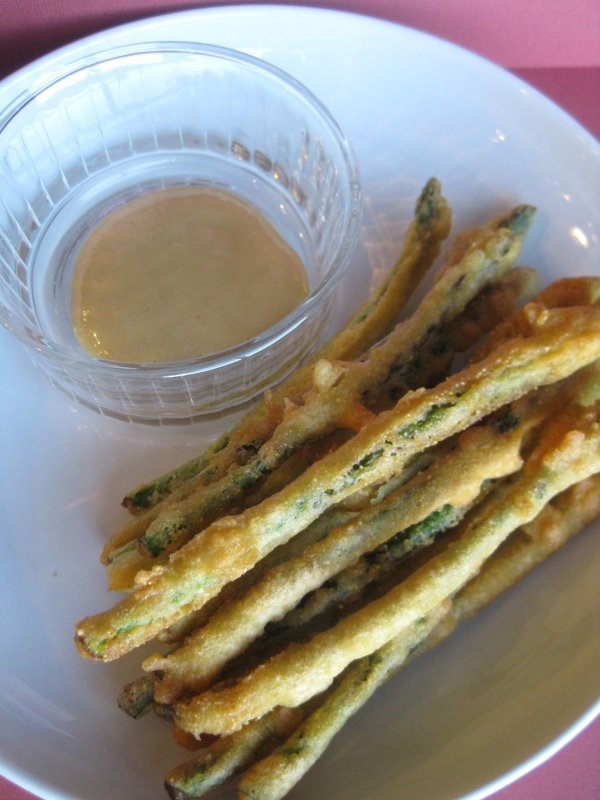 I think I could make a meal out of these. No other food needed. They're a bit crispy on the outside and the dip works so well with the asparagus that you're going to have trouble not eating the whole batch.
Ingredients:
1 cup cold water
2/3 cup yellow cornmeal
½ cup all-purpose flour
1/3 cup cornstarch
1 egg, lightly beaten
1 teaspoon baking powder
½ teaspoon salt
Vegetable oil, for frying
1 pound asparagus, trimmed
½ cup Dijon-style mustard
2 tablespoons snipped fresh dill weed
2 tablespoons honey
Directions:
Put a baking dish in the oven and preheat it to 200 degrees. Whisk together the water, cornmeal, flour, cornstarch, egg, baking powder and salt in a large bowl until well mixed. The batter should be a bit lumpy. Heat an inch of oil in a large skillet to 350 degrees. Dip the asparagus into the batter, working in batches, and fry for 3 to 4 minutes, or until golden brown. Remove with tongs and drain on paper towels. Place in each batch in the oven to keep warm. In a small bowl, combine the mustard, dill and honey and mix well. Serve the dip with the asparagus spears.
Source: bhg.com
---
5

Avocado and Asparagus Salad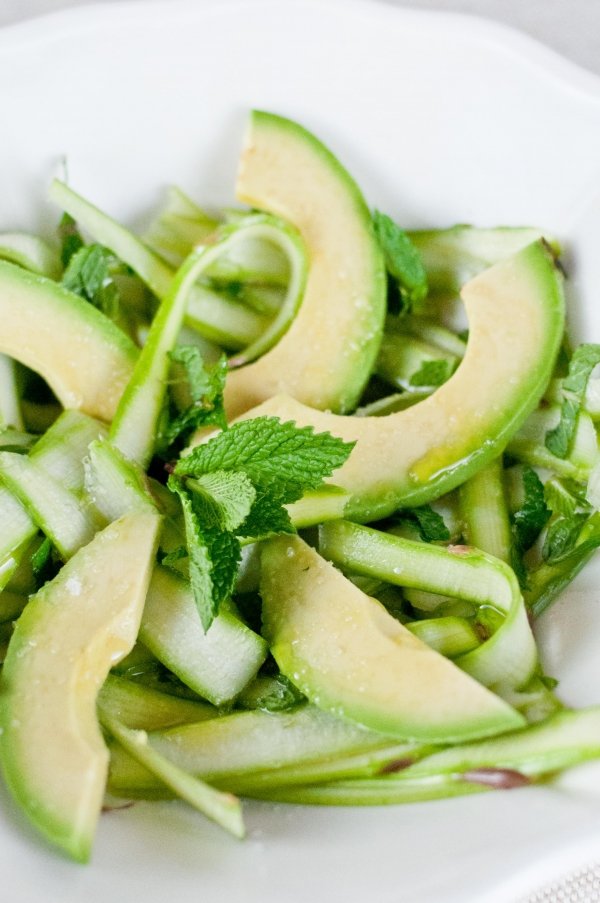 The creamy texture of avocado really balances the crispness of asparagus spears. That makes this the perfect salad. It tastes great and you'll have leftovers for lunch tomorrow.
Ingredients:
2 pounds asparagus, ends removed and cut into 2-inch pieces
2 medium avocados, peeled, pitted and diced
1 lemon, zested and juiced
2 tablespoons olive oil
2 tablespoons chopped fresh parsley
1 tablespoon chopped fresh mint
1 tablespoon white wine vinegar
½ tablespoon balsamic vinegar
1 teaspoon sugar
¼ teaspoon salt
¼ teaspoon black pepper
Directions:
Bring a large pot of water to a boil and add the asparagus. Cook for 2 to 3 minutes, or until the asparagus is bright green. Drain, rinse with cold water and drain again. Gently toss the asparagus, avocados, lemon juice and lemon zest in a bowl. In another bowl, stir together the olive oil, parsley, mint, both vinegars, sugar, salt and pepper. Pour the mixture over the salad and toss to coat.
Source: asparagusrecipes.net
---
6

Chicken, Asparagus and Bacon Skillet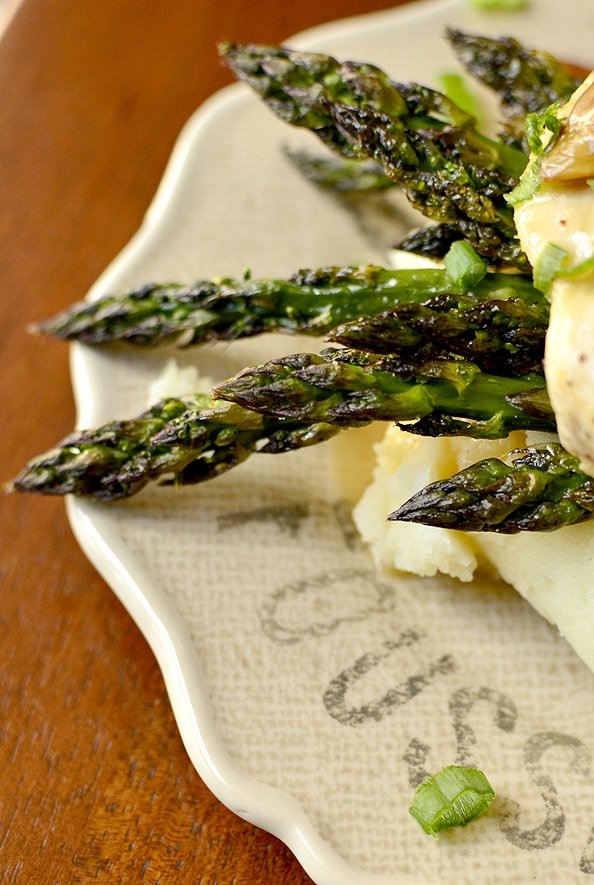 If you're looking for a delicious and filling meal that centers around asparagus, this is the one. It has loads of flavor, but doesn't require hours of cooking time. Serve it with some mashed potatoes or a side of rice pilaf.
Ingredients:
1 pound asparagus, trimmed
4 slices bacon, coarsely chopped
4 skinless, boneless chicken breast halves
Salt
Pepper
1 medium yellow summer squash, halved lengthwise and cut into ½-inch pieces
1 (14 ½-ounce) can chicken broth
2 tablespoons all-purpose flour
½ teaspoon finely shredded lemon peel
Lemon wedges
Directions:
Cook the asparagus in boiling water for about 3 minutes. Drain and plunge into ice water. Cook the bacon in a skillet over medium heat until crisp. Drain the bacon on paper towels, reserving 1 tablespoon bacon grease. Season the chicken with salt and pepper and cook in the reserved bacon grease for about 12 minutes, or until cooked through. Turn once. Remove the chicken and add the squash to the skillet. Cook for 3 minutes, stirring now and then. In a bowl, combine the broth, flour and lemon peel. Pour the mixture into the skillet and cook until thick and bubbly. Add the asparagus and chicken to the skillet and cook about 6 minutes. Sprinkle with bacon and serve with lemon wedges.
Source: bhg.com
---
7

Asparagus in Wine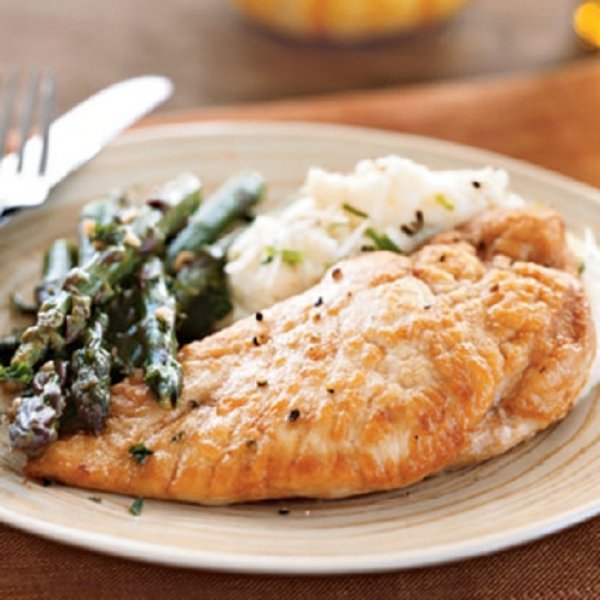 This is the perfect side dish for chicken. It's only got a couple of ingredients so you know it won't be complicated to prepare. You're going to want to cook this all the time, I promise!
Ingredients:
2 pounds asparagus, thick ends removed
¼ cup butter
¼ cup white wine
½ teaspoon salt
¼ teaspoon black pepper
Directions:
Boil the asparagus for 2 to 4 minutes, or until it turns bright green. Drain, rinse under cold water and finish draining. Heat a skillet to medium and melt the butter. Add the wine, salt and pepper and stir well. Toss in the asparagus and cook until the sauce thickens. Serve immediately.
Source: asparagusrecipes.net
What's your favorite way to cook asparagus? Which of these recipes will you try first?
---
Comments
Popular
Related
Recent