Halloween is almost here, which is why you need to try out some candy corn recipes. It's amazing to see how many different snacks you can make with this tiny treat. Don't let your culinary talent go to waste, and try out these candy corn recipes:
---
1

Popcorn Balls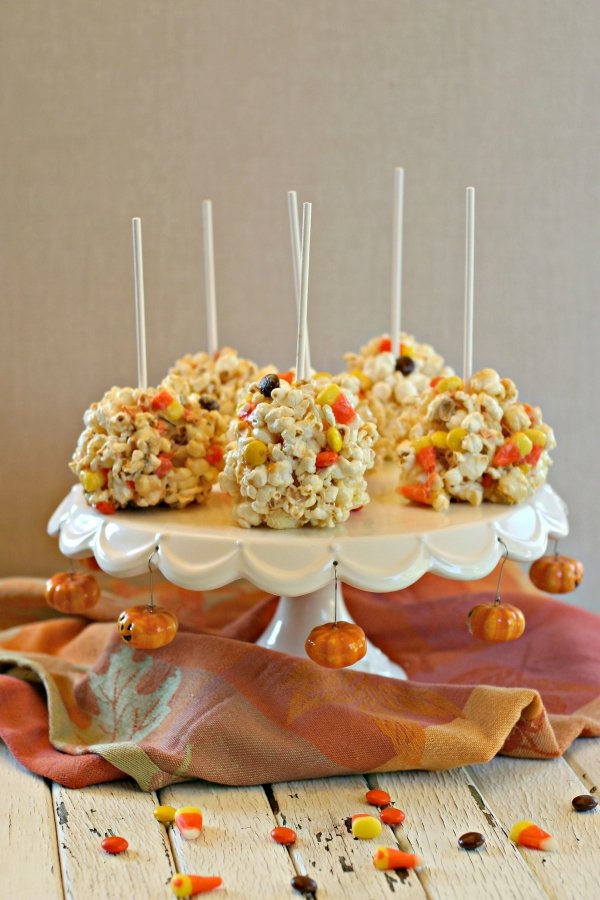 Want a snack to munch on while watching Freddy Versus Jason? Well, here's one of the best candy corn recipes to eat on your couch.
Ingredients:
1/2 stick (2 ounces) butter
4 cups miniature marshmallows
1 bag plain popped popcorn (12 cups popped)
1 tsp vanilla extract
1/4 tsp salt
1 and a half cups candy corn
Instructions:
Place butter in microwave until melted. Add marshmallows and microwave for an additional 90 seconds. Stir, and add vanilla and salt. Put the popped popcorn and the candy corn in a bowl. Pour the mixture into a bowl of candy corn and popcorn. Stir until combined. Spray hands with nonstick cooking spray, scoop up popcorn, and form into balls.
Source: candy.about.com
---
2

Candy Corn Pretzel Fudge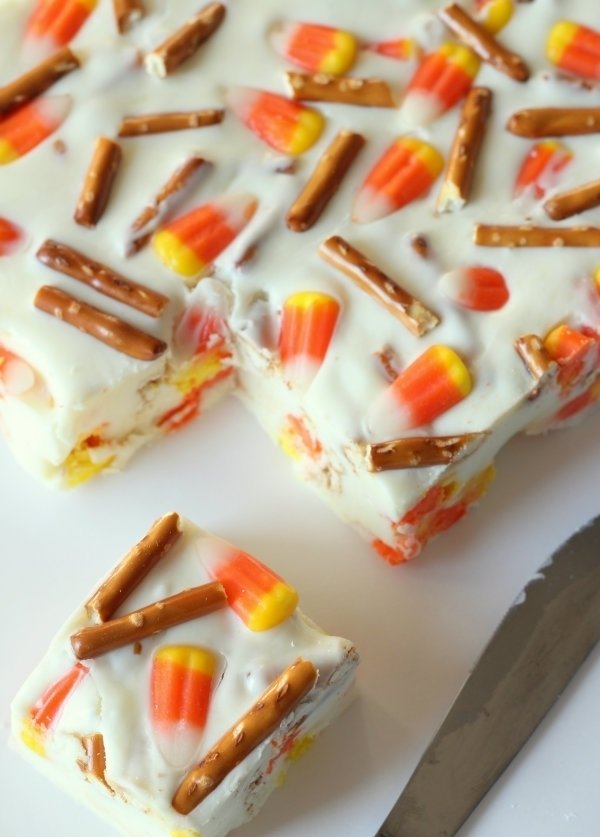 What's stopping you from combining three of your favorite snacks? Instead of choosing between pretzels, fudge, and candy corn, you can have them all. Halloween is the holiday to be greedy, after all.
Ingredients:
1 cup candy corn
1 cup pretzels chopped
1/2 cup sugar
1/2 cup heavy cream
1/2 tsp. salt
1/2 cup butter
2 1/2 cups white chocolate chips
1 tub marshmallow fluff
Directions:
Place chocolate chips and marshmallow fluff in a bowl. Melt sugar, cream, salt, and butter in pan. Cook for 5 minutes, and add to chocolate chips. Mix until smooth. Fold in pretzels and candy corn. Put in fridge for 3-5 hours.
Source: lilluna.com
Trendinig Stories
More Stories ...
3

Candy Corn Pretzel Hugs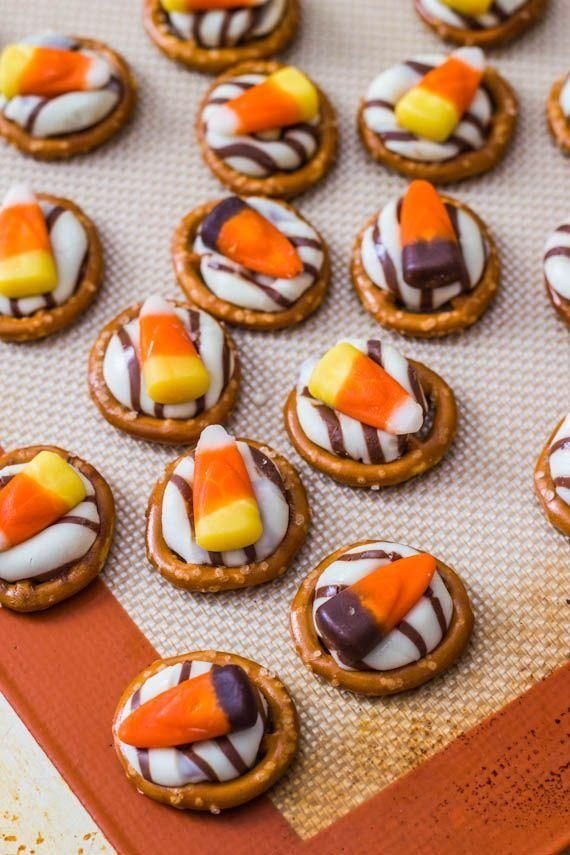 If you're not the best chef around, this is the recipe for you. It's not very difficult to follow, so there's no way for you to mess it up. Just don't burn yourself!
Ingredients:
Circle or square-shaped pretzels
Hershey 's Kisses Hugs (or any flavor Kiss)
Candy corn
Instructions:
Preheat oven to 250 degrees. Put pretzels on baking sheet. Unwrap Hugs and place one on each pretzel. Place in over until melted. As soon as you remove from oven, press a candy corn into the center of each snack.
Source: sallysbakingaddiction.com
---
4

Candy Corn Poptarts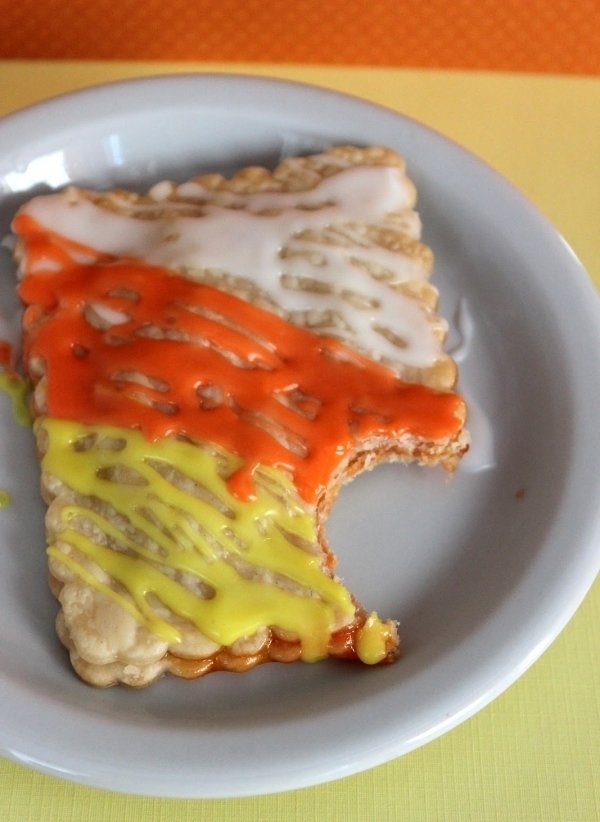 No one can expect you to eat a healthy breakfast on Halloween. Start your day off by eating candy corn inside of pie crust. It's the one day when you're allowed to have a sugar high all day long.
Ingredients:
Pre-Made Pie Crust
1 Cup Candy Corn
1/2 Cup Powered Sugar
3 - 5 tsp milk
Yellow and red food coloring
Instructions:
Unroll one of the pre-made pie crusts. Fill crust with a handful of candy corn. Add top and pinch seems around edges. Bake at 350F for 15 minutes. Combine powdered sugar and milk for glaze. Drizle white food coloring on 1/3 of pop tart, red on 1/3, and yellow on 1/3.
Source: pintsizedbaker.com
---
5

Candy Corn Peanut Mallow Bars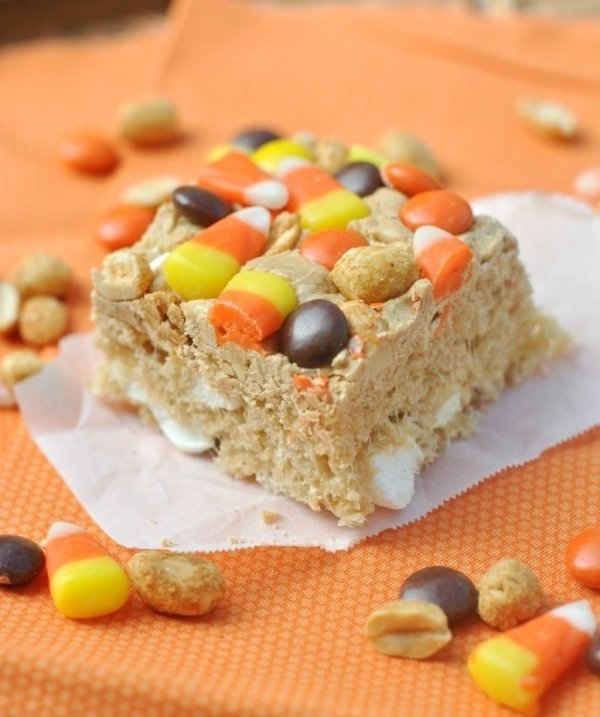 Are you a fan of marshmallows? Well, instead of making s'mores on the fire, cook this delicious treat inside of your own home. Eat them quickly, or else your friends will gobble them up.
Ingredients:
2 c. peanuts, divided
1 1/2 c. candy corn, divided
1 bag peanut butter chips
4 Tbsp butter
1 (14 oz) can sweet condensed milk
1 (10 oz) bag marshmallows
Instructions:
Mix peanuts and candy corn in a bowl. Spread on a 9x13 pan. In a saucepan, melt peanut butter chips and butter. Stir, and add milk. Spread mixture over top of peanuts and candy corn. Refrigerate.
Source: julieseatsandtreats.com
---
6

Candy Corn Cupcakes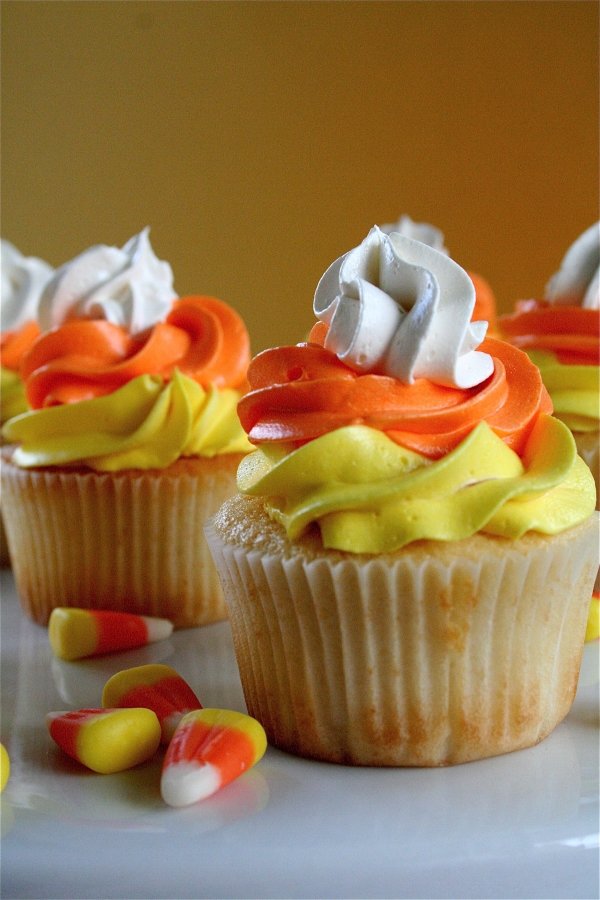 You don't have to make anything too fancy. You can stick to traditional cupcakes, but add a little twist. It won't be difficult to bake, but it'll look like you put in a lot of work.
Ingredients:
1 white cake mix
2 eggs
1 cup sour cream
1/2 cup milk
1/3 cup vegetable oil
Candy corn and orange sprinkles
Instructions:
Preheat over to 350F and add cupcake liners to pan. Contain all ingredients in a bowl. Beat on high-speed for 3 minutes. Divide batter in half and color one half orange and the other yellow. Fill liners with 1-2 tablespoons of yellow batter, then orange batter. Bake. Top with frosting and use candy corn and sprinkles as garnish.
Source: the-girl-who-ate-everything.com
---
7

Sweet and Salty Candy Corn Bars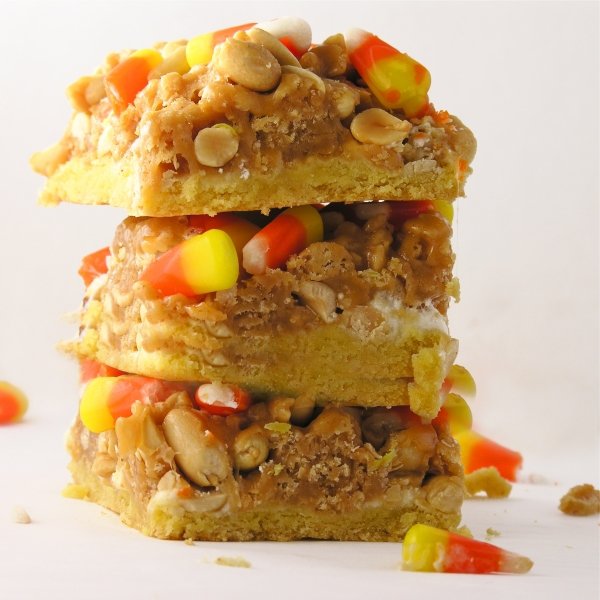 This is a treat you don't see often. Everyone will think you're a genius when they see what you've concocted. You don't have to tell them that you didn't think it up on your own.
Ingredients:
1 (10.5 oz) bag Fritos
1 cup light corn syrup
1 cup granulated sugar
1 cup peanut butter
2/3 cup candy corn
Instructions:
Pour Fritos into a bowl and break with spoon. Heat corn syrup and sugar in a saucepan until boiling. Remove from heat, and add peanut butter. Stir until smooth. Pour mixture into bowl of Fritos and stir. Place in pan. Sprinkle candy corn on top.
Source: confessionsofacookbookqueen.com
Candy corn only comes around during this time of year, so make sure you eat it whlie you can. What else do you think candy corn would taste yummy combined with?
---
Comments
Popular
Related
Recent