7 Great Baking Accessories for Anyone Who Loves to Bake ...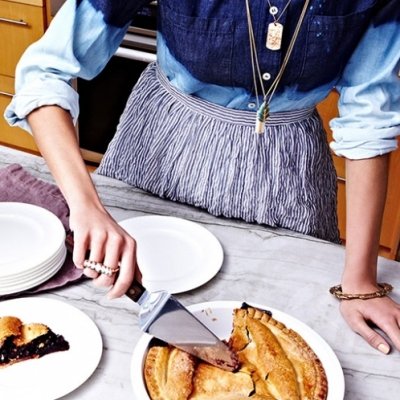 Baking accessories are always welcome gifts for someone who loves to bake. Whether it is a gift from a friend, family member, or a gift to yourself, getting baking accessories will put a smile on your face. As a baker, you probably have all of the standard cake pans, muffin tins, and rolling pins. However, wouldn't it be great to replace your standard baking accessories with ones that have personality? The following baking accessories from Anthropology are all unique and whimsical and would make a great addition to your bakeware collection.
Every great baker needs a set of measuring cups to add to their collection of baking accessories. You need measuring cups to ensure your cakes and cookies come out perfect, and the Okuno Measuring Cups will let you measure in style. These stoneware measuring cups are sturdy and have a pour spout that is very handy. If you add these colorful measuring cups into your collection, you will definitely be baking even more than usual just so you can use the measuring cups!
2.

Flower Patch Measuring Spoons
To go along with your artistic measuring cups, you also need some artistic measuring spoons. The Flower Patch Measuring Spoons are the perfect addition to your kitchen drawer. They are made from stoneware, which means you can put them in the dishwasher, and they are much nicer to look at than standard measuring spoons. Wouldn't you rather use these measuring spoons than the basic ones you can pick up at the grocery store?
3.

Poppy Ring Brownie Dish
If you love brownies and you love bright colors, this is the perfect brownie dish for you. The Poppy Ring Brownie Dish is so bright and cheery. You will want to bake brownies all the time, which isn't necessarily a bad thing. Who doesn't love a brownie, especially if it is in such a cute dish?
4.

Filomena Baking Collection
If you don't happen to be a brownie lover but still love to bake, the Filomena Baking Collection is also bright and cheery. The flowers and tiny heart dots give this set a retro feel and make it very appealing to look at. Of course, this baking set isn't just for looking at; it is also for making fantastic baked goodies.
5.

Polka Dotted Pot Holders
Speaking of retro baking accessories, aren't these Polka Dotted Pot Holders fantastic? The turquoise dots and red border make these pot holders very bright. Not only are they bright, they are also machine washable, which is really helpful if you happen to be a messy baker like myself.
6.

Gilded Cornet Cake Server
Every good baker needs a cake server. The Gilded Cornet Cake Server is just the cake server for the job. The shiny gold color will show off your delicious cakes and pies wonderfully.
The Maelle Loaf Pan is perfectly understated. It has a quaint French country look to it that is wonderful. Baking bread in this loaf pan would be such a treat. It is bone china, but it can go in the dishwasher and is oven safe.
All of these baking accessories are would add so much personality to your collection of baking tools. Not that it matters that much what your fantastic baked goods are made in, but these do make baking even more enjoyable. Which of these baking accessories would you love to have?
{{#comments_count}} Show Commnents ({{comments_count}}) {{/comments_count}}