Easter is rolling up pretty quick and you're probably trying to decide what to make for dessert. How about delicious cookies? Why? Because Easter cookies are super fun to make and will leave everyone smiling. Whether you're a master baker or you've never even turned your oven on, there's something here that you can whip up and share with family and friends. After all, who doesn't love Easter cookies?
Table of contents:
1

Easy Treats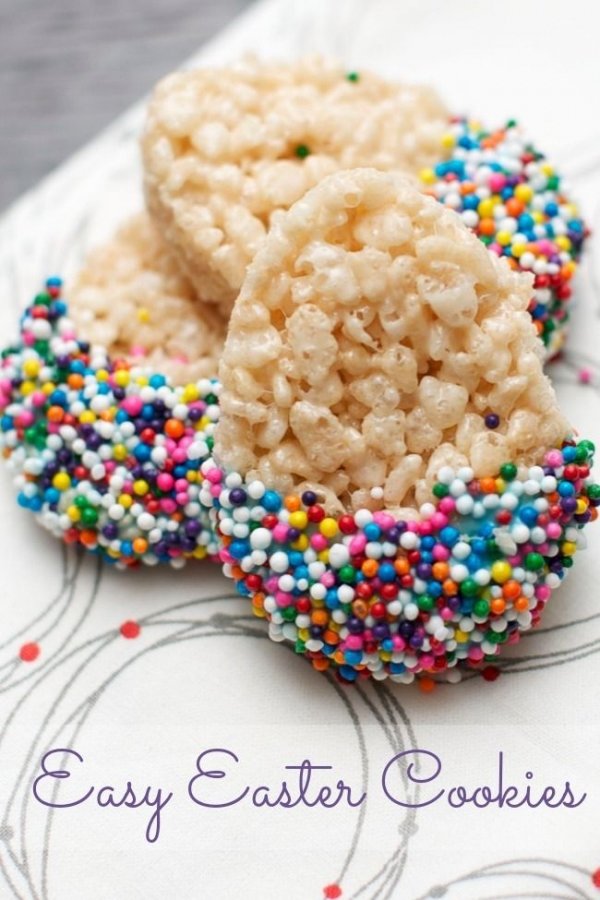 Source: Share It Thursday from Link
These egg shaped cookies made from cereal and sprinkles are probably one of the easiest things you'll ever make.
2

Easter Mint Blossoms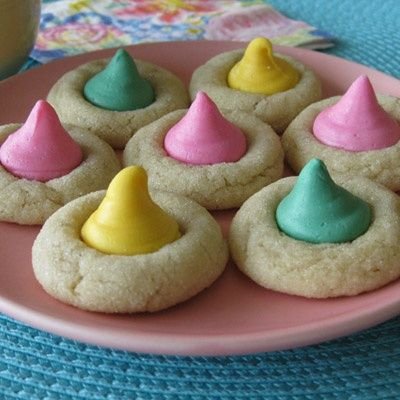 Source: Easter Cookies - Simply Stacie
The colors are what make these cookies so Easter worthy. Love them!
3

Bunnies Galore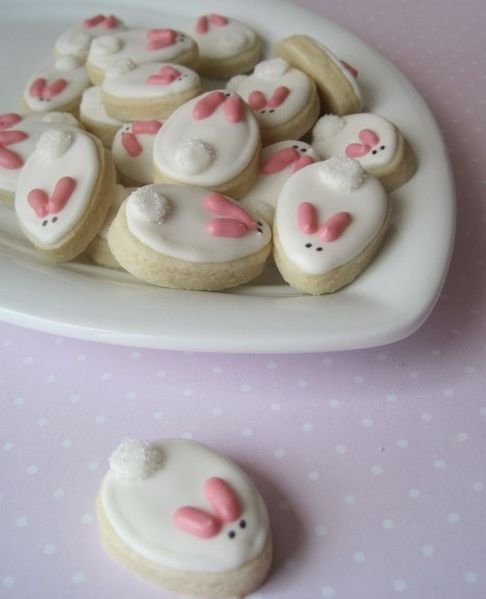 Source: Sixth Street Sunshine: A Pinspirational
Sharing your cookies with kids? These are the ones you must make this year.
4

Chocolate Egg Nest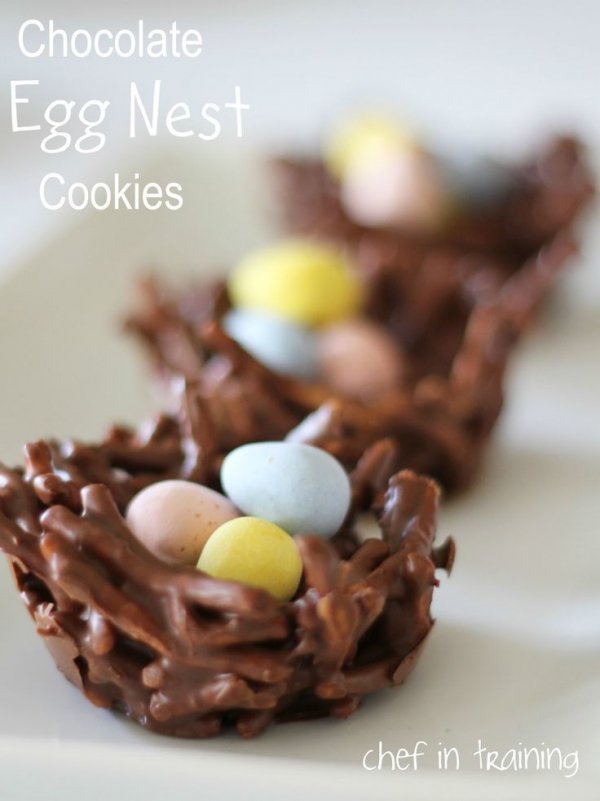 Source: No-Bake Chocolate Egg Nest Cookies
These are almost too cute to eat, don't you think?
5

Pretty Decorated Eggs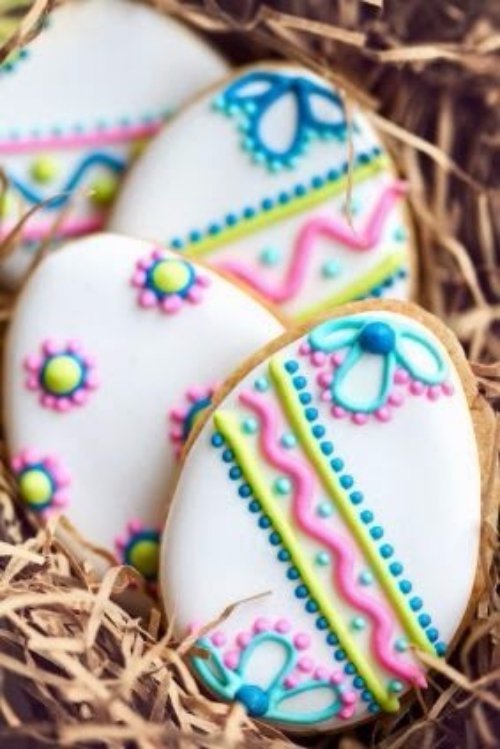 Source: Pretty Easter Egg Cookies With
If you have a steady hand with the decorating bag, you will blow everyone away with these fancy cookies.
6

In an Egg Carton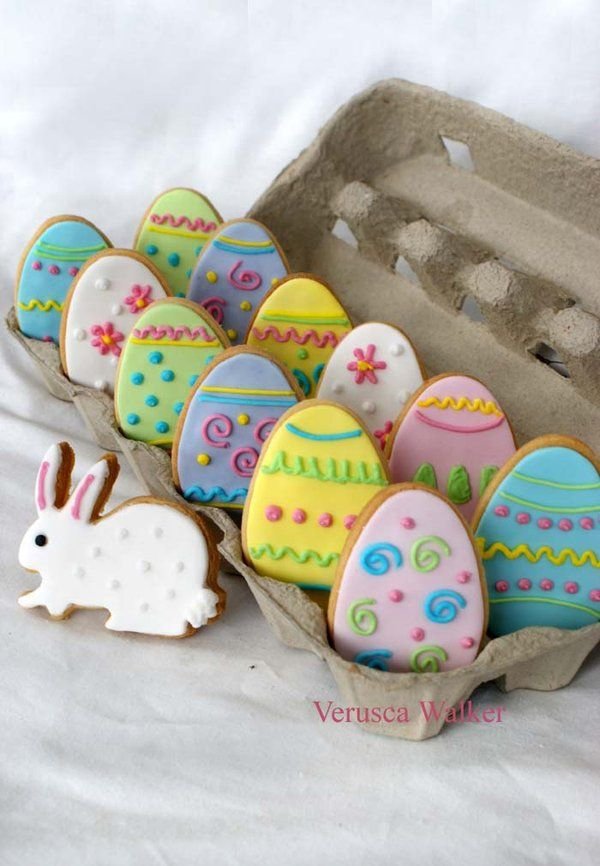 Source: Easter Cookies by Verusca on
What a fun way to serve cookies to your guests! I think I'll try this out this year.
7

Butterfly Friends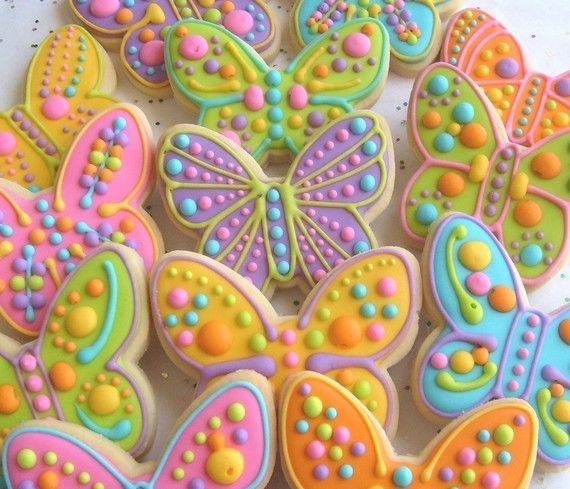 Source: Reserved for Joy---Large Butterfly Decorated
Easter is all about renewal and butterflies fit that theme just right!
8

Soft and Chewy M&M Cookies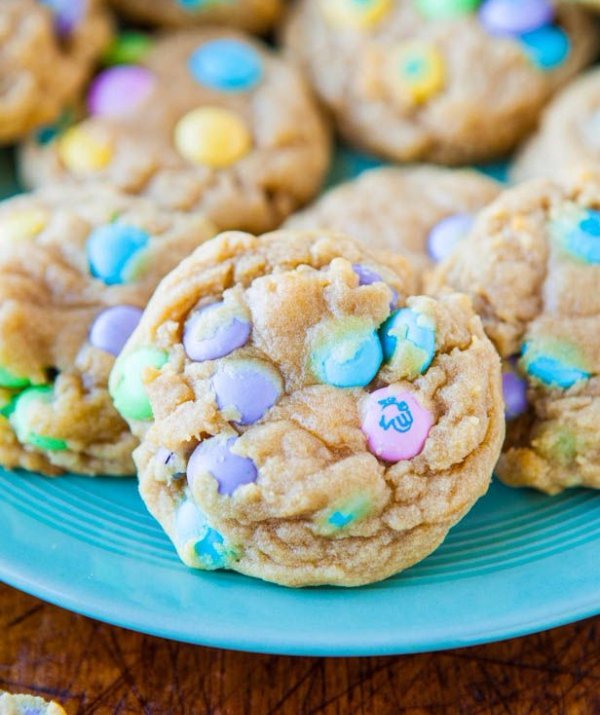 Source: Soft and Chewy M&Ms Cookies
Sub Easter colored candies for chocolate chips and you have an easy and festive cookie that everyone will love.
9

Personalize Them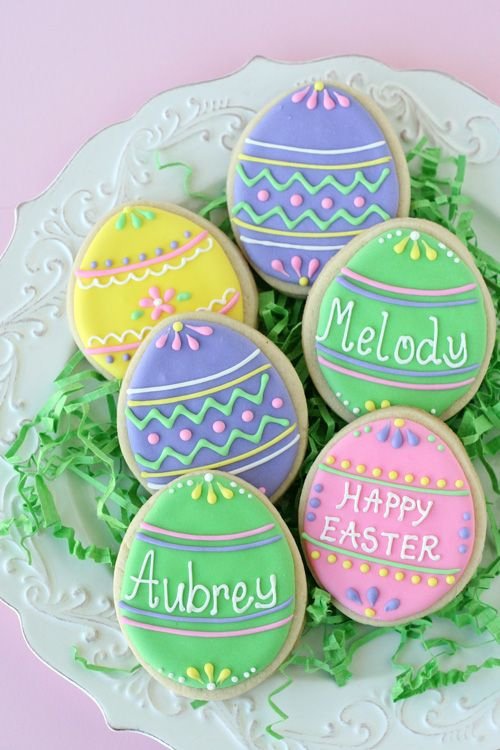 Source: Cute and Easy Decorated Easter
Make everyone feel special with their own personalized cookie. Fun!
10

Bunny, Chick, Egg and Carrots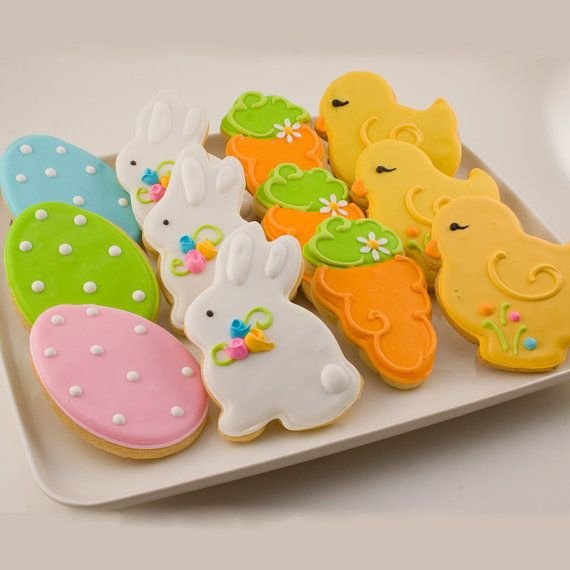 Source: Easter Cookies, junior sized
Mix things up by making cookies in a bunch of fun shapes and colors. Which one is your favorite?
11

Bird's Nest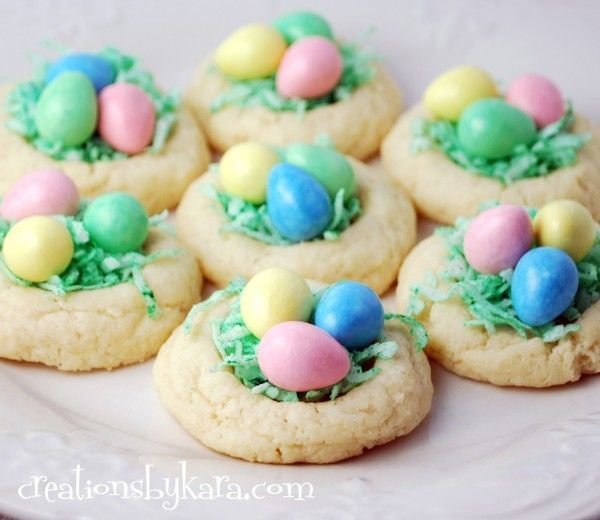 Source: Easter Recipe-- Nest Cookies
Not only do these taste great, but they are so easy to make!
12

Polka Dot Carrot Cookies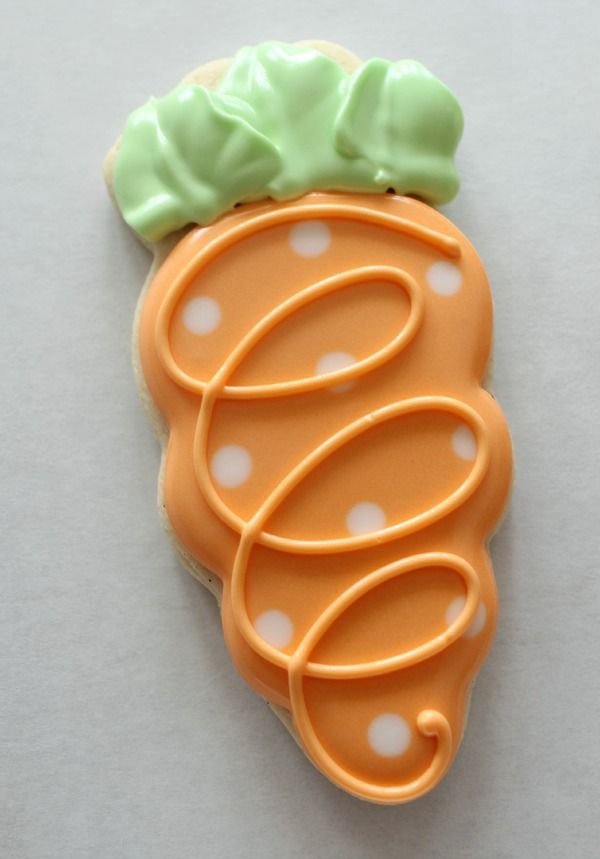 Source: Cute Carrot Cookie
Adorable! They are almost too cute to bite into.
13

Bunny Face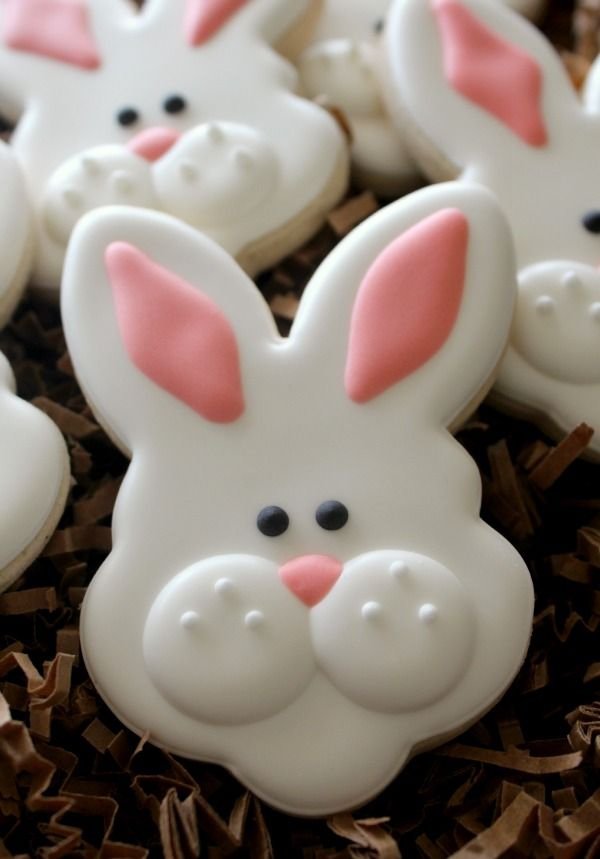 Source: Happy Easter Bunny Cookie
You won't be able to help but smile when you create these cute little friends.
14

Jell-O Flavored Sugar Cookies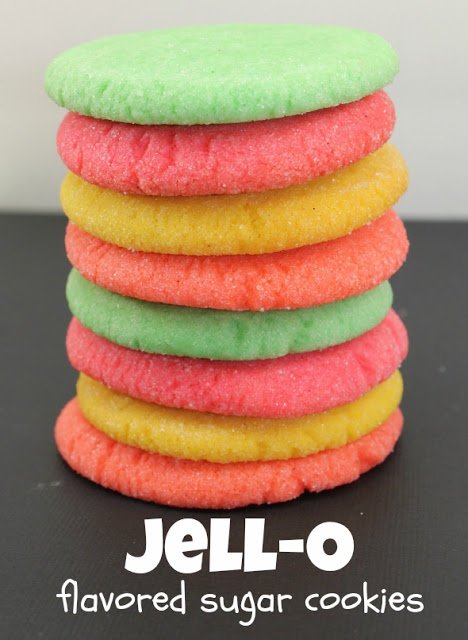 Source: Whatcha Makin' Now?: Jell-O Flavored
Jell-O powder is the perfect thing for tinting sugar cookies for Easter.
15

Spring Flowers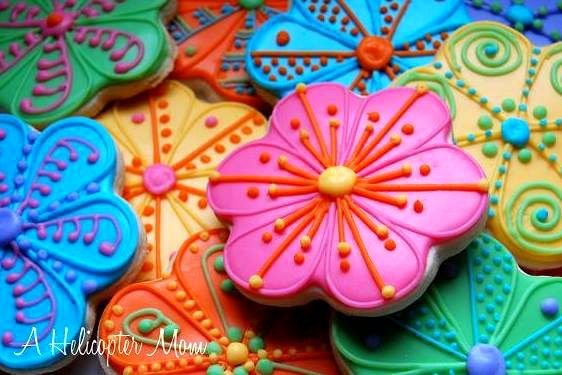 Source: Hand-Decorated Iced Sugar Cookies
A bouquet of these delicious treats will look great on any Easter table.
16

Tiny Chicks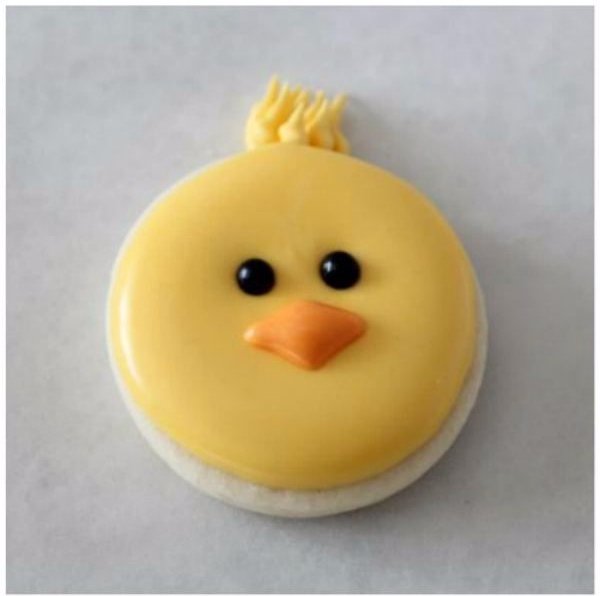 Source: Cute Little Chick Cookie Cupcake
These are perfect for beginners because you won't have to mess with cookie cutters to get the right shape.
17

Peep Sugar Cookie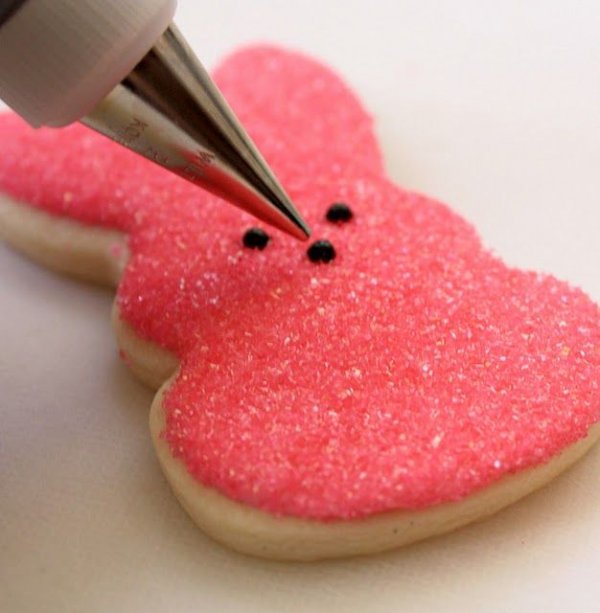 Source: Make Peeps Cookies
I guarantee these will last longer than the marshmallow version.
18

Hatching Chicks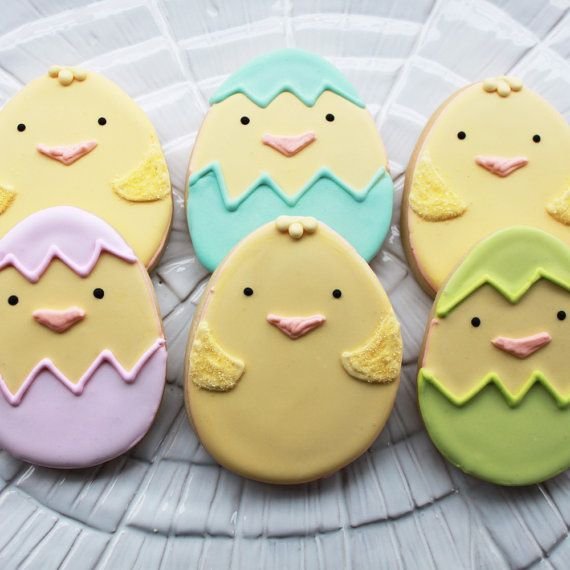 Source: Unavailable Listing on Etsy
Cute, aren't they? These are great for little ones.
19

Simple and Sweet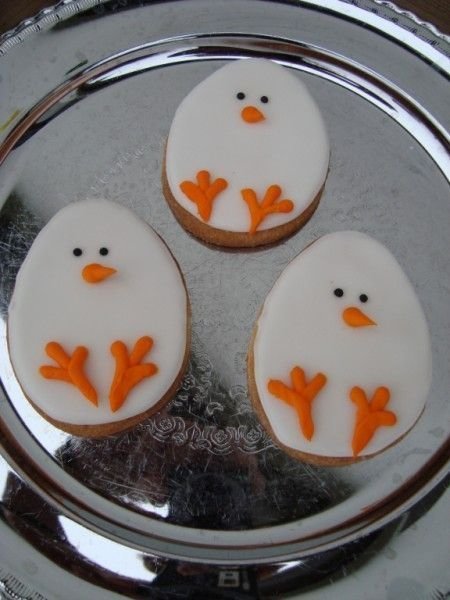 Source: Cookies
These only take a few minutes to decorate, but are super cute at the same time.
20

Tulip Cookies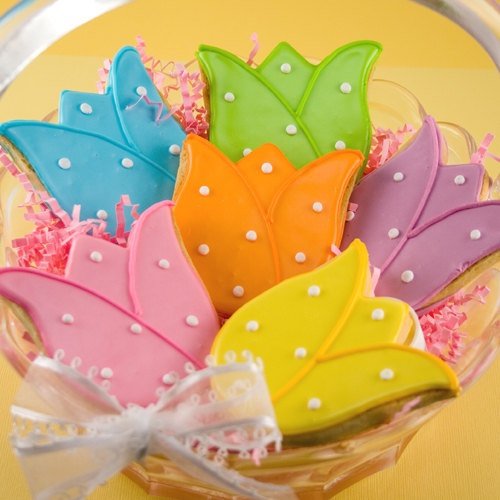 Tulips just go with spring and Easter, so these are a perfect pick this year.
21

Make Them All Different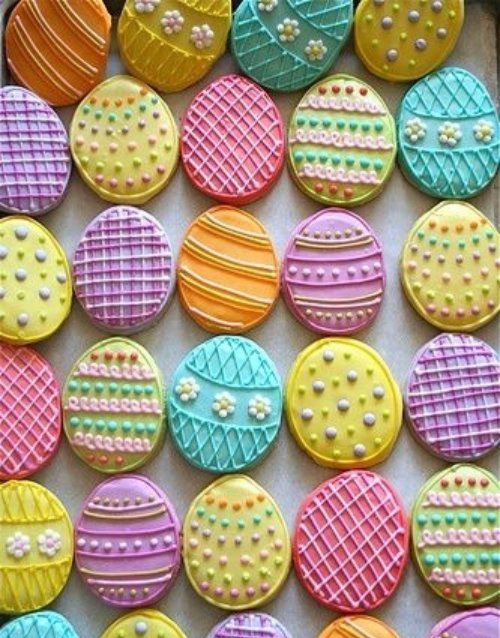 Source: 42 Beautiful Easter Cookie Ideas
There's no reason why you can't make each of egg shaped cookies totally different from all the others.
22

Rabbit Noses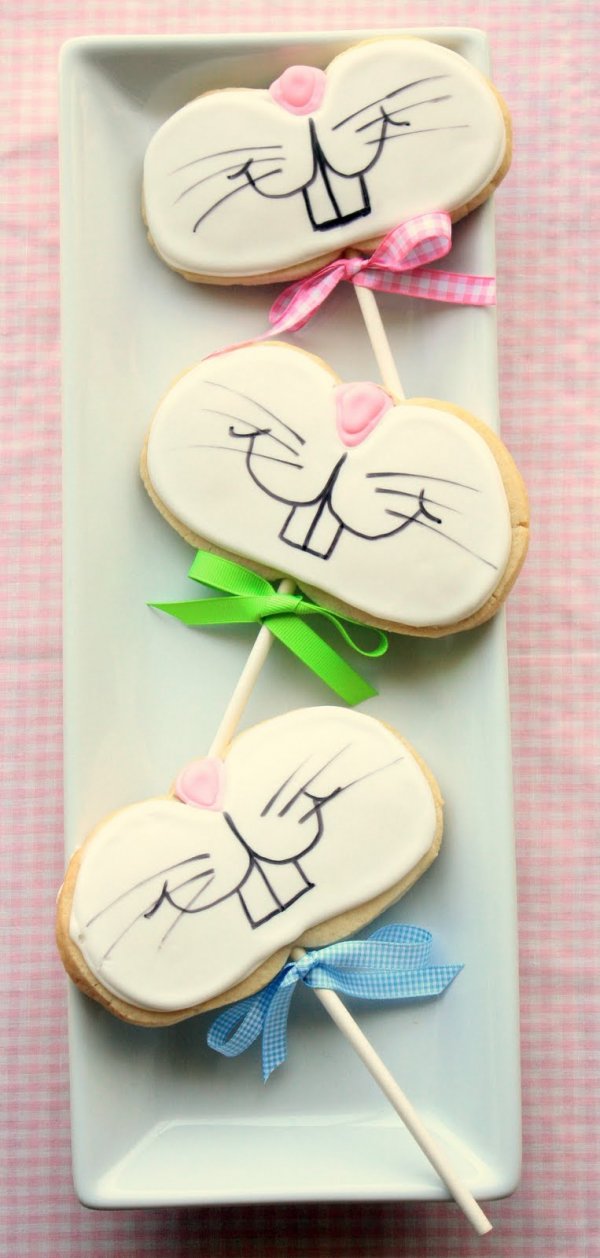 Source: How to Plan the Most
Let the kids pretend to be little rabbits by holding these adorable cookies in front of their faces. Perfect photo op!
23

Chicks and Chevron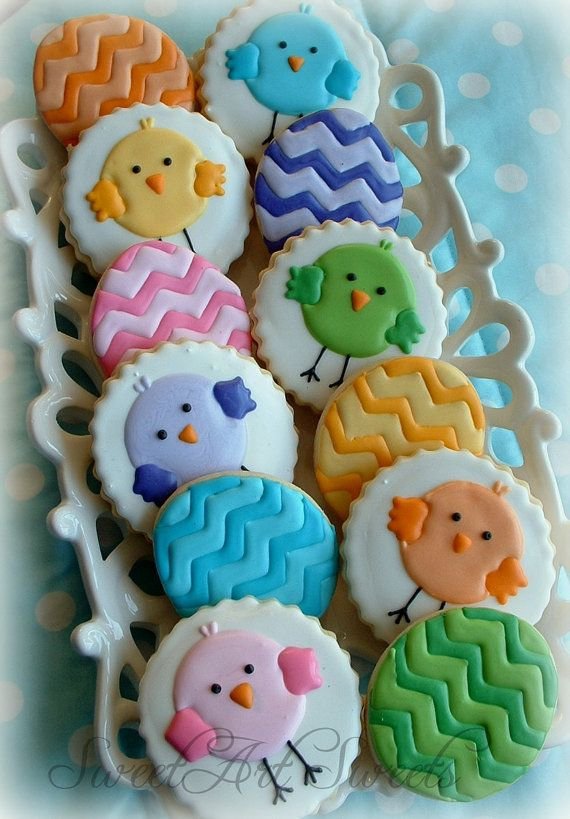 Source: Easter cookies - chick and
Do you like the chicks or the chevron more?
24

Super Elaborate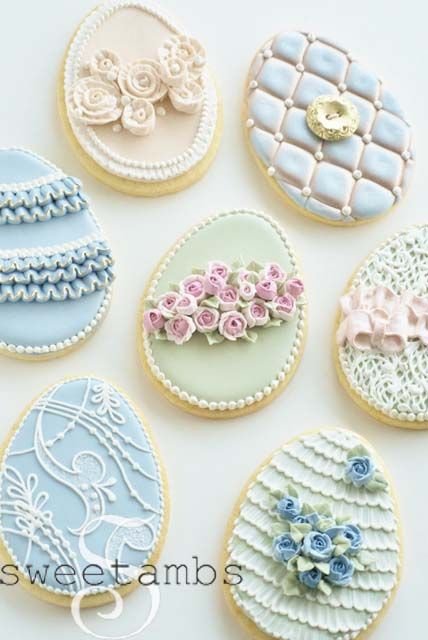 Source: devoneej.tumblr.com
I don't have this kind of skill, but I sure wish I did. Could you do this?
25

Bright Colors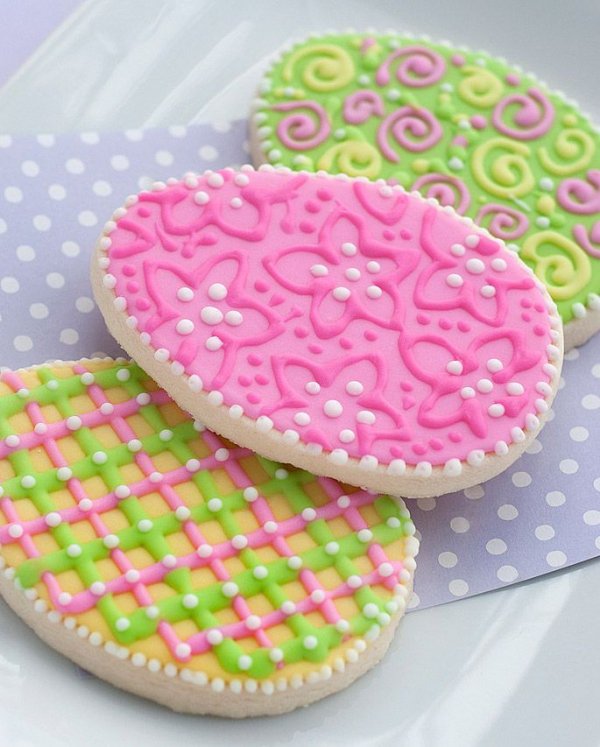 Source: The Cookie Cutter Company
When you're making Easter cookies, brightly colored frosting is your best friend.
26

Easter Lilies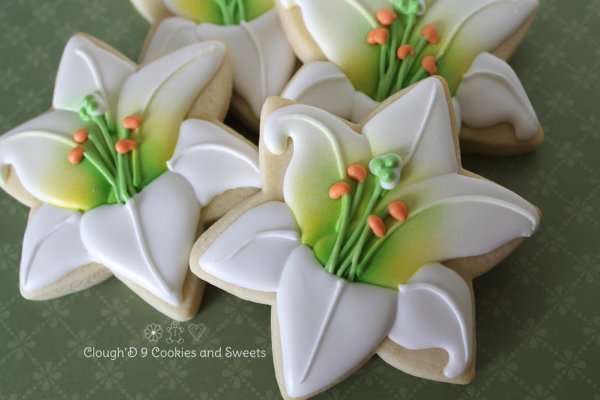 Source: Easter Lilies
It's not Easter until you have some lilies.
27

Cute Bunnies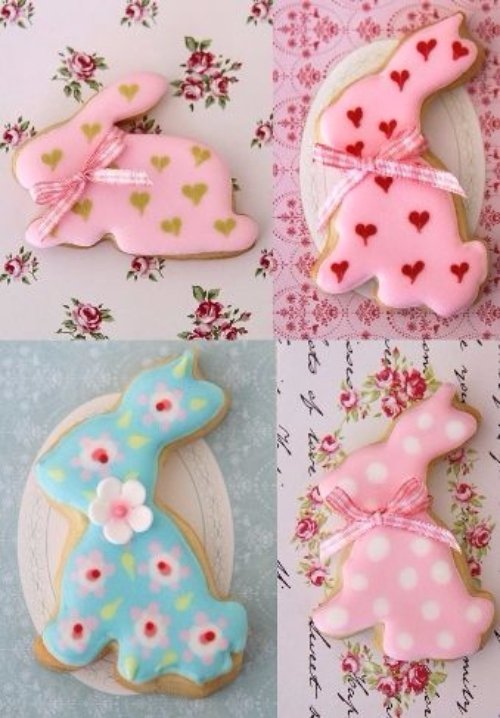 Source: Cakes Haute Couture
Bunnies don't have to be realistic to be fun for Easter. These are fantastic!
28

Easter Egg Cookie Boxes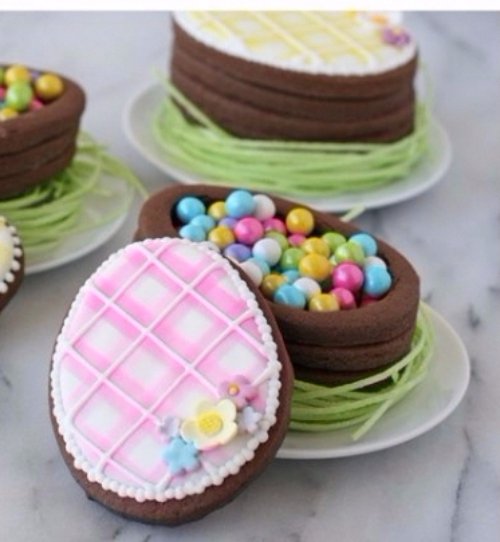 Source: Easter Egg Cookie Boxes
These are as much fun to make as they are to eat.
29

Pretty Easter Basket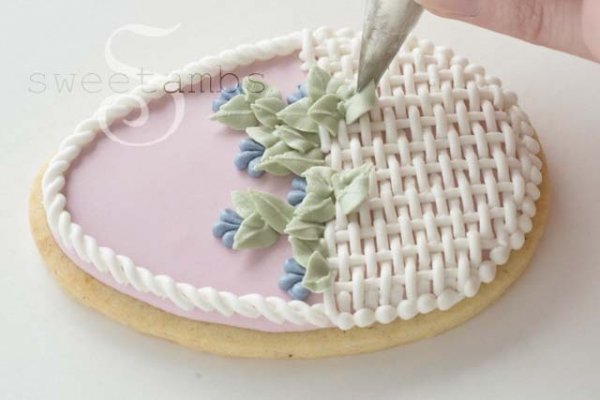 Source: Easter Basket Cookie
Your egg cookie cutter can be transformed into something really different like this.
30

Italian Easter Cookies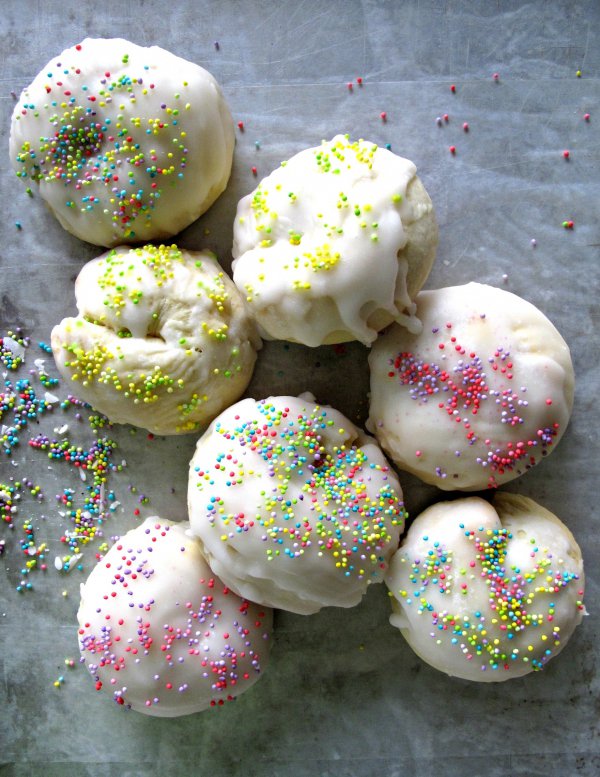 Source: Italian Easter Cookies
These cookies have a really addicting flavor and you can make them look Easter worthy with sprinkles.
31

Bird Nest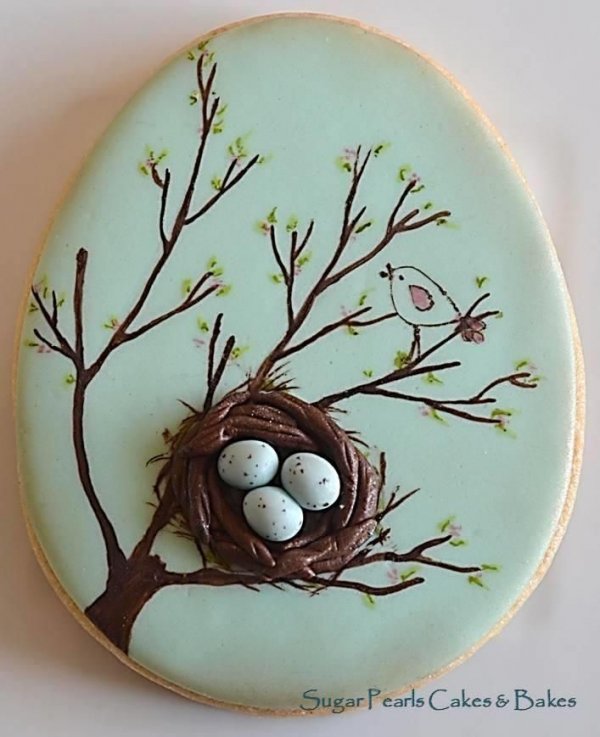 Source: Bird Nest Cookie
I think if I put in all the work to make this, I would have a hard time letting anyone eat it. What about you?
Will you make Easter cookies this year? Which ones look like your top choice?
Please vote and rank this list
Please rate this article