I have always, but always been a crab cake girl, and since moving to New England I've also become a curator of recipes for crab cakes. Because these little delicacies are so versatile, you can go well beyond the traditional cake, adding ingredients or using alternative breading options that will completely redefine the whole idea of the crab cake. If you, too, adore these delightful, delicious seafood picks, why not branch out and try some new recipes for crab cakes? I promise you won't be disappointed!
---
1

Wild Rice Crab Cakes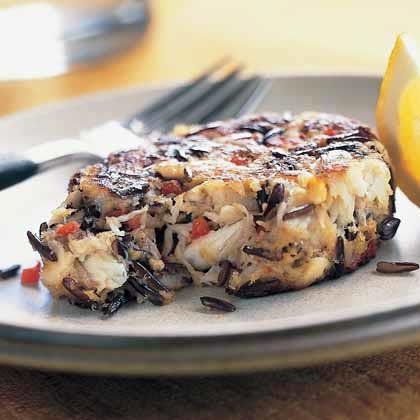 There are a surprising number of healthy recipes for crab cakes – or at least, healthier than the traditional. These are filling and the texture is really interesting, thanks to the wild rice. With seasonings like cumin and red pepper, you also get some great heat.
Ingredients:
1 1/2 cups water
1/2 cup uncooked wild rice
1 pound lump crabmeat, drained and shell pieces removed
3/4 cup dry breadcrumbs
1/2 cup finely chopped red bell pepper
1/4 cup minced shallots
1/4 cup light mayonnaise
2 tablespoons Dijon mustard
1 1/2 tablespoons fresh lemon juice
1/2 teaspoon salt
1/2 teaspoon ground cumin
1/8 teaspoon ground red pepper
1/8 teaspoon black pepper
2 large egg whites, lightly beaten
4 teaspoons olive oil, divided
Directions:
Get a medium sized saucepan and boil your water, then add the rice, cover the pan, and reduce the heat. Let the rice simmer for about an hour, at least until it's tender. When it's ready, combine it with the crab, the breadcrumbs, bell pepper, shallots, mayo, mustard, lemon juice, salt, cumin, red and black pepper, and the egg whites. Give them a mix and then form 8 patties, about one inch thick.
Heat up your olive oil using a nonstick skillet. Medium heat is perfect. Cook the patties four at a time, letting them sizzle for about four minutes per side.
Source: myrecipes.com
---
2

Paula Deen's Crab Cakes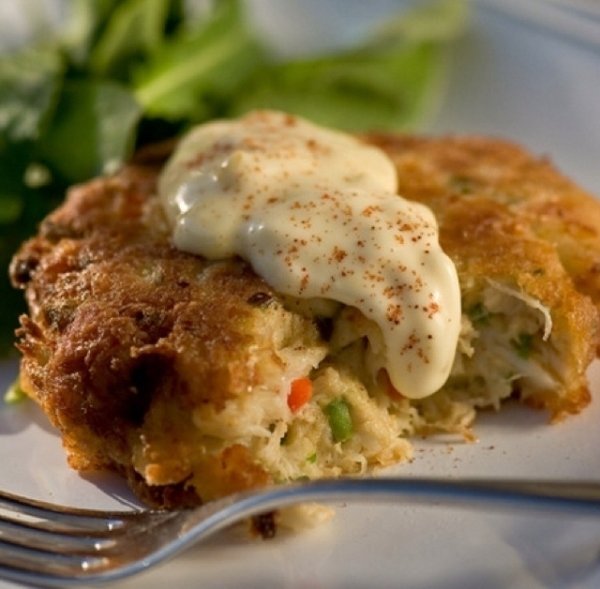 You know these are going to be buttery, right? Actually, that's only thanks to the use of the crackers. I tend to like my crab cakes with a little cornmeal, but I love the flavor and texture the crackers bring to this recipe. Just, you know, don't make it too often.
Ingredients:
1 pound crabmeat, picked free of shells
1/3 cup crushed crackers (recommended Ritz)
3 green onions (green and white parts), finely chopped
1/2 cup finely chopped bell pepper
1/4 cup mayonnaise
1 egg
1 teaspoon Worcestershire sauce
1 teaspoon dry mustard
1/2 lemon, juiced
1/4 teaspoon garlic powder
1 teaspoon salt
Dash cayenne pepper
Flour, for dusting
1/2 cup peanut oil
Favorite dipping sauce, for serving
Directions:
Grab a large bowl and mix all of your ingredients, with the exception of the oil and the flour. Make up as many patties as you like, then use the flour to dust them.
Get a big skillet and heat up your oil on medium heat. When ready, fry batches of the patties for 4-5 minutes per side.
Source: foodnetwork.com
3

Curried Corn-Crab Cakes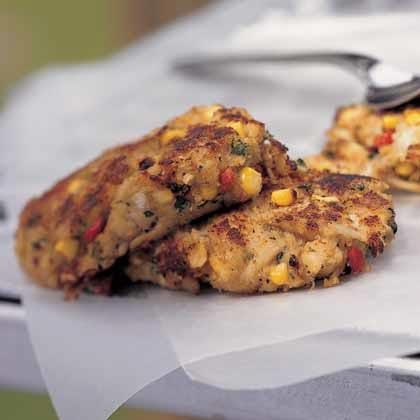 You've never tried anything like these crab cakes, I promise. I was drawn to the recipe because of that whole cornmeal preference, but it's so much more than that! The heat, the spice, the flavor! This is what you make when you really want to impress your dinner guests. Just try to go with a more soothing sauce to offset the heat and you're golden.
Ingredients:
3/4 cup fresh corn kernels (about 2 ears)
1/4 cup finely chopped onion
1/4 cup diced red bell pepper
1/2 teaspoon curry powder
1 garlic clove, minced
1 pound lump crabmeat, shells removed
1/3 cup low-fat mayonnaise
3 tablespoons minced fresh cilantro
2 tablespoons chopped fresh mint
2 tablespoons fresh lime juice
1 tablespoon low-sodium soy sauce
2 large egg whites
10 tablespoon dry breadcrumbs, divided
4 teaspoons vegetable oil
Lime wedges
Directions:
Heat up a big skillet, preferably nonstick, on medium-high and throw in the corn, onion, bell pepper, garlic, and curry powder. Saute everything until the veggies get soft; it should take about 4 minutes. Transfer the mixture of a bowl and let it cool down, then stir in the crab and set the bowl aside.
In another bowl, mix the mayonnaise, cilantro, mint, lime juice, soy sauce, and egg whites, then fold the mixture into the crab and vegetables. Add 7 tablespoons of your breadcrumbs and stir to combine, then make 8 patties. Coat them in the remaining breadcrumbs.
Heat up your oil, again going with a medium-high temperature. Cook your patties 4 minutes on each side – but when you turn them, put the lid on the pan. Serve them up with the lime wedges, and the sauce of your choice.
Source: myrecipes.com
---
4

Classic Maryland Crab Cakes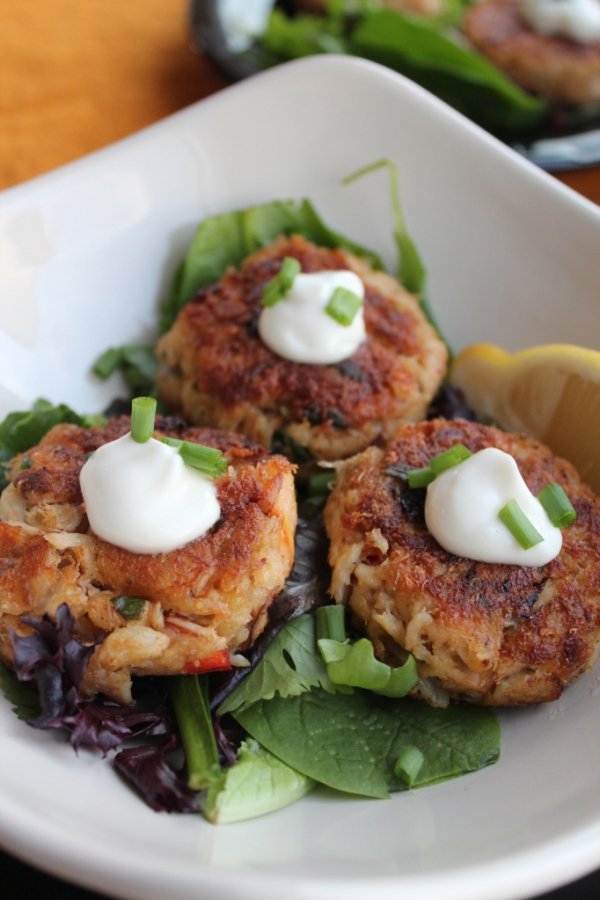 Does it get any better than Maryland crab cakes? I love my traditional New England cakes, but you get so much crab in Maryland style versions. So much crab! This is a great way to round out a summer dinner, but really, any time's the right time for crab. Well … unless you're allergic to shellfish, then any time's the wrong time for crab.
Ingredients:
1 lb. jumbo lump or backfin lump crabmeat, fresh or pasteurized
1 large egg
1/4 cup mayonnaise
1-1/2 tsp. Dijon mustard
1-1/2 tsp. Old Bay seasoning
1 tsp. fresh lemon juice
1/2 tsp. Worcestershire sauce Kosher salt
1-1/4 cups fresh breadcrumbs (from soft white sandwich bread, such as Pepperidge Farm)
1 Tbs. chopped fresh flat-leaf parsley
2 Tbs. unsalted butter
1 Tbs. olive oil
Lemon wedges for serving
Directions:
Drain your crab if you need to, and make sure there are no shell bits. Then place the crab in a bowl and set it aside for a moment.
Get a smaller bowl and whisk your egg with the mustard, mayo, Old Bay, Worcestershire, lemon juice, and a touch of salt. Pour that over your crabmeat and mix it very gently until everything is combined. Break up any lumps but avoid mixing too much.
Now sprinkle the mixture with parsley and breadcrumbs. Again, mix it up but do it gently. You don't want a mashed up mixture, so keep it loose. Once done, cover your bowl in plastic and pop it in the fridge for 1-3 hours.
When you're ready, create 8 one-inch patties. Grab a large skillet, heat up the butter and the olive oil on medium heat, and wait until the butter looks a little frothy. Then you're ready to start cooking your cakes – in batches or all at once, depending on the size of your pan. Cook them for around 4 minutes, until the undersides are golden, then flip them, put the heat down to a medium-low setting, and cook another 4 minutes or so.
Source: finecooking.com
---
5

Mini Corn Bread Crab Cakes with Lemon-Caper Sauce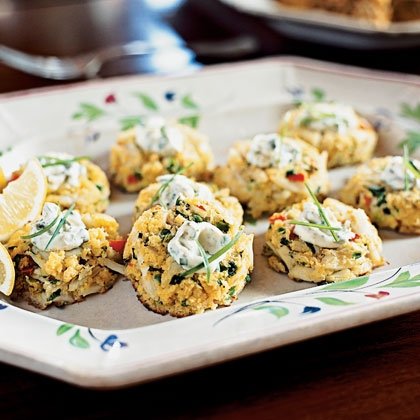 Now this … this is my dream recipe. The cornbread is so sweet and savory, a perfect foil for the sweet crabmeat. I think my stomach just growled. I'm not even a huge fan of capers, but that sauce is an ideal accompaniment. You will not be disappointed in this recipe. Well, unless you absolutely abhor corn-based crab cakes, but even still, these might make you a convert.
Ingredients:
Sauce:
1/3 cup reduced-fat mayonnaise
1 1/2 tablespoons chopped fresh chives
1 tablespoon capers, drained and chopped
1/4 teaspoon grated lemon rind
2 teaspoons fresh lemon juice
1/4 teaspoon hot pepper sauce (such as Tabasco)
1/8 teaspoon minced garlic
Dash of freshly ground black pepper
Crab cakes:
2 teaspoons olive oil
1/2 cup sliced green onions
1/3 cup finely diced red bell pepper
1/3 cup finely diced green bell pepper
1 garlic clove, minced
1/4 cup reduced-fat mayonnaise
2 tablespoons chopped fresh chives
2 tablespoons chopped fresh parsley
1/2 teaspoon grated lemon rind
1 tablespoon fresh lemon juice
1 tablespoon hot pepper sauce
1 teaspoon (30%-less-sodium) Old Bay seasoning
1 large egg, lightly beaten
2 cups crumbled Buttermilk Corn Bread
1 pound lump crabmeat, shell pieces removed
Cooking spray
Fresh chives (optional)
Direction:
Start with the sauce, which is sinfully easy. Just combine all the ingredients, then toss the mixture in the fridge.
Next, preheat your oven at 400 degrees.
Now, heat up the oil in a skillet. Make it medium-high, but not too hot. Throw in the bell peppers, onion, and the garlic, and saute everything for about 3 minutes. Take the skillet off the heat and let the mixture cool. Once it's cool, add it to the mayo, chives, parsley, lemon rind and juice, the sauce, and the Old Bay, then stir in the egg. Fold in the crabmeat and the cornbread. Prepare two baking sheets, and scoop out 8 cake portions per sheet. Cover each sheet lightly and refrigerate them for an hour. Then you're ready to, bake them for around 12 minutes. You want them to look light golden brown. When done, serve them with the sauce.
Source: myrecipes.com
---
6

Ginger Crab Cakes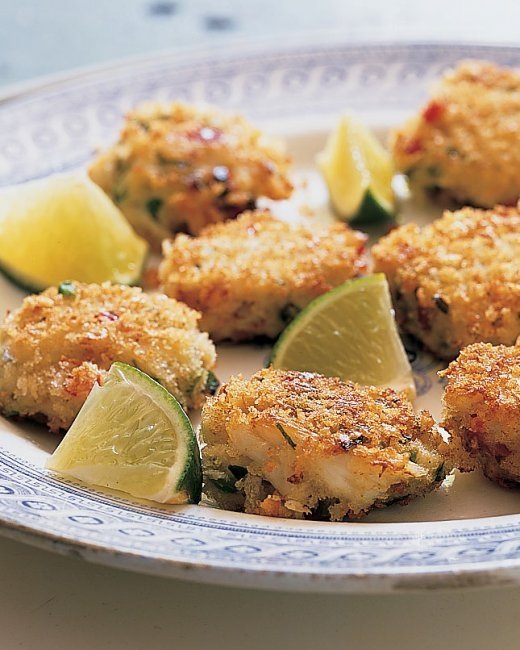 I would have never in my life thought about adding ginger to crab cakes, but it's surprisingly amazing. There's a freshness there, and the ginger pairs beautifully with the sweetness of the crab. Well, of course, if you've ever enjoyed crabsticks, you'll probably love this recipe.
Ingredients:
14 ounces crabmeat
1/2 cup light mayonnaise
1/4 cup minced green onions
1 tablespoon chopped cilantro
1 tablespoon lime juice
2 teaspoons minced fresh ginger root
1/4 teaspoon hot pepper sauce
1/4 teaspoon salt
1/4 teaspoon black pepper
2 eggs
3/4 cup dry bread crumbs
1/4 cup vegetable oil
Directions:
Get a large bowl and combine the crab, mayo, onions, lime juice, cilantro, pepper sauce, ginger, and add a bit of salt and pepper. Shape the mixture into 8-12 patties (it depends on how thick you like them).
Beat your eggs in a small dish. Pour the breadcrumbs into another dish. Dip your patties in the egg, then coat them in the crumbs.
Heat the oil on medium heat in a big skillet. Cook your crab cakes in batches, adding oil as you need to. You want them to be golden brown, so 2 minutes per side should do it.
Source: allrecipes.com
---
7

Cajun Crab and Quinoa Cakes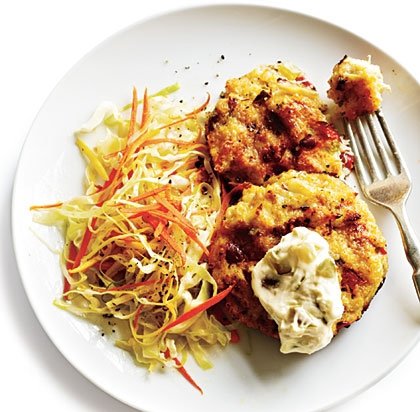 This is a surprisingly healthy option, all things considered. I never would have thought of doing this either, but the quinoa adds an interesting texture and a wonderful taste. I imagine you could make scallop cakes, fish cakes, or lobster cakes using this recipe as well, and they would taste just as amazing. Just be aware, this is definitely Cajun spicy!
Ingredients:
4 cups water
1/2 cup uncooked quinoa
1 thyme sprig
1/2 teaspoon black pepper
1/2 teaspoon paprika
1/4 teaspoon ground red pepper
1/4 cup plain fat-free Greek yogurt
1/4 cup canola mayonnaise
1/4 cup chopped sweet pickles
1 teaspoon Dijon mustard
8 ounces lump crabmeat, drained and shell pieces removed
1/4 cup finely chopped red bell pepper
1/4 cup finely chopped celery
1/4 cup chopped green onions
1/2 teaspoon kosher salt
1 large egg white
2 tablespoons olive oil, divided
Directions:
Grab a saucepan and combine the water, quinoa, and thyme, then get it boiling. Reduce the heat and let it simmer for half an hour, or until the quinoa is soft. Get rid of the thyme sprig, drain the quinoa, and make sure you press it to get rid of any extra water. Let it cool a bit.
Now combine the spices – the red pepper, paprika, and black pepper. Combine the mayo, yogurt, mustard, and pickles as well – in a separate bowl, though!
Put the crab in a bowl and lightly mash it, then add in the quinoa, half a teaspoon of the spice mixture, and half of the mayo/yogurt mix. Also add the bell pepper, the celery, the onions, the salt, and the egg white. Give everything a gentle stir, then create 8 patties, about 3 inches wide. Line a plate with parchment paper, place the patties on it, and put them in the fridge for 20 minutes.
Preheat your boiler to its high setting.
Get a baking sheet and spray it or brush it down with a tablespoon of oil. Line up the patties, brush them with some more oil, and sprinkle them with the some of your spice mixture. Broil them until they're brown, which will take about 5 minutes. Flip them over, brush them with excess oil from the pan, and sprinkle the spices again. Broil them another 5 minutes and serve them with the rest of the mayo/yogurt mixture.
Source: myrecipes.com
Crab cakes are actually quite easy to make, which is fantastic if you live in a place where they're not a more or less constant menu item. Beyond that, making them at home is usually cheaper, and you have total control over what goes into them. How do you like your crab cakes? What's your preferred sauce?
More
---
Comments
Popular
Recent