Are you stuck in a salad rut and need some new ways to make salad fun? Sometimes we all get bored of eating the same lettuces topped with the same ingredients over and over again. Mixing things up and eating different salads not only beats boredom, but it also boosts nutrition by ensuring you get a variety of vitamins and antioxidants. Today, I've provided you with seven simple ways to make salad fun again. Use some of these tips or all of them for a salad that will certainly pack that punch you've been craving!
---
1

Mix up the Greens
Do you use the same baby spinach, romaine, or even kale in your salads day after day? As delicious as these greens are, it's still easy to get bored of eating these veggies every day. One of the easiest ways to make salad fun is to try mixing up the kinds of greens you eat. Make a salad out of spinach one day, arugula the next, and butter lettuce the day after. Also don't be afraid to experiment with lettuces like Swiss chard and dandelion greens. I've been known to make salads out of fresh herbs that I have lying around and want to use up before they spoil. The sky is the limit, so get creative!
---
2

Add Fruit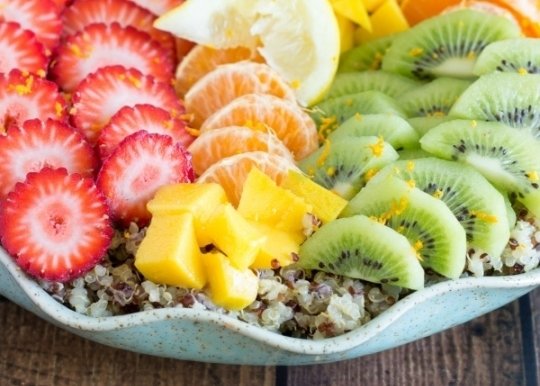 Who said salads were only for vegetables? There's nothing stopping you from adding some antioxidant-rich fruit into your bowl of veggies! Fruit often provides a great contrast to veggies, offering a sweet counterpart to balance the sometimes bitter greens. Great fruits to put in your salad include but are not limited to: apples, oranges, berries, pears, mangoes, pineapples, and other tropical fruits. Use fruit as a way to instantly kick your salad up a notch and add another dimension of color.
---
3

Strive for Texture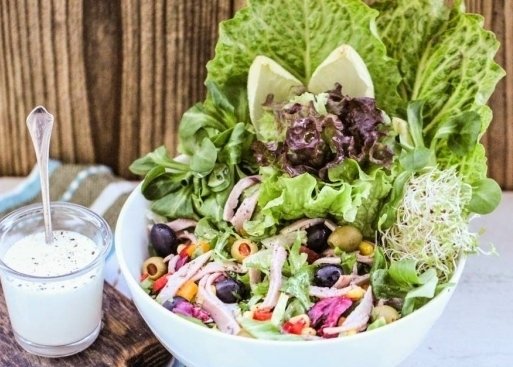 Part of the reason people get bored with salads is the lack of texture. The perfect salad will have that just right balance of crunch you've been looking for. Mix romaine lettuce, cabbage, and baby spinach for a party in your mouth! Add crunchy ingredients that are full of water and will give your salad a flavorful punch, such as apple and celery. In other words, try to include a variety of ingredients in your salad to play up the texture and keep you from getting bored. This will help you continue to eat salad on a regular basis, keeping you trim and healthy.
---
4

Make Your Own Salad Dressing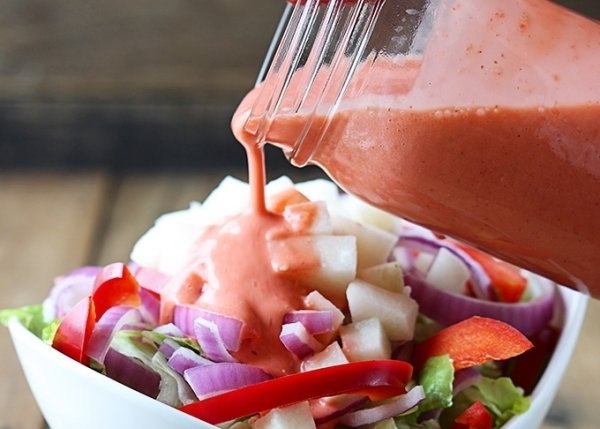 Maybe the reason you're bored with your salad is because you use the same salad dressing night after night! You could switch gears by simply buying a different bottle the next time you hit the grocery store. Or you could unleash a real game changer and make your own salad dressing from scratch! Bottled and jarred salad dressings usually have a ton of artificial ingredients and refined oils in them. Ditch the gross additives and make your own dressing. You can find a ton of recipes online and through social media sites. Make a large batch and you'll easily have enough salad dressing for the week.
---
5

Add Healthy Fat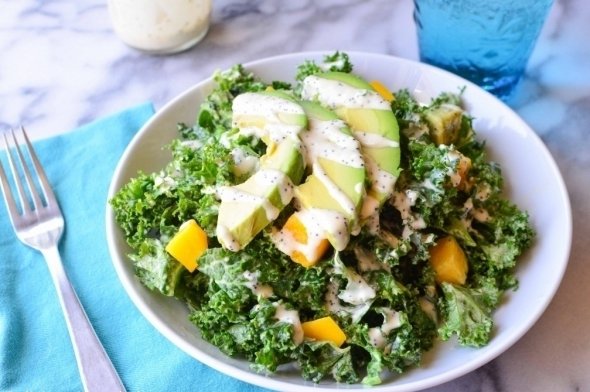 The problem with eating salad for lunch is if you don't include a healthy fat or some protein, chances are you'll never feel full and instead will be hungry in an hour or two. Healthy fats like nuts, seeds, avocados, or even a sprinkling of cheese are all fantastic healthy fat choices for a salad. Healthy fat will give you clear skin, shiny hair, and can even help you lose belly fat. Remember that you don't need to go overboard—a few tablespoons of walnuts or sunflower seeds are more than enough.
---
6

Include Protein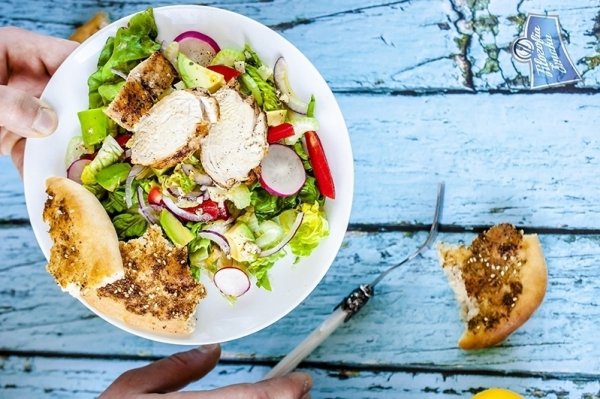 Another food you might want to consider including in your salad is protein. Gram for gram, protein is the most satiating macronutrient compared to carbs and fat. Topping your salad with protein is thus a great way to keep hunger at bay and help you stay full until your next meal. Whether it's grilled chicken, braised beef, or even baked tofu, try adding different proteins with your salads to mix things up and maintain that sense of variety you've been wanting.
7

Go for Grains
Many people think salads are just for veggies or fruit. They forget that many grain-based salads are a healthy and delicious alternative to the standard plate of greens. Whole grains like quinoa, bulgur, buckwheat, brown/wild rice, couscous, and even barley make fantastic choices for grain-based salads. Add a few handfuls of fruits, veggies, fresh herbs, and your favorite dressing for a complete meal for lunch or dinner!
Salad doesn't need to be some boring meal you force yourself to eat every day. If you want to ensure you eat all your fruits and veggies for the day, adding different ingredients into your salad is the best way to help you stay on track with your healthy eating plan! What are some of your favorite ingredients to incorporate into salads?
---
Comments
Popular
Related
Recent