Muffin tin dinners are the perfect way to enjoy delectable meals that are portion controlled for you. Think about how many individual portions you can whip up. Share them with your family and friends or store them in the freezer for quick and simple meals when you're on your own. Get started with these delicious muffin tin dinners, then follow your inspiration for your own tasty creations.
---
1

Egg Topped HasH Brown Nests
Muffin tin dinners don't have to be your traditional evening foods. Try eggs and hash browns for a super delicious and nutrient packed meal you can enjoy for breakfast, lunch or dinner.
Ingredients:
1 box seasoned hash brown potatoes
Hot water, salt and margarine as called for on the box
¼ cup bacon flavored bits
12 eggs
1 teaspoon salt
½ teaspoon pepper
Directions:
Heat the oven to 400 degrees and spray a muffin tin with cooking spray. Cook the potatoes as directed on the package, the mix with bacon in a bowl. Divide the hash browns evenly among the muffin cups. Bake for about 15 minutes, or until the edges begin to brown. Turn the oven down to 350 degrees. Crack an egg in each cup and season with salt and pepper. Bake the cups for about 20 minutes, or until the eggs are set. Cool five minutes, then serve.
Source: bettycrocker.com
---
2

Muffin Tin Lasagna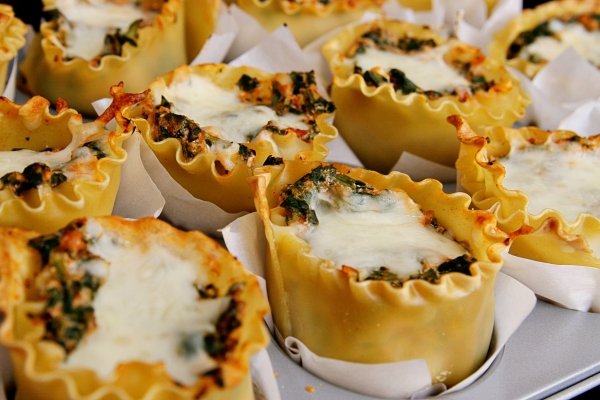 It's hard to show restraint when it comes to pasta meals, so a muffin tin version is perfect for controlling yourself. I love this recipe because it's the perfect size to satisfy my appetite, but not so much that I'm uncomfortably full after dinner. Try it and you'll agree!
Ingredients:
12 ounces raw ground turkey
¼ teaspoon salt, divided
¼ teaspoon pepper
1 cup chopped onion
½ cup chopped mushroom
14 ½ ounce can of crushed tomatoes or tomato sauce
2 cloves garlic, minced
3 teaspoons dried oregano, divided
½ teaspoon dried basil
1 ½ cups part skim ricotta cheese
24 small square wonton wrappers
1 ½ cups mozzarella cheese
Directions:
Preheat the oven to 375 degrees. Cook the turkey, onions, mushrooms, salt and pepper in a skillet over medium heat, about 10 minutes. Add the garlic and stir continuously for 30 seconds. Pour in the tomatoes and 2 teaspoons of the oregano. Simmer for 10 minutes, then set aside. Combine the ricotta, remaining oregano and basil in a bowl. Grease a 12-cup muffin tin and press one wonton wrapper into each cup. Layer half the cheese mixture, then half the tomato mixture evenly among the cups. Layer on 2 teaspoons of the cheese evenly on top. Place another wonton wrapper on top, then repeat the process with the remaining turkey and cheese. Cover with the remaining mozzarella and bake for 10 minutes.
Source: canyoustayfordinner.com
3

Eggplant-Feta Phyllo Pies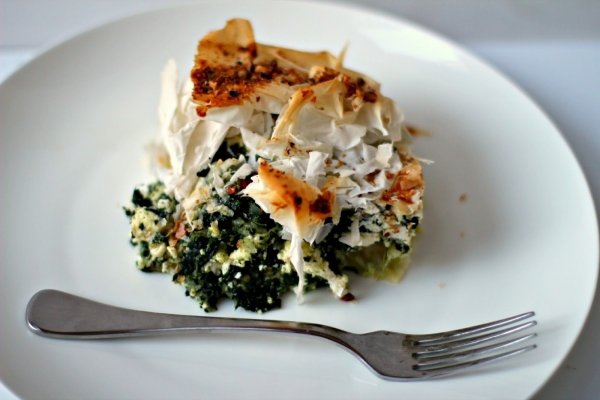 What a great recipe for combining ethnic foods in small portions. The delicious combination of eggplant and feta cheese is sure to please even the pickiest of eaters. You're going to love this, I promise!
Ingredients:
1 large eggplant, halved lengthwise
Extra virgin olive oil
Salt and pepper
½ cup feta cheese, crumbled
¼ cup pistachios, roughly chopped, divided
¼ teaspoon ground coriander
½ teaspoon red pepper flakes
2 tablespoons fresh mint leaves, finely chopped
5 sheets frozen phyllo dough, thawed
Directions:
Preheat your oven to 400 degrees. Brush the eggplant with olive oil and sprinkle with salt and pepper. Put the cut sides of the eggplant on a parchment lined baking sheet. Bake for 20 minutes, then reduce the heat to 375 degrees. Remove the flesh from the skin and chop the eggplant. Put the eggplant in a bowl and stir in the feta cheese, 3 tablespoons of the pistachios, coriander, red pepper flakes and mint and stir well with salt and pepper to taste. Oil 6 muffin tin cups. Lightly oil the phyollo slices, stacking them as you go. Cut the stack of phyllo into 6 squares and put one into each of the muffin tins. Place a ¼ cup of the eggplant into each cup and fold the phyllo dough to enclose the filling. Bake for 30 minutes.
Source: delish.com
---
4

Taco Cups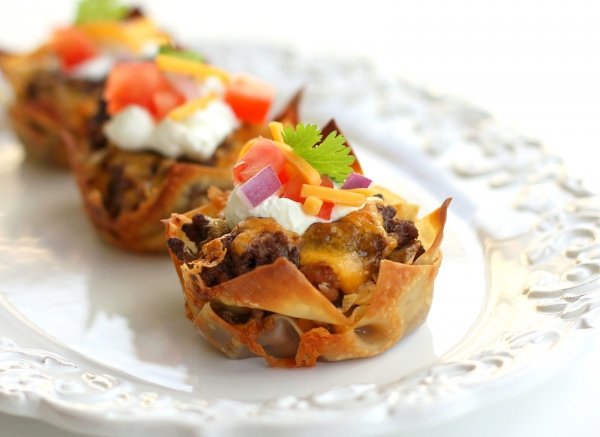 What could be more convenient than a taco that won't drop all its fillings when you pick it up? Not only does this recipe deliver on that front, but these taco cups are so delicious, you might never go back to a regular taco again.
Ingredients:
6 corn tortillas
½ teaspoon chili powder
½ teaspoon cumin
½ teaspoon onion powder
½ teaspoon garlic powder
½ teaspoon salt
¼ teaspoon pepper
¼ teaspoon paprika
1 teaspoon dried oregano
½ pound lean ground beef
½ pound cremini mushrooms, finely chopped
1 red bell pepper, diced
½ yellow onion, diced
2/3 cup shredded Monterey Jack cheese
2/3 cup shredded cheddar cheese
½ cup sliced cherry tomatoes
1/3 cup chopped fresh cilantro
Directions:
Heat the corn tortillas until they are soft. Brush both sides of the tortilla with oil, then press each into a jumbo-sized muffin tin cup. Preheat the oven to 375 degrees. Mix the spices in a small bowl. Heat a large skillet over medium heat and add the spice mixture, beef, mushrooms, red pepper and onion and cook until the meat is no longer pink and the mushrooms are cooked and soft. Put a sprinkle of cheese in the bottom of each tortilla cup, and top each with an even amount of the beef mixture. Layer on a bit more cheese and bake for 15 minutes. Garnish with tomatoes and cilantro just before serving.
Source: redbookmag.com
---
5

Tamale Cups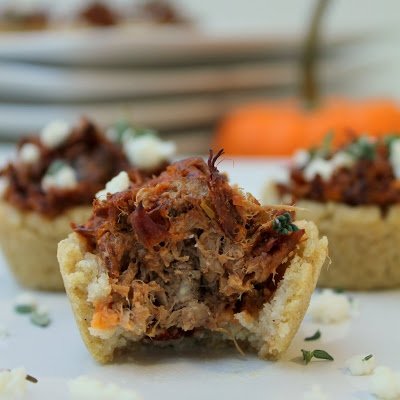 If you're anything like me, a tamale is the perfect dinner. If you want a portion controlled version that doesn't sacrifice on the flavor, this is the perfect dinner for you. Serve this at a buffet and turn any everyday get together into a fiesta no one will forget.
Ingredients:
3 cups instant masa harina flour
1 ½ cups warm water
3 cups shredded cooked beef (use leftovers!)
2 tablespoons taco seasoning
2 tablespoons taco sauce
2 tablespoons crumbled queso fresco
1 tablespoon coarsely chopped cilantro leaves
Directions:
Heat oven to 350 degrees and lightly grease 12 standard-sized muffin tin cups. In a bowl, stir together the flour and water until it turns into a dough. Divide the dough into 12 even chunks and press each into the cups and up the sides. Combine the beef, seasonings and taco sauce in another bowl. Evenly divide the beef among the cups and bake for 15 to 20 minutes. Serve topped with cheese and cilantro.
Source: bettycrocker.com
---
6

Bacon and Tomato Cups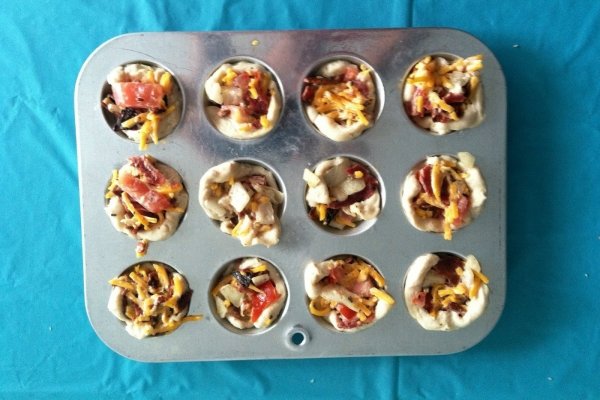 Could anything be more glorious than bacon? I don't think so! That's why this recipe is going to quickly become one of your favorites.
Ingredients:
8 slices bacon
1 tomato, chopped
½ onion, chopped
3 ounces shredded Swiss cheese
½ cup mayonnaise
1 teaspoon dried basil
1 16-ounce can refrigerated buttermilk biscuit dough
Directions:
Preheat the oven 375 degrees. Grease a muffin tin. Cook the bacon in a skillet until brown and crispy. Drain and crumble the bacon into a bowl and mix in the tomato, onion, cheese, mayonnaise and basil. Place half biscuit in each muffin tin cup and top with the bacon mixture. Bake until the biscuits turn golden brown, about 10 to 12 minutes.
Source: allrecipes.com
---
7

German Pancakes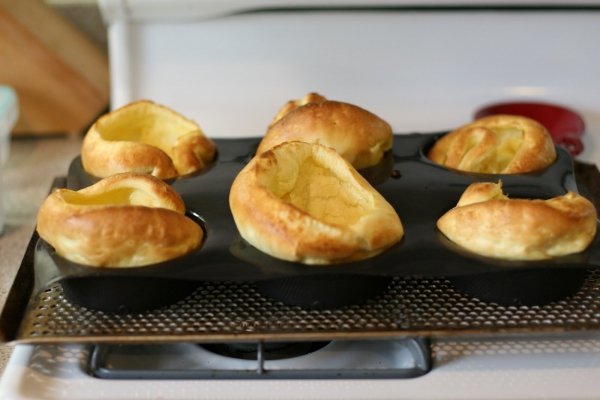 Yes, you can totally cook pancakes in a muffin tin. And why wouldn't you? These taste wonderful and are the perfect size if you have little ones in the house.
Ingredients:
1 cup milk
1 cup flour
6 eggs
¼ cup melted butter
Dash of salt
Directions:
Preheat the oven to 400 and lightly grease a muffin tin. Put all the ingredients in a blender and whirl until well mixed. Divide the batter evenly among the muffin tins and bake for 15 minutes. Serve topped with your favorite pancake toppings.
Source: makeandtakes.com
Have you ever cooked a tiny meal in a muffin tin? I highly recommend it! Do you have any great suggestions to add to this list?
More
---
Comments
Popular
Recent