As much as I love chocolate, vanilla recipes have had my heart since I was a young girl. Honestly, I can't remember anything as delicious as my grandpa's homemade vanilla bean ice cream made with a real ice cream churn. Then there's vanilla shortbread cookies I loved to eat during Christmas, and one of those unhealthy, yet superb vanilla milkshakes from Dairy Queen. Yes, vanilla is where it's at, ladies! Actual vanilla beans are rich in nutrients that calm anxiety, boost hormone health, and even enhance the libido. In honor of the very basic, yet highly underrated vanilla, I bring you some of the most delicious vanilla recipes I've found on the web lately. They're much more than the traditional ice cream or shortbread cookie too. Try some of these out, and consider yourself in vanilla nirvana.
---
1

Raw Pumpkin Spice Cupcakes with Vanilla Icing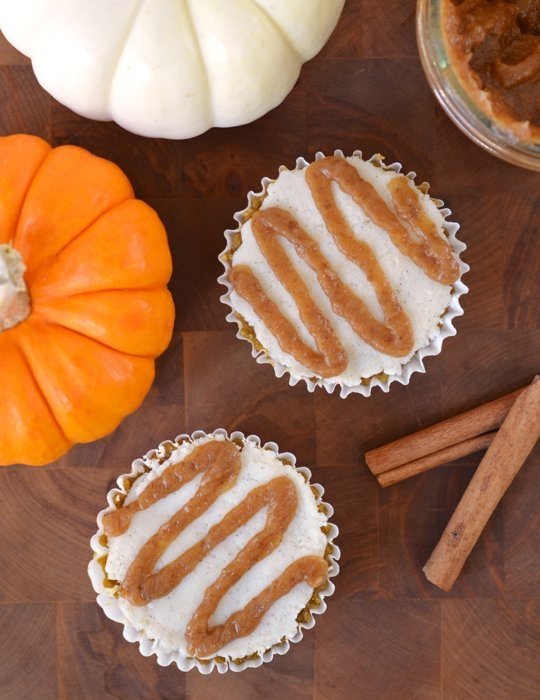 Perhaps one of the most decadent vanilla recipes I've found so far is the one for these raw cupcakes. I had no earthly idea so many wonderful flavors could be combined into a raw cupcake recipe! The vanilla bean icing here is the most intensive flavor used, and the pumpkin offers a modest background flavor that enhances the warming experience. Take some time to make these gems, you won't be sorry!
Serves: 8 large cupcakes
Cupcake Ingredients:
1 cup raw pumpkin seeds, ground into a flour (you can use a raw protein powder here instead)
1 cup coconut flour (like Coconut Secret brand, which is raw)
1 cup organic pumpkin puree (or fresh raw pumpkin meat for truly raw)
2 tsp. pure stevia extract
inside of one vanilla bean, scraped
1/4 teaspoon sea salt
2 tsp. pumpkin pie spice or 1 teaspoon ground cinnamon
1/2 teaspoon ground ginger
1/4 teaspoon ground nutmeg
1/4 teaspoon ground allspice
1/4 teaspoon ground cloves
1 batch of Coconut Vanilla Icing (below)
Coconut Vanilla Icing Ingredients:
Makes ½ cup
1/2 cup room temperature coconut butter
1 tsp. pure stevia extract (or use 1 tbsp. honey, though it will alter the color a bit)
1 tablespoon melted coconut oil
1 vanilla bean, scraped
1/8 teaspoon sea salt
Cupcake Directions:
Place the pumpkin seeds in a food processor to make a flour. A coffee grinder, Nutribullet or Vitamix will also work here to process the seeds into flour. Pulse until you have a floury consistency. Just be sure not to process too long or the seeds will turn into pumpkin butter. If you're using protein powder, skip this step. Set aside. In a large bowl, combine the pumpkin puree, stevia, lemon juice, vanilla bean seeds, sea salt, and spices in a food processor and blend until smooth. Add the pumpkin seed flour (or protein powder) and blend until smooth. Add the coconut flour and blend until well combined. Line a cupcake tin with 8 large cupcake liners and fill the liners with raw dough, pressing down evenly. Next, refrigerate for at least 2 hours and up to 4 days (can also freeze for up to 2 weeks; transfer to an airtight container if refrigerating or freezing for longer than a day). Just before serving, spread Coconut Vanilla Icing on top of each cupcake, or use a pastry bag.
Coconut Vanilla Icing Directions:
Combine all ingredients in a bowl and stir with a fork to combine. Place on top of the cupcakes as directed above.
Source: thekitchn.com
2

Vanilla Bean Ice Cubes for Coffee or Tea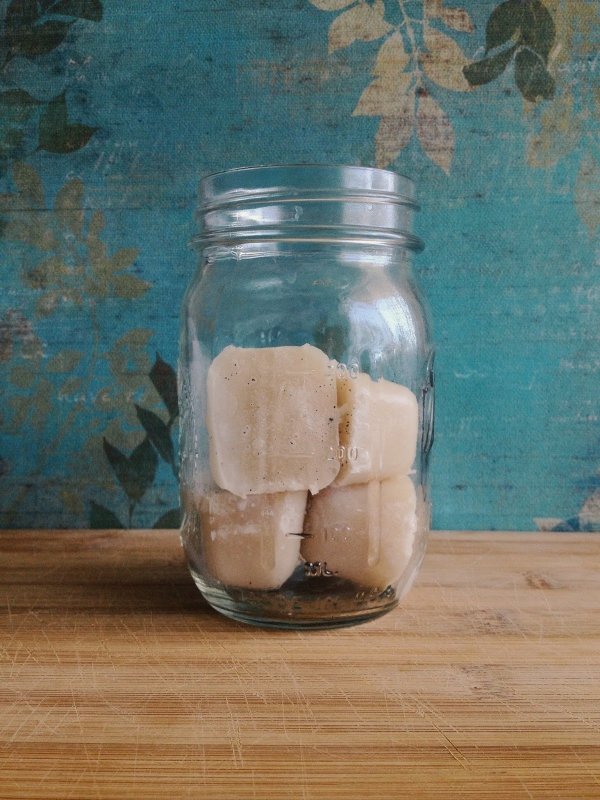 How amazing do these look? You know those insanely delicious coffee drinks we all love so much that just have that special sparkle to them? Flavored ice cubes are one of the best ways to achieve that taste, like these amazing vanilla bean ice cubes for your coffee! You can use these in hot or iced coffee, and even smoothies! I like making coffee flavored smoothies with these and coffee flavored ice cubes, but these make a fantastic addition to a hot mug of coffee as well. They're also easy, so what are you waiting for?
Serves: Varies
ingredients:
3 cups of Silk Vanilla Unsweetened Almond Milk
3 tsp. pure stevia extract, or 1/2 cup sugar
2 vanilla bean pods, scraped
optional: 2 tsp. vanilla extract (for more intense flavor)
Directions:
Combine almond milk and stevia (or sugar) in a large saucepan. Slice open vanilla bean lengthwise and scrape insides into saucepan, then place empty vanilla bean into mixture, and extract if using. Bring to a simmer over medium heat, whisking to break up clumps of vanilla. Once mixture has come to a simmer, reduce heat to low and cook until fully incorporated. This will take longer if using sugar, up to 10 minutes. Allow vanilla mixture to come to room temperature. Pour through a fine mesh strainer into a bowl with a spout, then pour mixture into ice cube trays. Freeze until completely solid, 3-4 hours (depending on the temperature of your freezer and size of the cubes). Serve with iced coffee, tea, or other beverages.
Source: ohmyveggies.com
---
3

Whipped Sweet Potatoes with Coconut Milk and Vanilla Cream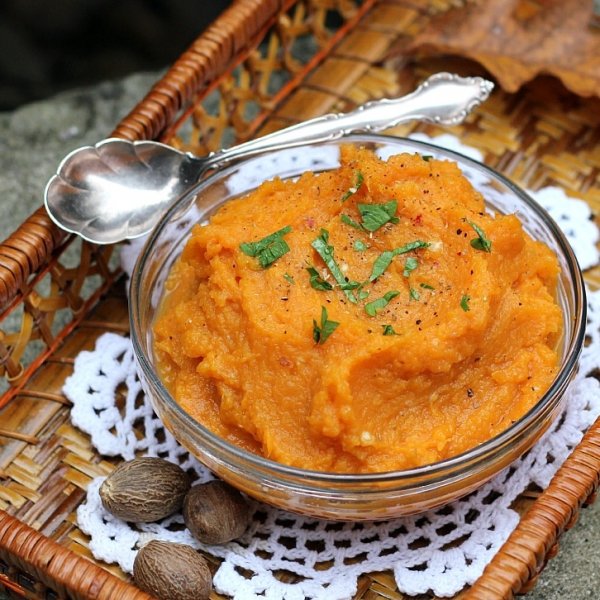 Are you tired of mashed potatoes? Try some of these amazing whipped sweet potatoes! I love sweet potatoes, and they're just so great for your hair, skin, mood and even your weight! These are made with coconut milk and an essence of vanilla for a truly rich, dreamy flavor. I prefer a sweeter mashed potato recipe to the traditional savory one, and these are a perfect example. Make these for your holiday dinner, or anytime of the year you'd like something soft, fluffy and cozy at the dinner table!
Serves: 4
Ingredients:
5 medium sweet potatoes (about 2 ½ pounds)
1/2 cup refrigerated coconut milk
2 tablespoons coconut oil
dash of cinnamon
3 tbsp. brown sugar (or use 1 tsp. pure stevia stevia instead if you like)
2 vanilla beans, scraped or 3 tbsp. pure vanilla extract
sea salt, to taste
Directions:
Preheat oven to 425°F. Line a baking sheet with aluminum foil. Pierce the sweet potatoes a few times with a sharp knife and place on the prepared baking sheet. Cook until tender and a knife easily pricks through the tops. Remove from the oven and rest until cool enough to handle. Slice open the potatoes lengthwise and scoop out the flesh of the potatoes into a bowl. Be sure to scrape the skins really well to get all the potato flesh out. Set aside. Meanwhile, combine coconut milk, brown sugar (or stevia), coconut oil, vanilla bean scrapings or extract, a few dashes of cinnamon, and a generous pinch of salt in a saucepan and cook over medium heat until the coconut oil and brown sugar are dissolved. Reduce heat to low and keep warm. Add the warmed milk mixture, a few tablespoons at a time, into the bowl with the potato flesh. Beat with an electric mixer on high speed until smooth and fluffy. You might have some excess milk mixture leftover. Garnish with more cinnamon, shredded coconut or even brown sugar if you wish. To reheat (or keep warm), place the bowl of potatoes over a bowl of simmering water, stirring occasionally.
Source: thekitchn.com
---
4

Vanilla Oatmeal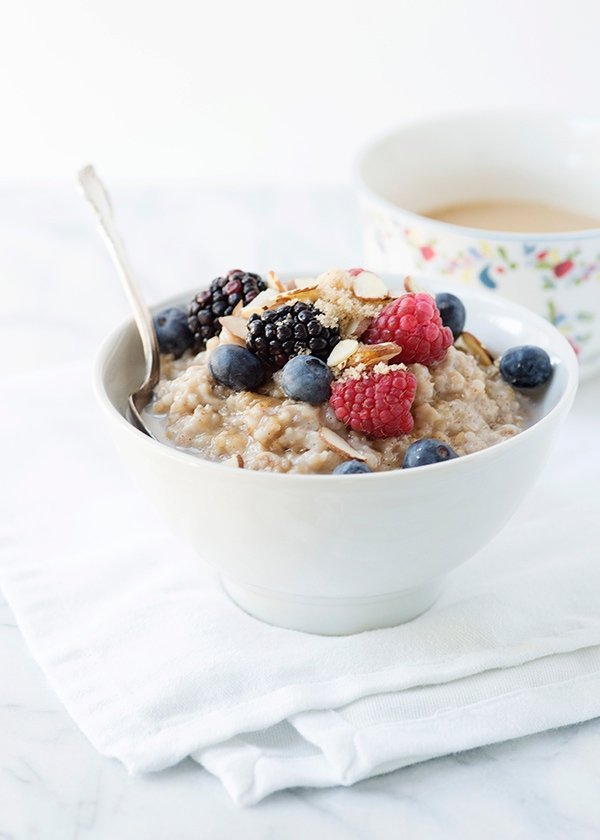 How about a hot bowl of creamy vanilla oats for breakfast? I think I'm in, what about you? Vanilla and oats are incredibly calming when combined, and if you're not into oatmeal for breakfast, save this as a nightly dessert instead! It's very warming, which is perfect for these chilly winter nights! You could also make extra and keep them in your fridge for an easy grab and go breakfast the next day. The real vanilla bean pods make this extra special, but if you don't have any, just use extract instead.
Serves: 2
Ingredients:
2 cups of water
pinch of salt
2 cups old-fashioned oats
scrapings of 1 vanilla bean (or 1 teaspoon pure vanilla extract)
2 tbsp. dark brown sugar (or maple syrup, honey, coconut sugar or 5 droppers of liquid vanilla stevia)
½ cup unsweetened vanilla almond milk
1 tsp. pumpkin pie spice (or cinnamon)- optional
Optional ingredients: walnuts, raisins, cranberries, sunflower seeds, chia seeds, flaxseeds, pumpkin seeds, almonds, or pecans
Directions:
In a medium saucepan, bring the water and salt to a boil. Stir in the oats and any dried fruit if using. Reduce the heat to low and simmer, stirring occasionally, uncovered, for 4 minutes. When the oats are cooked remove pan from the stove, and stir in the vanilla and spices if using. Stir in your sweetener of choice and serve in two bowls, or eat half and store the rest for later. Pour 1/4 cup of milk on top of each bowl for an extra creamy touch, and top with any other optional ingredients like nuts or seeds.
Note* If using quick cook oatmeal, just cook the oatmeal according to the directions on the package and stir the other ingredients into the mix, and top with nuts or seeds and the additional almond milk last.
Source: foodnetwork.com
---
5

Vegan Vanilla Pecan Sandies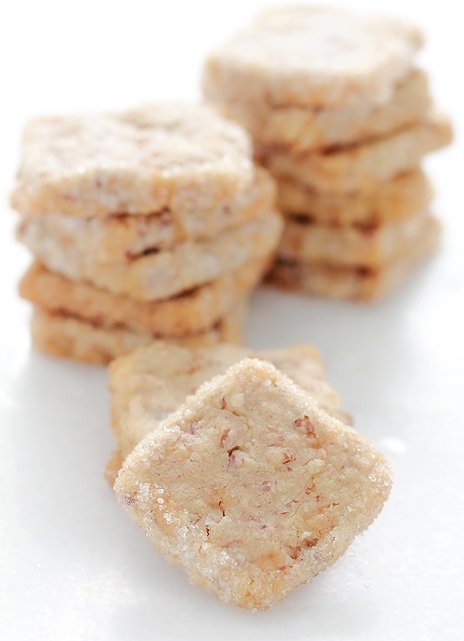 I used to love pecan sandies as a girl, and I'm quite doubtful the kind I enjoyed were vegan, but who says they can't be? These tender pecan sandies have a crumbly bite, yet are perfectly firm enough to hold up well during handling and baking. They're also amazing dipped in just a bit of almond milk before serving as a decadent, childhood like treat. Enjoy!
Serves: 18-20 cookies
Ingredients:
1 cup coconut flour (or use 2 cups all purpose)
¾ cup raw pecans, ground in a food processor into a fine powder
2/3 cup powdered sugar (or process an alternative sweetener into a fine powder to resemble powdered sugar. Xylitol, baking stevia, or erythritol work well here.)
1/2 teaspoon sea salt
1 cup coconut oil, liquified
1 1/2 teaspoon vanilla extract
½ cup water, cold but not ice cold
20 pecans
Directions:
Preheat oven to 350°. Line two baking sheets with parchment paper. In a large bowl, stir together all dry ingredients. Be sure to get all the lumps out of the coconut flour, if any. This offers a very tender crumb that soaks up a great bit of liquid. Place the dry mixture into the bowl of a stand mixer or food processor. Blend in the coconut oil and the vanilla extract, just until incorporated. It will be clumpy at this point. Now add the water and stir well to mix thoroughly. It should be very thick at this point. If not, keep stirring as the coconut flour will absorb more liquid as it sits. Shape into a 2-inch diameter log, and slice into 1/2 inch slices. Place cookie dough on sheets and gently press a pecan into each cookie. Bake for approximately 20 minutes, remove from oven and cool on a wire rack. Serve warm or chilled with a nice glass of almond milk!
Source: thekitchn.com
6

Coffee Vanilla Milkshake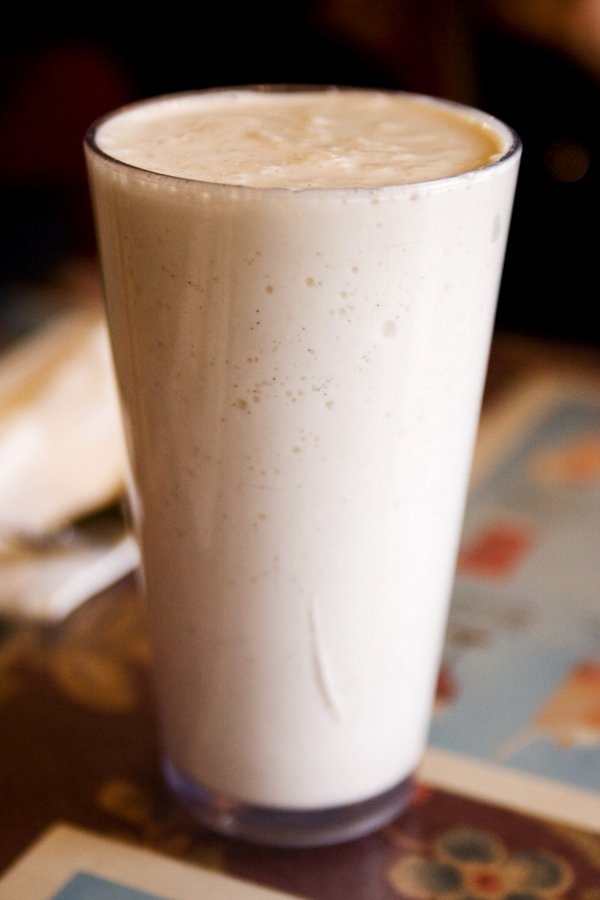 How about a perky twist to your standard vanilla milkshake? Coffee will certainly do that! This flavorful treat tastes like one of those naughty coffee house drinks, yet it's actually pretty healthy for you! Sip this with a straw, or make it extra thick by eliminating ½ the liquid, and eat it with a spoon! Perhaps top with some chocolate chips or cacao nibs as well to make this really delicious!
Serves: 2 large shakes
Ingredients:
1 cup almond milk, unsweetened
2 tsp. pure vanilla extract or 1 vanilla bean, scraped
½ cup coconut milk (optional, but offers a thicker flavor)
1 cup crushed ice cubes
1/2 cup brewed coffee, double strength or 3 shots of espresso
Directions:
Combine all ingredients in a blender. Puree until the ice has been completely incorporated and the milkshake has a smooth and frothy texture. Drink immediately, or eliminate ½ the liquid and serve as an ice cream like treat. Top with cacao nibs or chocolate chip pieces if desired.
Optional: For even more flavor, combine the coffee and vanilla in a blender first, freeze into cubes overnight, and the next day, make this recipe using the flavored cubes instead of the regular ice cubes. Flavor will be much more intense, but does take a little prep work.
Source: thekitchn.com
---
7

White Chocolate Cardamom Vanilla Shortbread Cookies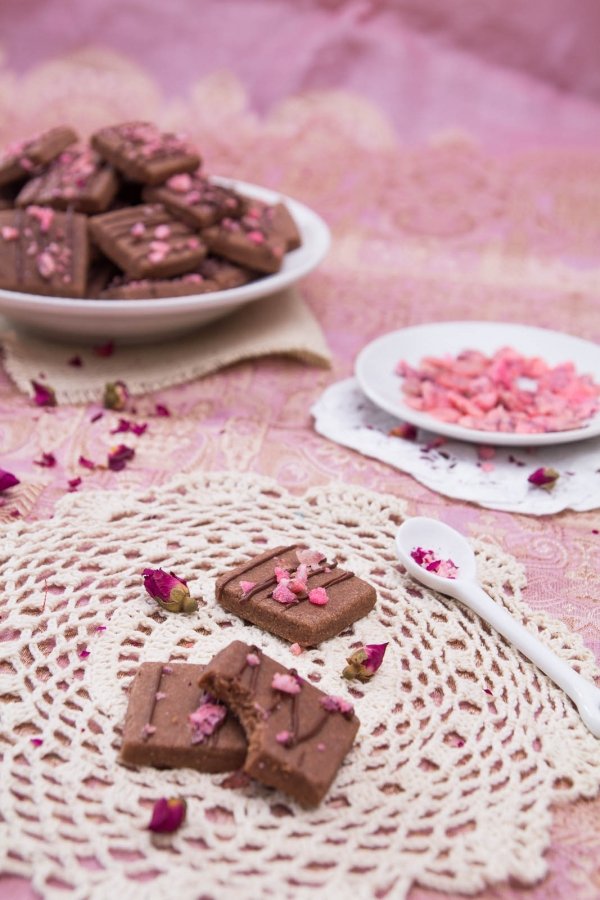 I adore two flavors almost more than cinnamon: cardamom and vanilla. If you've never had the chance to try cardamom in baking, boy, are you missing out. This ethnic sweet spice is one of the sweetest, most calming spices ever created, and you only need about ¼ the amount as you would of a regular spice because it offers an intense flavor punch. Shortbread cookies were always a favorite of mine, and these beat out the original by far. Make these for an especially delightful holiday (or everyday) treat!
Serves: 24 cookies
Ingredients:
1/2 cup (1 stick) unsalted butter, at room temperature
2/3 cup powdered sugar
scrapings from 1 vanilla bean pod or 2 tsp. pure vanilla extract
1 cup all-purpose flour
1 1/2 teaspoon ground cardamom
dash of cinnamon, optional
Pinch kosher salt
4 ounces Ghirardelli white chocolate bar (or other brand), melted
Directions:
Combine butter and sugar in a mixing bowl and beat on medium-high speed until light and fluffy. Add the vanilla extract and combine. Whisk together flour, cardamom, and salt. Gradually add the flour mixture and beat until just combined. Form dough into a long log, about 1 1/2 inches in diameter, wrap in wax paper and refrigerate for at least 1 hour. Preheat oven to 325 degrees F and line two baking sheets with parchment paper. Set aside. Slice chilled dough into 1/2 inch rounds and place on sheets. Bake until pale golden, about 12-15 minutes. When cookies are completely cooled dip halfway in melted chocolate and place on greased parchment paper. Allow chocolate to set completely before serving.
Source: thekitchn.com
Are you hungry yet? Because I sure am! As much as I love chocolate, these vanilla recipes will definitely cause some crazy cravings! What's your favorite way to enjoy vanilla?
---
Comments
Popular
Related
Recent