24 Yummy Ideas for Corn That You Might Not Know about ...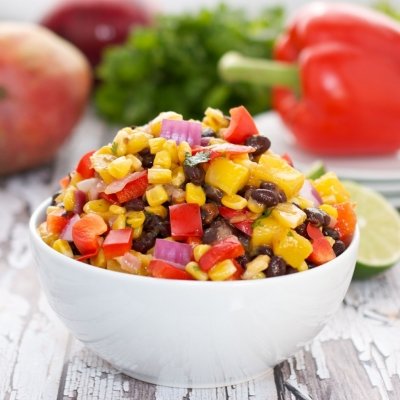 It's that time of year when the corn on the cob is fresh and abundant, which means you're probably looking for ideas for corn just like I am. You can do so much more with it than boiling and serving it with butter and salt. Corn is a tasty addition to any meal and it's pretty versatile so you can do a lot of surprising things with it. Check out these ideas for corn and get ready to be inspired.
1.

Shrimp, Roasted Corn and Avocado Salad
Via gimmesomeoven.com
One of the best ideas for corn is to add it to a salad. It works well in this shrimp salad, but you could add it to any kind you like.
Via Mexican Corn Dip - Damn ...
This would be such a tasty appetizer for a backyard party as summer ends. Although, it looks good enough to be a meal to me.
Via Mexican Street Corn
Take your corn on the cob to the next level by making it look like this. All you need is mayo, chili powder, cilantro and lime juice. Yum!
7.

Sweet Corn Chicken Enchiladas
Via A Quick & Easy Recipe ...
If you've never put corn in your enchiladas, it's time to give it a try. You'll love it, I promise!
8.

Avocado, Corn and Tomato Salad
Via Avocado, Tomato & Corn Salad ...
I would eat this on its own, but it would also be delicious on burritos or tacos.
13.

Zucchini Corn Pancakes
Via Zucchini Corn Pancakes - Damn ...
Don't these look delicious? I think they would go great with a grilled salmon fillet or chicken breast.
Via Blogger
Your guests won't be able to get enough of this creamy and delicious dip.
15.

Creamy Cheesy Corn Casserole
Just looking at this makes my mouth water. It looks like it tastes as creamy as macaroni and cheese.
Via Lobster Corn Chowder - A ...
Could anything be more decadent than corn chowder with lobster? I don't think so.
Via Bacon Roasted Corn
I don't think words are needed for this. I would love to have a cob of bacon wrapped corn to bite into right now.
18.

Potato Corn Zucchini Chowder
Via Potato Corn Zucchini Chowder - ...
If you love a bowl of veggie soup, you are going to love this one!
21.

Shrimp and Corn Chowder
Via Shrimp and Corn Chowder With ...
If you like corn chowder with lobster, you'll also love it with shrimp added.
22.

Corn Cream Croquettes
Via en.cookpad.com
Dip in these some ranch and you have a tasty appetizer to start any meal.
Via Autumn Sausage Corn Soup
Corn and sausage pair really well together so it makes perfect sense to combine them in a pot of soup.
24.

Garlic Butter Sauteed Corn
Via Garlic butter sautéed corn - ...
If you're looking for a tasty new side dish, this is the one you've been searching for.
Do you grow corn in your garden? Even if you don't, you can still enjoy these ideas by buying corn at the supermarket or a farmer's market near your house. Which one will you try first?
{{#comments_count}} Show Commnents ({{comments_count}}) {{/comments_count}}