Kabocha Squash 🍠 Recipes to Send Your Taste Buds 🚀 out of This World 🌎 ...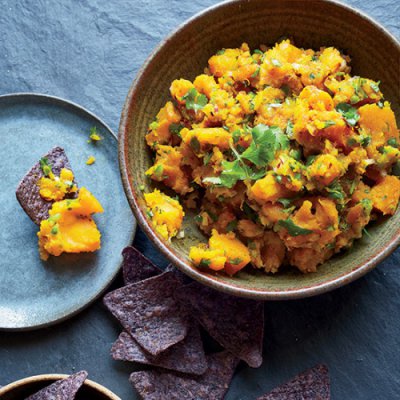 Kabocha squash is in the winter squash family and has an earthy flavor that you are going to love. It has a green skin and a bright orange flesh. That tells you that the squash is packed with nutrients that protect your healthy. If you're looking for something new, kabocha squash is sure to please. Here are some easy and out of this world recipes that you will crave all the time.
One of my favorite things to make with squash is soup. This version is combined with onions and spices and topped with pepitas (roasted pumpkin seeds) for a flavor combination you won't believe.
2.

Kabocha Squash Stir-Fry
The great thing about stir-fry is that it cooks fast and is a healthy choice. Adding kabocha squash ups the nutrient intake and adds a great flavor you won't find anywhere else.
3.

Roasted Kabocha Squash
This is the perfect side dish. The cooked squash is topped with crumbled cheese, herbs and oil that makes it look as yummy as it tastes. Serve it which fish or chicken.
4.

Soy Simmered Kabocha Squash
Getting soft squash requires cooking, but when you simmer the flesh is a soy mixture, you end up with a flavor infused side dish you won't be able to resist.
Just like you can use pumpkin or sweet potatoes to make pie, so too can you use kabocha squash. The finished product has a great flavor and wonderful color that's sure to impress anyone on your guest list.
6.

Kabocha Squash Mung Bean Soup
Squash is a great addition to a soup recipe. It cooks up soft and adds a wonderful earthy flavor. In this soup it combines perfectly with the mung beans. You are going to love it!
7.

Kabocha Squash Beef Curry
Looking for something with an ethnic flair? This is the recipe for you. The kabocha squash melds with the beef and curry in the most wonderful way.
If you love sushi and sashimi, this is a recipe you've got to try. It's a veggie twist on the traditional sashimi recipe and you will be blown away by how good it tastes.
9.

Steamed Spare Ribs with Kabocha Squash
Squash and beef just go hand in hand. This recipe proves it with the perfect balance of spices and flavor to bring out the best of both ingredients.
10.

Kabocha Squash Buttery Rice
Tired of plain old rice? Jazz things up and make mealtime exciting by combining the rice with buttery kabocha squash for a pleasing taste you won't find anywhere else.
Kabocha is a vegetable so it makes sense that it would be a great addition to a salad. Bacon, cucumber, mayonnaise, salt and pepper also star in this delicious salad.
12.

Oreo Kabocha Squash Layered Cake
Because kabocha squash has a sweet flavor, it's the star addition to a dessert recipe. In this cake, it melds perfectly with the cookies and gives you a visually appealing treat to share with friends and family.
13.

Kabocha Squash Ravioli
Ravioli is one of my favorites! If you know how to make it, you can stuff with virtually anything. In this recipe, you'll learn how to make kabocha squash the star of the show.
14.

Stuffed Kabocha Squash
The shape of a cut kabocha squash makes it perfect for stuffing. In this version, the filling is made from curried teff pilaf and blends perfectly with the flavors of the squash.
15.

Pasta with Roasted Kabocha Squash
The earthy flavor of kabocha squash is perfectly balanced with the mild taste of the pasta in this recipe. The Pecorino cheese adds just the perfect touch of saltiness.
16.

Kabocha Squash Soup with Shrimp Balls
This broth based soup combines the pleasing taste of shrimp and squash with herbs and spices that create the perfect comfort food. Serve this soup to a sick friend or family member and they'll feel better in no time at all.
17.

Kabocha Squash and Couscous Salad
This simple salad is perfect for a light dinner and makes an outstanding lunch the next day too. The flavors are perfect together and no one will be able to resist a second helping of this.
Have you ever tried kabocha squash? Do you plan to now?
{{#comments_count}} Show Commnents ({{comments_count}}) {{/comments_count}}