Yes, food can change your life and these salsa recipes are proof. Salsa is so versatile and you can do a lot with it. Put it on tacos or burritos, scoop it up with corn chips, pile it on a baked potato or use it marinate fish or chicken. Whatever you do with it, salsa adds loads of flavor to food without adding a lot fat and calories. Check out these salsa recipes for lots of yummy variations on this easy condiment.
---
1

Avocado-Mango Salsa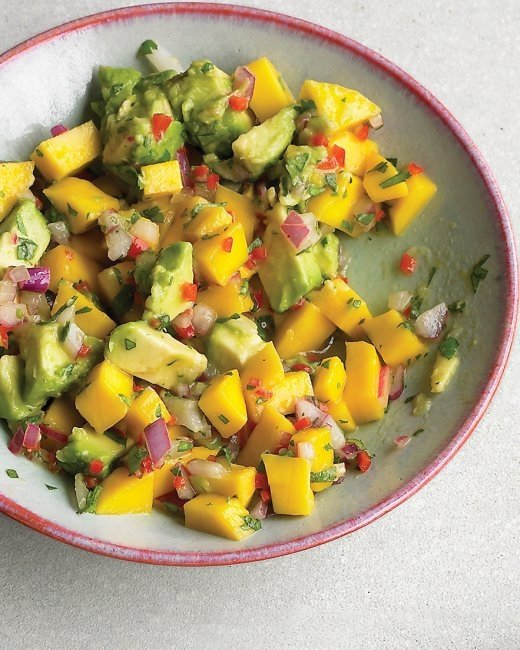 Probably my favorite of the literally hundreds of salsa recipes, this avocado mango combination is so delicious and perfect that you'll want to eat it all the time. The creamy avocado complements the tangy mango so wonderfully.
Ingredients:
1 mango, peeled, seeded and chopped
1 red pepper, seeded and diced
¾ cup chopped red onion
1 tablespoon sugar
1 tablespoon olive oil
2 tablespoons white wine vinegar
1 avocado, peeled, pitted and diced
1 teaspoon salt
Directions:
Combine everything but the avocado and salt in a bowl. Gently fold in the avocado and season the salsa with the salt.
All Recipes: allrecipes.com
2

Restaurant Style Salsa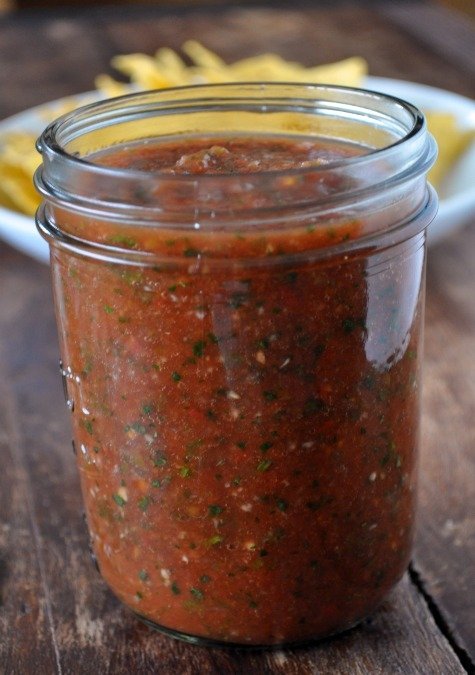 If you love the salsa you get in Mexican restaurants, it's not hard to duplicate at home. Whip up a batch of this salsa and you'll feel like you're lounging on a Mexican patio in no time.
Ingredients:
2 10-ounce diced tomatoes with green chilies
1 28-oounce can whole tomatoes with juice
½ cup fresh cilantro
¼ cup chopped onion
1 clove garlic, minced
1 whole jalapeno, seeded and minced
¼ teaspoon ground cumin
¼ teaspoon salt
¼ teaspoon sugar
½ a whole lime, juiced
Directions:
Combine all the ingredients in a food processor and pulse until smooth or to the desired consistency. You might have to do this in batches. Taste the salsa and add more salt if needed. Refrigerate before serving.
Food Network: foodnetwork.com
---
3

Green Tomatillo Salsa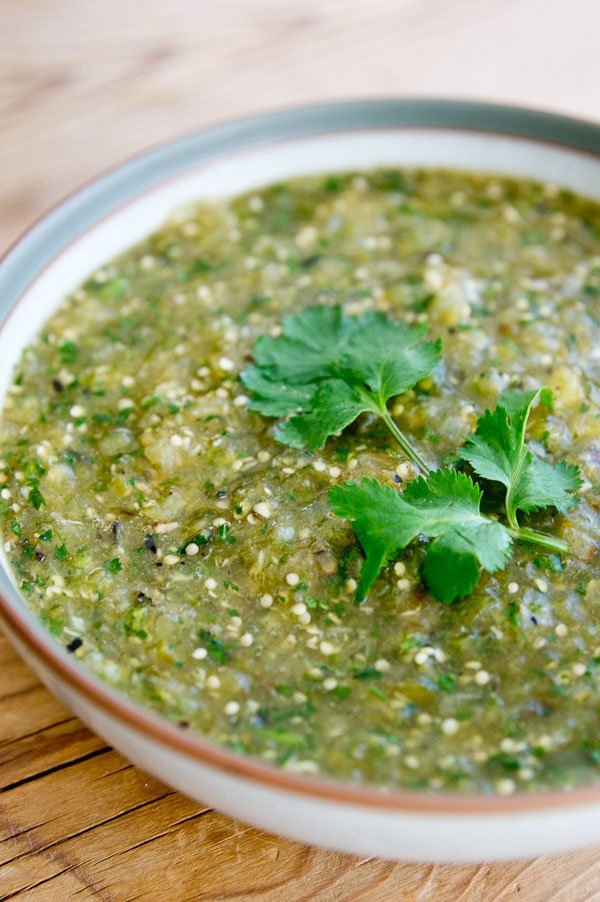 Tomatillos are tangy and create a really unique tasting salsa. It tastes great on cheese enchiladas or nachos with gooey cheese. Stir it into beans for a yummy flavor and smooth texture or, just gobble it up on corn chips.
Ingredients:
5 to 6 tomatillos, husked and rinsed
1 jalapeno, roughly chopped
5 to 6 sprigs fresh cilantro, chopped
¼ cup finely chopped white onion
Salt
Directions:
Roast the tomatillos about 4 inches from the heat for five minutes. Flip the tomatillos and roast on the other side for an additional five minutes. Cool and transfer them to a blender or food processor. Add the cilantro and pulse to combine. Add a bit of water, if needed. Stir in the chopped onion, season with salt and serve.
Food.com: food.com
---
4

Shrimp Salsa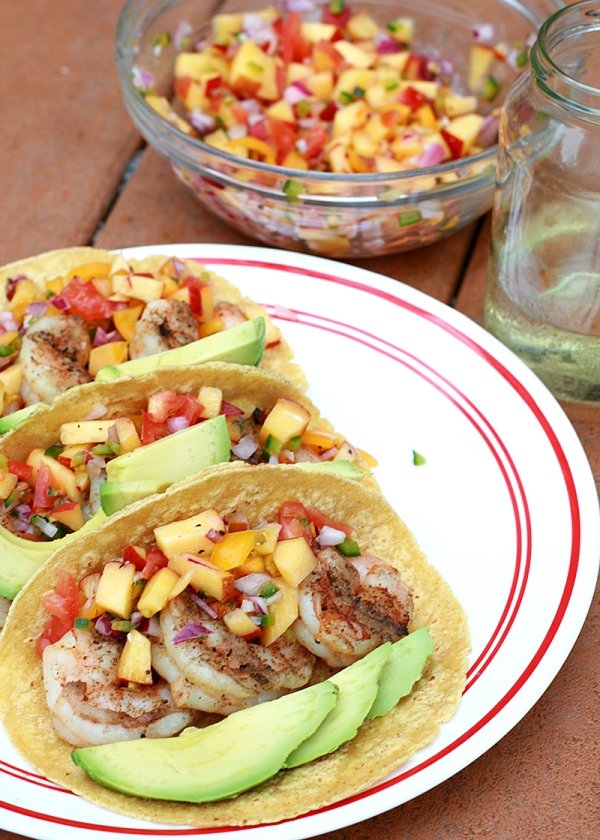 There's something so decadent about shrimp, so adding it to salsa is a no-brainer. You might like this one so much you'll eat with a fork and just skip the corn chips altogether.
Ingredients:
1 pound peeled and deveined medium shrimp, cooked and chopped
5 medium tomatoes, seeded and chopped
2 medium ripe avocados, peeled and chopped
1 medium cucumber, peeled and chopped
1 cup minced fresh cilantro
1/3 cup minced sweet onion
1/3 cup orange juice
¼ cup key lime juice
2 tablespoons lime juice
1 teaspoon salt
1 teaspoon garlic powder
1 teaspoon garlic salt
1 teaspoon coarsely ground pepper
Directions:
Mix together all the ingredients in a large bowl.
Taste of Home: tasteofhome.com
---
5

Avocado Corn Salsa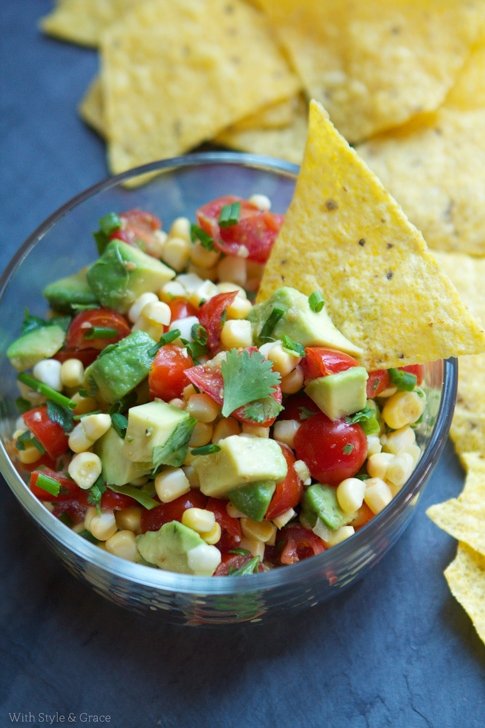 This is the perfect salsa for topping grilled fish or chicken. It also tastes great in tacos or on burritos. You're going to love this salsa so much you'll want to make it every day!
Ingredients:
½ avocado, diced
½ cup thawed frozen corn kernels
1 plum tomato, chopped
2 teaspoons fresh chopped cilantro
Lime juice, to taste
Salt, to taste
Directions:
Mix together the avocado, corn, tomato and cilantro in a small bowl. Season it with lime juice and salt. Taste. Adjust the seasonings as necessary.
Delish: delish.com
---
6

Watermelon Salsa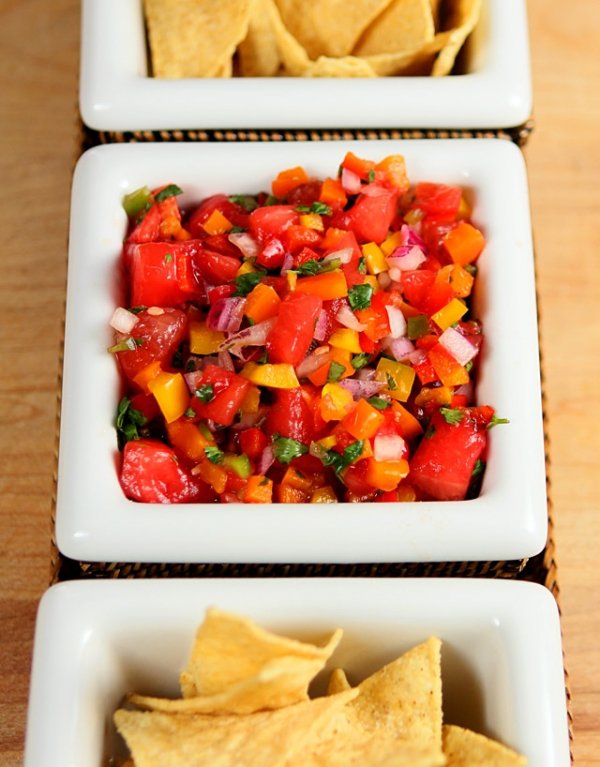 What better ingredient for salsa when summer comes than watermelon? It's juicy and its flavor mixes well with spicy ones. It'll help temper the sting of the jalapeno. Serve this salsa with grilled shrimp or steak for a meal you'll never forget.
Ingredients:
3 cups finely diced seeded watermelon
2 jalapeno peppers, seeded and diced
1/3 cup chopped cilantro
¼ cup lime juice
¼ cup minced red onion
¼ teaspoon salt, or to taste
Directions:
Combine all the ingredients except the salt in a bowl. Season with salt just before serving.
Eating Well: eatingwell.com
---
7

Tomato and Green Olive Salsa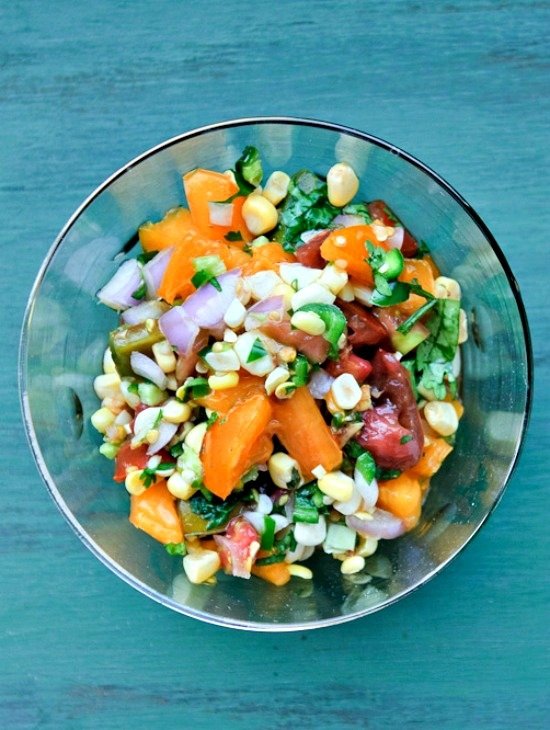 I love green olives, but they aren't that common in salsa. If it's never crossed your mind to use them in salsa, it's time to change that! Try out this salsa for a new and tasty twist on a classic recipe that everyone is sure to love.
Ingredients:
1 ¼ pounds diced tomatoes
¼ cup sliced green olives
1 bunch sliced scallions
¼ cup hot pepper relish
1 tablespoon red wine vinegar
2 teaspoons minced fresh oregano
¼ teaspoon salt
¼ teaspoon freshly ground pepper
Directions:
Combine all the ingredients in a bowl and stir to mix well.
Eating Well: eatingwell.com
Don't you just love salsa? It's one of my favorite foods! Which recipe will you try first?
---
Comments
Popular
Related
Recent