7 Super Yummy Brazilian Treats You Need to Try ...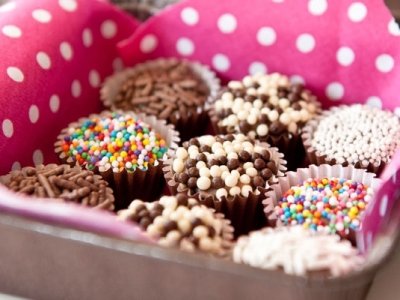 One of the perks of coming from a Brazilian family is definitely being surrounded by so many delicious Brazilian treats! Luckily, my mom is quite the foodie so she's always cooking something up in our kitchen. I've tried getting recipes from her, but nothing ever comes out better than when mom makes it, right? There are tons of Brazilian treats that are really easy to make and perfect for any occasion. Check out some of my favorites and then let me know which ones you'll be trying out!
When translated, "pao de queijo" means "cheese bread." Pretty self-explanatory, huh? Pao de queijo are tiny little rolls made of manioc flour and cheese. They taste super yummy when they're fresh out of the oven. It's the perfect go-to snack for coffee dates, birthday parties, etc. This is just one of the great Brazilian treats that you need to try!
I can go on and on about Brigadeiro. If you ever find yourself at a Brazilian birthday party, there is no doubt that you'll find these being served. It's basically condensed milk and cocoa mixed together and cooked to a heavenly perfection. You can eat it just like that (if you're impatient like me), or roll tiny balls of chocolate and throw them into a container of sprinkles! How amazing does that sound right about now?
This treat is exceptionally yummy. It's a sort of sponge cake and it's wrapped with a layer of melted guava. It's common to sprinkle the outer shell with sugar, giving it major presentation points. Fun fact - this treat is an adaptation of a Portuguese treat/cake, "colchão de noiva." I definitely recommend trying it!
This one is for all the coconut lovers out there. You're in for a serious treat! 'Tapioca,' in Brazil, has a different meaning than it does here in the US. It's made of manioc or yucca flour and then cooked in a skillet. Originally, it is filled with Coalho cheese and grated coconut. However, after many variations, you can now find tapiocas with many different fillings and flavors!
Another yummy treat is "Pé de Moleque." It's a traditional candy made of peanuts and jaggery, or molasses. You can find these in many Brazilian-themed stores or go home-made! Peanuts and brown sugar sound amazing together, don't they?
If you're a lover of bananas, cinnamon/chocolate, and cheese, then you're going to go crazy over this. "Cartolas" are fried bananas! On top is either queijo manteiga or coalho (two different Brazilian cheeses) and sprinkled over that is cinnamon and chocolate. It's super easy and quick (which is always good) to make. Enjoy!
These Brazilian donuts are named for their rain drop shapes and they're super yummy. They're pretty much glorious little balls of fried dough sprinkled with sugar and cinnamon! Fair warning though, these can be VERY addicting, so eat them at your own risk. They're quite the treat for any cinnamon lover.
Well, there you have it! These are just seven out of MANY delightfully delicious Brazilian treats. Seriously, there are so many treats/traditional plates that are worth checking out. Which ones are you looking forward to trying? If you're also Brazilian, which treats can't you live without?!
{{#comments_count}} Show Commnents ({{comments_count}}) {{/comments_count}}