24 Tasty Reasons to Go Load Your Shopping Cart with Papaya Today ...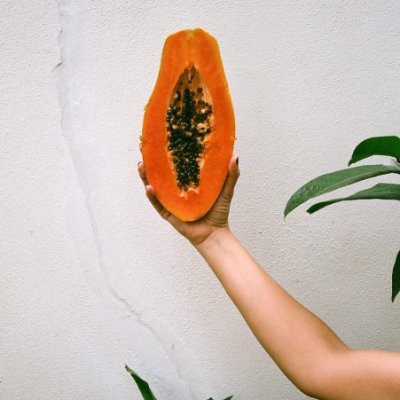 Papaya is a tropical fruit you might have enjoyed on your last island vacation. The great news is that many supermarkets stock papaya year round so you can enjoy one whenever the mood strikes. That is going to happen all the time once you see the recipes on this list. Papayas are chock full of nutrients and have a sophisticated and sweet taste that you won't find anywhere else. Try one these recipes and let me know how it goes.
1.

Papaya, Banana and Smoothie
Source: Strawberry Banana Drinks Recipes
You can add papaya to many fruit combinations to create a smoothie with tropical flair.
Source: Green Papaya Salad
This tasty salad is great for dinner and the leftovers make a fabulous lunch the next day.
3.

Chile Lime Mango and Papaya
Source: Chile Lime Mango and Papaya
A dash of lime juice and a sprinkle of chile powder is one of the best ways to eat papaya.
9.

Tapioca Pudding with Coconut Milk, Fresh Mango and Papaya
Source: Tapioca Pudding with Tropical Fruits
This will make every morning worth getting out of bed for.
Source: How Sweet It Is: 4
Papaya is a unique and yummy new thing to add to your yogurt parfait. You won't regret it.
Source: masalaherb.com
Make your morning slice of toast even better when you slather on some of this sweet and tangy jam.
18.

Sweet and Sour Papaya Dip Sauce
Source: masalaherb.com
This is great on fried chicken and coconut shrimp.
Source: Papaya Bars
If you love bar desserts, you will adore these tasty variations on the traditional lemon or lime versions.
20.

Papaya Coconut Muffins
Source: Papaya Coconut Muffins | Skinnytaste
These heavenly muffins taste wonderful with a small smear of jelly or peanut butter.
21.

Pan Seared Mahi Mahi with Mango Papaya Salsa
Source: Mahi Mahi with Mango Papaya
I love this meal! It's easy to make and tastes like something you'd get on an island somewhere.
Source: Papaya Smoothie
This smoothie makes papaya the star and you are going to love it.