There's nothing like a big baked potato for dinner, but some baked potato toppings aren't that healthy. Sour cream and butter to name but two. That doesn't mean you can't have a baked potato now and then, though, because they contain lots of potassium, which helps regulate your blood pressure and they also have fiber, which is good for your digestion. Try out some new baked potato toppings to give your taste buds something to look forward to and an enjoyable meal you can feel good about eating.
---
1

Mexican-Inspired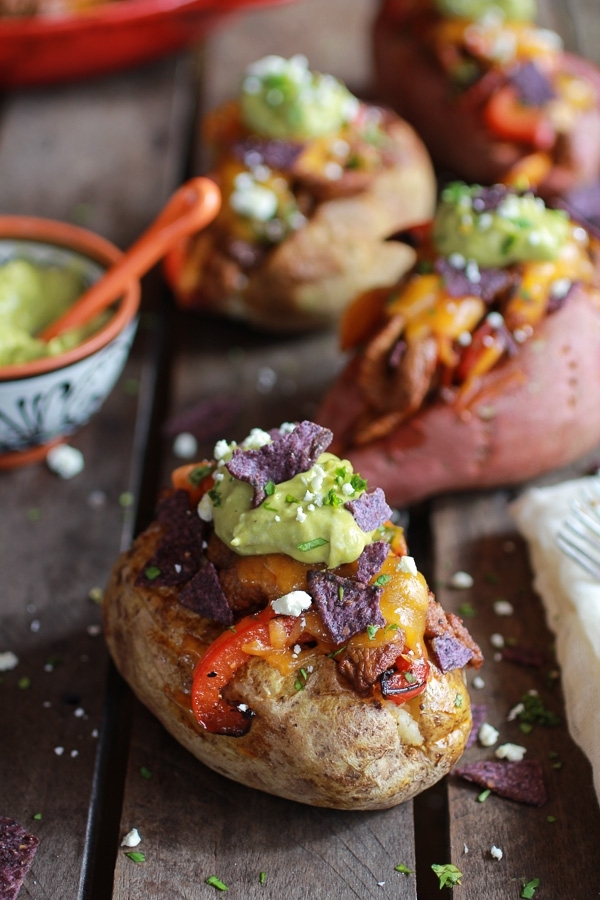 I love Mexican food just about as much as I love baked potatoes. Are you with me? Then, read on for baked potato toppings that will satisfy both cravings at one time. Cook the potato in the oven or microwave and top it with black beans, corn, salsa and bit of shredded cheddar. It's a meal in one bowl!
2

Mediterranean

Mediterranean food is mostly pretty healthy, but it's also loaded with flavor, so it's perfect for making a filling baked potato you'll love at dinnertime and anytime. Top your cooked baked potato with crumbled feta cheese and chopped green olives. Sprinkle it with cracked black pepper and garlic salt and prepare to have your taste buds blown away.
---
3

Bacon

No, bacon is definitely not a health food. Luckily, it has a pretty strong flavor so you don't need a lot to create a baked potato that will taste yummy and won't set you back too many calories or grams of fat. Combine crumbled bacon with diced tomatoes, shredded lettuce and salt and pepper and load your baked potato for a fast and easy dinner that will impress friends and fill your tummy at the same time.
---
4

Spicy

If you're a spicy food kind of girl, why not make a spicy baked potato when you can't find anything else to eat for dinner. Top your spud with green chili, diced jalapenos, tomatoes and shredded cheddar cheese. Queso fresco is another yummy kind of cheese that pairs well with spicy green chili. Keep a glass of water close by. You're going to need it.
---
5

BBQ

There's nothing like barbecue for dinner, right? Top your baked potato with pulled pork, coleslaw and baked beans. It'll feel the like the 4th of July any night of the week! And you'll be so full when you're done you'll be shocked that you filled up on a baked potato dinner.
6

Creamy Herb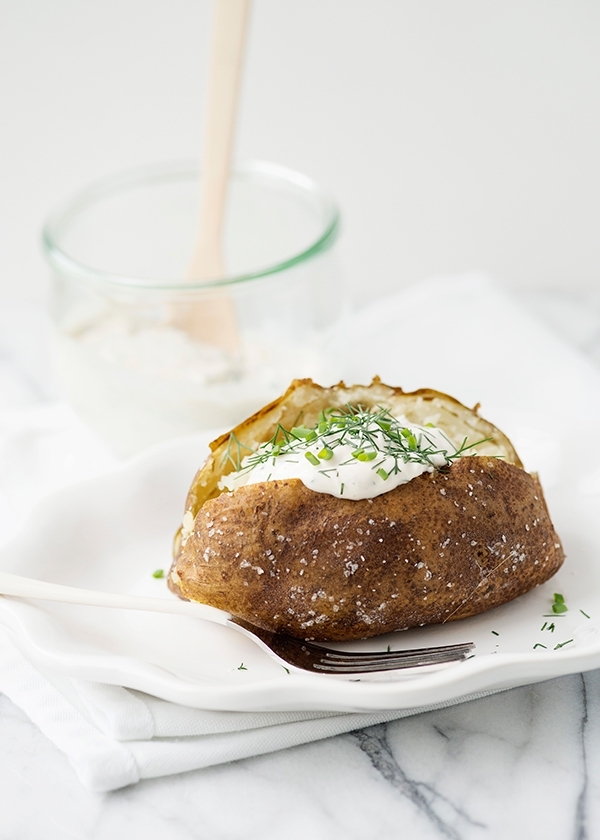 Herbs are an awesome ingredient to cook with because they offer up lots of flavor, but are generally low in fat and calories. Mix your favorite combination of herbs into a scoop of cream cheese, then mash it into your baked potato. The cheese turns creamy when it heats up and the herbs make it taste so good! Thyme, parsley, cilantro, dill and basil are yummy choices.
---
7

Avocado and Shrimp

For me, a decadent dinner always includes shrimp. For this idea, choose small, cooked shrimp. Salad shrimp works especially well. Mix the shrimp with mashed avocado and season with salt and pepper. Mash the avocado and shrimp into your baked potato and prepare for an indulgent dinner you'll want to eat all the time.

What's your favorite way to load a baked potato? Do you ever eat baked potatoes for dinner? It's so fast and easy! I highly recommend it!
---
Comments
Popular
Related
Recent