When it comes to having a girls night in, nothing beats getting to relax with your friends, some wine, and some of the best comfort foods! It's often been a cliche that women like to sit around eating raw cookie dough or Ben & Jerry's ice cream out of the tub when they need to feel better or are with their girlfriends. Even though it's a cliche, it's not entirely false. Women like to surround themselves with comforts and food is no different. So here are 8 best comfort foods to enjoy during your next girls night in!
---
1

Eggless Cookie Dough

Raw cookie dough has always been a girls night in food staple. However, it isn't the healthiest for you to eat (besides its high calorie count) as it contains raw eggs. Don't worry though, my fellow cookie dough lovers, I have the recipe for an egg-less cookie dough! It's not to bake, just to eat! Every woman should have this recipe on hand for a perfect girls night in snack or even just to make you feel better after a bad day. Simply mix 3/4 cup brown sugar, 1/4 cup softened butter, 1/4 tsp. vanilla, 1/4 cup milk, 1 cup flour, a pinch of salt, and 1/2 cup chocolate chips together for this easy and irresistible treat!
2

Wine Ice Cream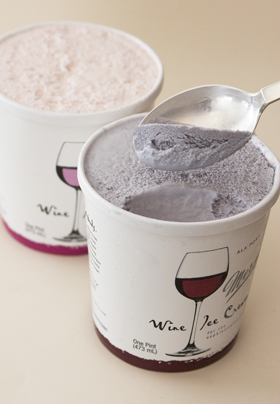 Believe it or not, Mercer's has a new line of wine ice cream! I don't think there is anything more perfect for a girls night in then wine ice cream. This line of ice cream comes in a few different flavors including Cherry Merlot, Chocolate Cabernet, and Peach White Zinfandel. With an alcohol content of only 5%, these little pints won't do much to you and your girls if some need to drive home after.
---
3

Pink Lemonade Cupcakes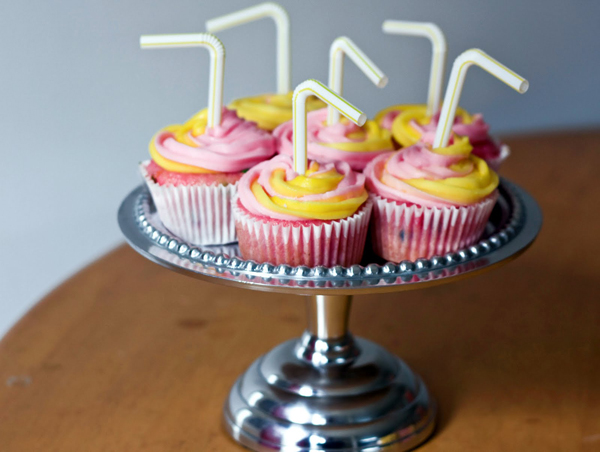 Source: mission-food.com
What better cupcake for a girls night in then a pink lemonade cupcake? It just screams girly-ness! The key to making these cupcakes as pink as possible is by using egg whites instead of whole eggs. These pink lemonade cupcakes are the perfect balance between sweet and tart. Not to mention they look adorable and taste absolutely delicious! If you want a cute final touch, add a small straw on top as a garnish.
Ingredients:
1 pkg white cake mix without pudding in the mix
3 egg whites
1 cup water
1/3 cup thawed frozen pink lemonade concentrate; thawed
2 tbsp oil
pink food coloring (optional)
Frosting:
4 cups icing sugar
1/3 cup butter, softened
1/4 cup pink lemonade concentrate
Directions:
---
1

Beat Cake Mix, Water, Egg Whites, 1/3 Cup Lemon Concentrate, Oil and Food Coloring. Medium Speed for 2 Minutes. Spoon Batter into Lined Muffin Cups
---
2

Bake 18-22 Mins. Cool Completely before Frosting
3

Beat Icing Sugar, Butter and 1/4 Cup Lemonade Concentrate, until Well Blended. (add More Concentrate to Thin Frosting if Necessary.) Add Pink Coloring to Desired Color
---
4

Mini Grilled Cheese & Tomato Soup Shooters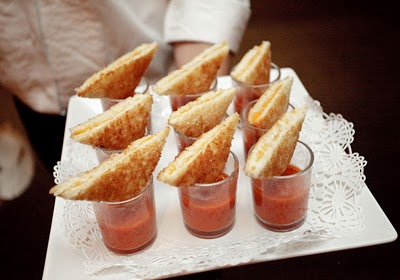 This is a super simple and easy comfort food for your girls night in. These mini grilled cheese sandwiches and tomato soup shooters make a super cute and delicious appetizer for anything from a girls night in to a cocktail party. Make sure you have enough shot glasses to use before considering this recipe. Simply cut your grilled cheese sandwich crusts off, cut them into four bigger triangles, and then cut those four pieces into eight smaller pieces that will fit above the shooter.
---
5

Raspberry Ice Cream Sandwiches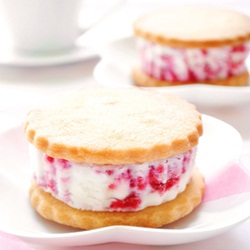 Source: wolfandwillowblog.com
Heading back to some more pink colored recipes for your girls night in! These raspberry ice cream sandwiches are just as adorable as they are delicious! What's great about this recipe is that it shows you how to make raspberry ice cream using fresh raspberries! Raspberries are always a great fruit to eat because they contain anti-cancer and anti-aging properties! This way you and your girls can enjoy a treat that will help keep you all healthy and feeling young.
Ingredients:
1 liter vanilla ice cream
1 cup raspberries (slightly mashed)
250g (8oz) butter (softened)
3/4 cup caster sugar
2 tsp vanilla extract
1 egg yolk
2 1/4 cups plain flour (sifted)
Directions:
---
1

Allow the Ice Cream to Soften a Little before Transferring to a Bowl and Stirring through the Raspberries. Using a Spatula, Smooth the Mixture into a Rectangular Container about 1 Inch Deep, Lined with Baking Paper, and Freeze Overnight
---
2

Beat the Butter and Sugar with an Electric Mixer until Pale and Creamy. Add the Vanilla and Egg Yolk and Beat to Combine. Beat in the Flour until a Smooth Dough Forms. Wrap in Plastic and Place in the Fridge for 30 Minutes, or until Firm. Meanwhile, Preheat the Oven to 180c (350f) and Line a Baking Tray with Paper
---
3

Roll the Dough out between Two Sheets of Paper until 5mm (1/4 in) Thick. Using a round, Fluted 7cm (1 Inch) Cookie Cutter, Cut 12-14 Rounds. Bake for 15-20 Minutes, or until Golden Brown. Cool for 10 Minutes on the Tray, then Pop Them into the Freezer until Ice-cold
---
4

Using the Same Fluted Cookie Cutter, Cut 6 Rounds of Raspberry Ice Cream (you May Wish to Run the Cutter under Hot Water First to Make This Easier!). Carefully Sandwich the Ice Cream Rounds between Two Vanilla Cookies
---
6

Red Velvet Cake Batter Dip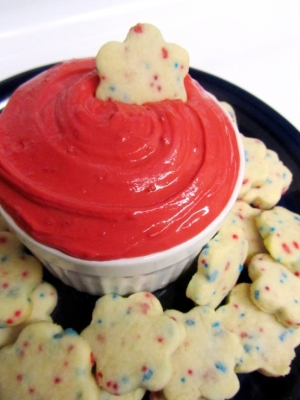 Source: peanutbutterandpeppers.com
I bet you didn't think this dip would be healthier then it looks! If you and your girls are trying to watch your figures, this would be the best sweet indulgence for you. This Red Velvet Cake Batter dip is made with vanilla Greek yogurt instead of cream cheese and frozen whipped topping. Even though you're omitting the sugary and sweet ingredients, it still comes out tasting like cake batter! And you really cannot go wrong with anything that tastes like raw cake batter!
Ingredients:
2 cups vanilla Greek yogurt
2/3 cups dry red velvet cake mix
2-3 Tbsp powdered sugar
Directions:
---
1

In a Medium Bowl, Mix Greek Yogurt, Cake Mix and 2 Tablespoons of Powdered Sugar until Well Incorporated. if You Prefer It to Be Sweeter Add an Additional Tablespoon
---
2

Place in Serving Bowl and Enjoy with Shortbread or Your Favorite Fruits!
---
7

Cream Cheese Fruit Pizza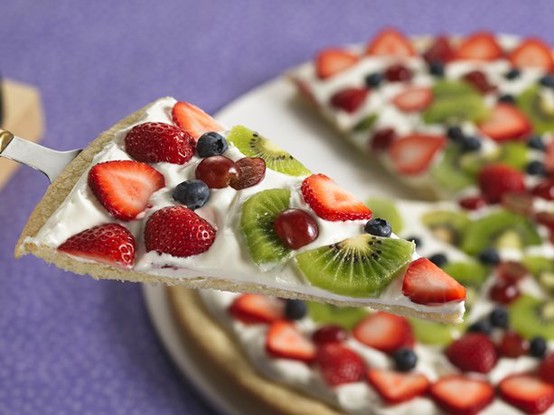 Source: kraftrecipes.com
What could be better for a girl's night in treat then mixing something healthy with something bad? This sweet fruity pizza has a cookie dough crust and cream cheese center! What's great about this recipe is that you can decorate your fruit pizza with whatever variation of fruits you want. If you want to make it extra girly, use only strawberries, raspberries, and any other red or pink fruit.
Ingredients:
1 pkg (16.5 oz.) refrigerated sliceable sugar cookies, sliced
1 pkg (8 oz.) Cream Cheese, softened
1/4 cup sugar
1/2 tsp vanilla
4 cups assorted cut-up fruit (kiwi, strawberries, blueberries, drained canned mandarin oranges)
1/4 cup apricot preserves, pressed through sieve to remove lumps
1 Tbsp water
Directions:
---
---
2

Line 12-inch Pizza Pan with Foil; Spray with Cooking Spray. Arrange Cookie Dough Slices in Single Layer in Prepared Pan; Press Together to Form Crust. Bake 14 Min.; Cool Completely. Invert onto Plate; Carefully Remove Foil. Turn Crust over
---
3

Beat Cream Cheese, Sugar and Vanilla with Mixer until Well Blended. Spread over Crust
---
4

Top with Fruit. Mix Preserves and Water; Brush over Fruit. Refrigerate 2 Hours
---
8

Strawberry Margarita Jell-O Shooters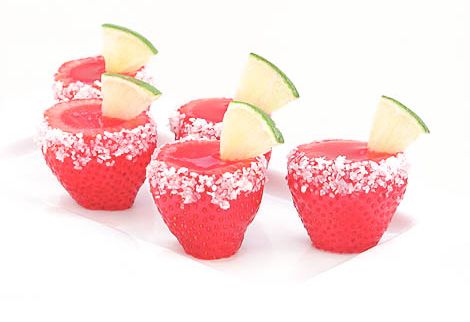 Source: bakersroyale.com
Oh yes, you read the title for this one correctly. Strawberry Margarita Jell-O Shooters! As if jell-o shooters and strawberries couldn't get any better on their own, we decided to combine them. Say goodbye to boring regular margaritas in glasses! These sweet little strawberries are the perfect girls night in "drinks" that will also satisfy your sweet tooth.
Ingredients:
1 box Strawberry Jell-O
8 ounces tequila, preferably reposado or blanco
6 ounce Cointreau
Salt for garnish
Strawberries
Directions:
---
1

Cut the Bottoms of the Strawberry Flat to Get Them to Stand Upright. when You do so, Make Sure That You do Not Cut off so Much That There is a Hole at the Bottom. Use a Huller or Apple Corer to Empty out the Strawberry. Once the Strawberries Have Been Emptied, Use a Towel to Pat the outside of the Strawberries Dry. Check Each Strawberry and Make Sure There is Not a Hole in the Bottom before You Start Filling
---
2

Boil One Cup of Hot Water in a Saucepan, then Add in Jell-o Powder and Whisk until Powder is Completely Dissolved, about 2 Minutes. Set Aside. Measure out 1/4 Cup of Cold Water and Set Aside
---
3

Combine Tequila and Cointreau, in Cocktail Shaker Filled with Ice. Add Liqueur Mixture to Cold Water and Stir to Combine. then Add Cold Liqueur Mixture to Hot Jell-o Mixture and Stir to Combine
---
4

Pour Final Jell-o Mix into Strawberries and Chill Overnight. Dip Your Finger in Water or Use a Moistened Brush to Wet the Edge of the Strawberries, Dip and Rotate the Strawberries in Salt to Rim. Garnish with Cut Lime Triangles to Finish
---
9

Starbucks Caramel Frappuccino Cupcakes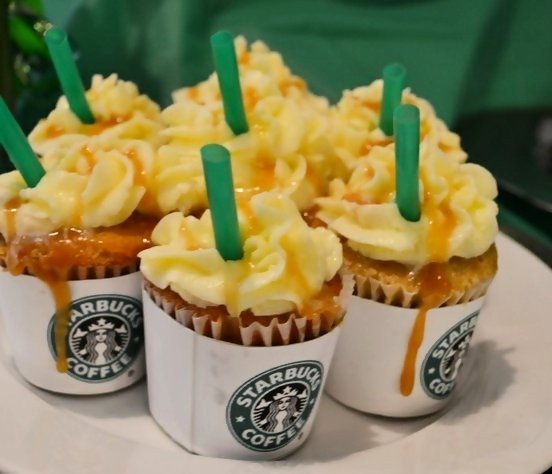 Source: kimzkitchen.wordpress.com
What a way to satisfy your girls caffeine addictions! For the tiny straw garnish, take some Starbucks straws. Don't be shy, stuff a few in your purse! One straw makes about four tiny cupcake straws. As for the Starbucks logo wrapper, you can either collect a bunch of "tall" Starbucks cups to cut up and use, or print out the log to wrap around your cupcakes. In order to condense this recipe, I opted to buy frosting that is already coffee flavored and to buy caramel sauce already made.
Ingredients:
3/4 cup whole or low-fat milk
1/4 cup sour cream
1 package of Starbucks Via Instant Coffee
1 tbsp vanilla
3 cups cake flour
2 1/2 teaspoons baking powder
1/2 teaspoon baking soda
1 teaspoon salt
2 teaspoons of another pack of Starbucks Via Instant Coffee
2 teaspoons unsweetened natural cocoa powder
3/4 cup butter at room temperature
1 1/2 cup white sugar
4 eggs, yolks and whites separated
Coffee flavored icing
Caramel sauce
Directions:
---
1

Heat the Milk in the Microwave or on the Stove until Hot – Stop Short of a Simmer. Stir in the Instant Coffee until Well Blended. Add the Vanilla and Set Aside
---
2

Sift Together the Cake Flour, Baking Powder, Soda, Salt, Ground Coffee and Cocoa
---
3

In the Bowl of a Stand Mixer, Beat the Butter and Sugar with the Paddle Attachment until Creamed. It Should Be Slightly Fluffy. Beat in the Egg Yolks One at a Time
---
4

Add 2/3 of the Flour Mixture and the Sour Cream. Add the Remaining Flour Mixture and Milk. Beat until Smooth
---
5

Scrape All the Batter out into a Separate Bowl and Wash the Mixer Bowl Thoroughly
---
6

Switch to the Whisk Attachment and Beat the Egg Whites until Stiff but Not Dry. They Will Hold a Stiff Peak but They Will Still Slip around a Little in the Bowl. Fold the Egg Whites into the Cake Batter Gently, Folding the Batter around until Well Combined
---
7

Fill Cupcake Liners with Batter and Bake at 350 Degrees for about 20 Minutes (they Baked up Surprisingly Fast)
---
8

Top with Coffee Frosting and Drizzle with Caramel Sauce. Garnish with a Small Straw
---
10

Three-Cheese Pasta Bake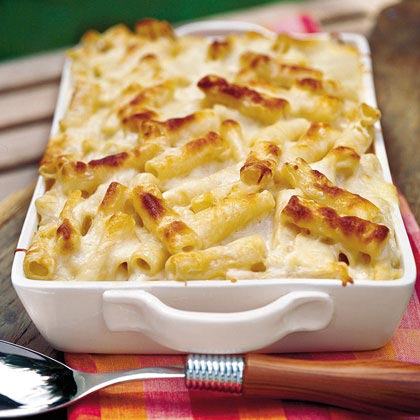 Source: myrecipes.com
Your girls are going to love and hate you at the same time for making this adult take on macaroni and cheese. Love you for the fact that it is absolutely delicious, but hate you for the fact that it's fattening. Tell them to enjoy themselves a little and the gym will always be there tomorrow. This delicious variation on traditional macaroni and cheese is easy to prepare and perfect for a side dish or dinner for you and your girls. You can even add cooked chicken, shrimp, or sausage to the pasta bake and serve with a green salad and fresh vegetables for a hearty, well-rounded meal.
Ingredients:
1 (16-ounce) package ziti
2 (10-ounce) containers refrigerated Alfredo sauce
1 (8-ounce) container sour cream
1 (15-ounce) container ricotta cheese
2 large eggs, lightly beaten
1/4 cup grated Parmesan cheese
1/4 cup chopped fresh parsley
1 1/2 cups mozzarella cheese
Directions:
---
1

Prepare Ziti According to Package Directions; Drain and Return to Pot
---
2

Stir Together Alfredo Sauce and Sour Cream; Toss with Ziti until Evenly Coated. Spoon Half of Mixture into a Lightly Greased 13- X 9-inch Baking Dish
---
3

Stir Together Ricotta Cheese and Next 3 Ingredients; Spread Evenly over Pasta Mixture in Baking Dish. Spoon Remaining Pasta Mixture Evenly over Ricotta Cheese Layer; Sprinkle Evenly with Mozzarella Cheese
---
4

Bake at 350° for 30 Minutes or until Bubbly

There are ways to make these recipes healthier if you are on a diet, but always remember that moderation is the key. Plus, when you're hanging out with your girls, you shouldn't be worrying about your weight, you should be concentrating on having a good time and feeling happy! What are your favorite girls night in traditions and foods?
---
Comments
Popular
Related
Recent