17 Fabulous Funfetti Recipes That Are Perfect for Parties ...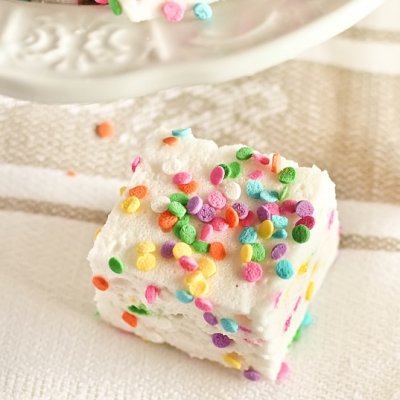 Funfetti is … well, it's fun, isn't it? Sprinkles make everything more fun. There's Funfetti frosting and Funfetti cake mix, plus it's also easy to hack it at home. (FYI, it's also easy to hack the hard-to-find Rainbow Chip.) Even though it basically is just the addition of sprinkles, Funfetti lends a festiveness to any dessert. Plus, even though the flavor profile and ingredients are simple, they're also classic – and yummy!
1.

No-Bake Funfetti Cheesecake
Recipe: wholeyum.com
What's better than cheesecake? Not having to bake it, of course!
Recipe: chewoutloud.com
I've made these. They are amazing – and easy! And fast.
3.

Egg-free Cookie Dough Bites
Recipe: bakeyourday.net
I have not made these, but I need to. Heather loves cookie dough.
Recipe: pinterest.com
Macarons aren't the easiest cookies to make, but they're always worth the effort – and these are a delightfully take on the delicate, delicious dessert!
5.

Funfetti Cake Batter Puffcorn
Recipe: thegunnysack.com
These are incredible. Seriously, you have to try this recipe. This is a sweet, fun, truly inventive snack, I would never have thought of doing this.
Recipe: raspberricupcakes.com
As if homemade marshmallows aren't scrumptious enough, right?
Recipe: krissys-creations.com
These are ideal for a birthday breakfast – and they make a gorgeous Instagram op!
Recipe: wineandglue.com
If I may, this milkshake will bring all the boys to the yard.
9.

Funfetti Krispie Treats
Recipe: cookingwithruthie.com
Krispie treats are delicious enough on their own. The addition of some Funfetti fabulousness is just icing on the cake – or sprinkles in the treat, if you will.
10.

Funfetti Blondie Bites
Recipe: alattefood.com
Funfetti is perfect for blondies when you think about it, and these are delish!
11.

Cake Batter Funfetti Pancakes
Recipe: bakingbeauty.net
Cake batter pancakes. CAKE BATTER PANCAKES.
12.

Funfetti Whoopie Pies
Recipe: bakewithchristina.com
I need to make these! My lovely wife also loves whoopie pies, you see, and these are kind of gorgeous.
Recipe: thelovenerds.com
I am all about these amazing little morsels. Even if you're not the world's best doughnut maker, you'll find these easy peasy.
14.

Cinnamon Roll Funfetti Cake
Recipe: deliciouslysprinkled.com
I'm not gonna lie, this is a next-level kind of idea. It might rocket you into sugarshock, but you'll love the journey.
15.

Funfetti Shortbread Bites
Recipe: anniesnoms.com
Shortbread makes me so happy. Shortbread with sprinkles makes me even happier.
16.

Skinny Funfetti Cake Cookies
Recipe: eat-yourself-skinny.com
Funfetti without the guilt! Rock on!