25 Ideas for Salmon That Will Change Your Life ...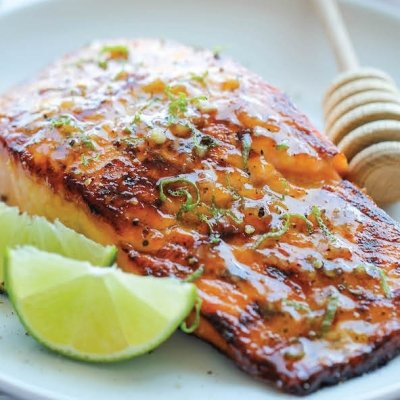 If you're looking for new ideas for salmon, these are some to add to your cookbook. Salmon is easy to work with and tastes great so it pays to prepare it often. At the same time, it's loaded with nutrients, including omega-3 fatty acids, iron, protein and much more. You can find salmon for affordable prices at supermarkets everywhere so there really is no reason not to eat it all the time. Here are some really wonderful ideas for salmon that you are going to love.
7.

Baked Salmon with Honey Dijon and Garlic
Via Baked Salmon with Honey Dijon ...
Dijon mustard is an easy way to flavor salmon. Use it on a busy night.
8.

Baked Chili Lime Salmon
Via The Stay At Home Chef: ...
Not only does this salmon look absolutely mouthwatering, but it's so easy to make too.
13.

Asian Salmon and Noodles
Via Asian salmon and noodles
Salmon works great with rice and potatoes, but pairing it with noodles is tasty too.
14.

Topped off with Avocado
Via Whole30 Grilled Salmon with Avocado ...
Here's another great way to top your salmon with avocado fora creamy balance to the salmon's texture.
19.

Soy Sauce and Brown Sugar Salmon Marinade
Via salmon marinade
This marinade turns into a nice, crispy outer coating when the salmon bakes.
20.

Grilled Salmon with Lemon Herb Butter Sauce
Via Grilled Salmon with Lemon-Herb Butter ...
Herbs are the perfect way to give salmon a fresh flavor. Dill is my favorite one.
Via Baked Salmon Recipe - Food.com
I've had salmon topped with tomato slices and crispy breadcrumbs and I cannot even tell you how good it tastes.
Via Salmon in a Bag
Lemon slices and a few pats of butter are the ultimate way to prepare salmon.
25.

Alaskan Salmon with Black Quinoa and Spinach
Via Alaskan Salmon with Black Quinoa ...
By flaking salmon into bite size pieces you can create a stunning and tasty meal just like this one.
Do you like salmon? I definitely wish I could find new ways to make it because it's one of my favorite types of seafood. Do you have any other great recipes for salmon?
{{#comments_count}} Show Commnents ({{comments_count}}) {{/comments_count}}