9 Dessert-Inspired Smoothies That Taste Decadent but Are Actually Healthy ...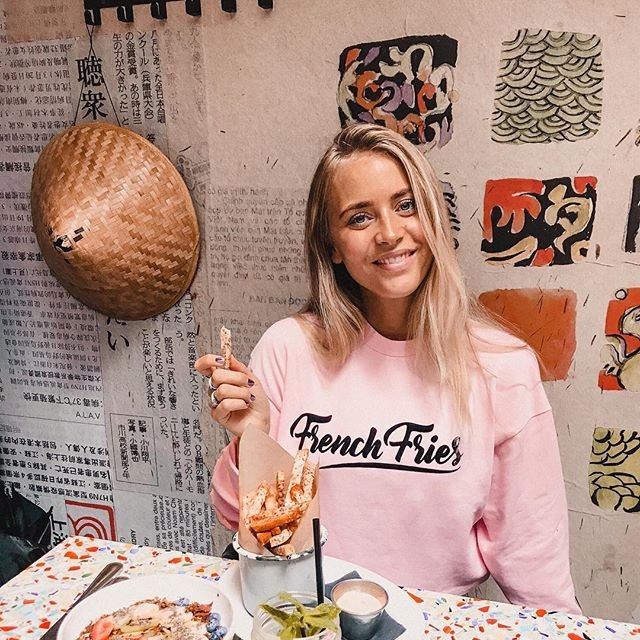 These dessert-inspired smoothies are so delicious that you would never guess they are good for you. They may not taste exactly like the dessert, but most of them are pretty darn close. If you are looking for healthy substitutions for an unhealthy dessert, look no further! Not only do these desserts get rid of the processed sugars, flour, and unhealthy fats found in most desserts, but these smoothies are also much quicker to make. Try these dessert-inspired smoothies for a delicious, decadent, yet totally healthy dessert –with no guilt required!
These dessert-inspired smoothies can be modified to meet any dietary restrictions. This smoothie is no different, and it can be gluten, dairy, nut, and soy-free! The special ingredient that gives it a healthy boost and green hue is spinach. You can't even taste it; all you can taste is a creamy, lime pie-like filling. The sunflower seeds and oats make this smoothie thick, but feel free to omit if you can't tolerate them and don't care for thick smoothies. This recipe is also completely sweetened with dates, so no added processed sugar!
Ingredients:
2 Cups Dairy Free Milk (If you want this smoothie cooler replace 1 cup of milk with 1 cup of ice)
2 Bananas (fresh or frozen. If frozen you might need to add more water) *If you can't eat bananas, this would work with mango too or just more oats.
1 Cup Spinach, tightly packed or 2 cups loosely packed (or any other mild greens)
2 Tablespoons Sunflower Seeds
¼ Cup of Dates
1 Cup Raw Oats
Juice and zest of 2 -4 Limes. It tastes amazing with 4 limes but it's still nice with just 2 limes.
½ teaspoon of pure Vanilla Extract
Directions:
Blend the dry ingredients and liquid first for a short time. Blend the greens next for a short time (if using). Blend the fruit and the rest of the ingredients until smooth (or as smooth as your blender will allow. High speed blenders may need 2 minutes for a Green Thickie, less powerful blenders may need a lot more, sometimes 5-10 minutes).
You will be getting an antioxidant boost from the beta carotene found in the carrots, and some extra fiber from the rolled oats. Not only that, but you won't be getting all of the unhealthy fats and sugar that most carrot cake is comprised of – the stuff that basically diminishes the benefits of the carrots in it. This recipe is also sweetened with bananas, so there are no processed sugars added. This tastes so delicious, and is even healthy enough for breakfast or after a workout if you add the optional protein powder.
Ingredients:
1 cup carrots chopped
1 cup of unsweetened almond milk (I used vanilla, coconut milk would be great too)
1 medium frozen banana, very ripe
1 tsp chia seeds
1/4 cup of gluten-free rolled oats (or if not eating oats use 1 tablespoon of coconut flour or 1/4 cup cooked quinoa)
1/2 tsp vanilla extract
1/2 tsp ground cinnamon
1/8 tsp (or a pinch) of ground ginger, cloves and nutmeg
2 ice cubes
1 scoop of protein powder of choice (optional)
Directions:
Place all ingredients in blender and blend away! If your blender is not the greatest I suggest blending the carrots first with a bit of water before adding all other ingredients. Sprinkle with toppings of choice; I used 1 tsp of unsweetened coconut flakes, 1 tsp of raisins and 4 chopped walnuts.
3.

Black Forest Cake Protein Smoothie
The pictures of this smoothie are so gorgeous – it looks so thick and creamy! It tastes even better than it looks though, especially if you are a fan of black forest cake (or if you like the chocolate cherry combination). I personally have used chocolate Sun Warrior protein powder for this recipe, although the original calls for another brand. Just use whatever one you have on hand. You will be getting healthy protein, antioxidants from the cocoa and cherries, and the only sweetener will be the bananas (and possibly your protein powder). Believe me, this smoothie does not taste healthy (and that's a good thing)!
Ingredients:
2 scoops North Coast Naturals Raw Hemp Smoothie Protein Powder in Chocolate (or other chocolate protein powder)
½ cup frozen pitted cherries (or fresh if they are in season!)
½ frozen banana
1 tablespoon raw cocoa powder
¼ cup water or unsweetened almond milk
4 ice cubes
1 teaspoon dark chocolate shavings to garnish
Directions:
Place the protein powder, cherries, banana, cocoa powder, ice, and water into a blender and blend to a thick smooth consistency. Garnish with a cherry and dark chocolate shavings. Devour!
4.

Vegan Brownie Batter Smoothie
Don't let the "vegan" in the title fool you; this thick dessert lets us live what some of us dream to do – eat an entire bowl of brownie batter in one sitting. At least, I hope I'm not the only one who has had that dream. Anyways, this smoothie is healthy enough where you can eat the entire thing! Plus, it tastes so good. The base of this recipe uses pumpkin puree, but you can use sweet potato puree or even a frozen pureed banana in place of it.
Ingredients:
1/2 Cup Pumpkin Puree
1/4 Cup Cocoa Powder
1 Scoop Vegan Chocolate Protein Powder (OR 2 Tbsp Hemp Seeds)
Packets Stevia (OR 4-5 Pitted Medjool Dates)
1 1/2 Tbsp Cashew Butter
1/4 Tsp Vanilla Extract
1 1/2 Cup Unsweetened Almond Milk (Or Unsweetened Rice, Hemp or Coconut Milk)
Directions:
Blend all ingredients together until smooth. Serve and enjoy!
5.

Blueberry Pie Smoothie
I love blueberries, and I especially love blueberry pie. This smoothie captures the fresh taste of the blueberries, but adds a creaminess that I love almost more than regular pie. You will be getting antioxidants from the blueberries, protein from the Greek yogurt, and enzymes from the honey. I often use coconut water or almond milk in place of the pomegranate juice, increase the amount of blueberries, and use dairy-free yogurt (I'm allergic to dairy). Use whatever vanilla or plain flavored protein powder you like, but I used Sun Warrior vanilla for this one and it turned out excellent.
Ingredients:
1/2 cup pomegranate juice
1/2 cup blueberries, frozen
1 cup 2% greek yogurt
2 tbsp honey
1 scoop protein
Ice
Directions:
Blend until smooth, and serve.
6.

Spiced Apple Pie Smoothie
With autumn just around the corner, apples will be coming into season. With honey crisp, braeburn, pink lady, and many other apples to choose from, I'm always looking for new ways to incorporate their delicious taste. This recipe is great for using up some of the apple cider left over from a batch, but I also run them through the juicer for the recipe at times. You can always use bottled juice as well, but it will be less healthy. I love how delicious this recipe is, and how it tastes like a thick, pureed filling for apple pie. There is protein and probiotics from the yogurt, along with bananas being the sweetener to make this a very healthy dessert.
Ingredients:
1 1/2 cups apple cider or apple juice
1 cup yogurt (vanilla, plain, or apple cinnamon; use regular, vegan, soy, coconut milk, or your favorite yogurt)
1/4 cup milk or non-dairy nut milk, optional (omit for a thicker smoothie)
1 medium ripe banana (previously frozen is ideal but not required)
1 teaspoon cinnamon
1/2 teaspoon vanilla extract
pinch nutmeg and/or cardamom, optional
sugar or sweetener (agave, stevia, maple syrup, etc.) optional and to taste
2 cups ice, optional and as necessary
Directions:
Combine all ingredients, except ice, in a large blender or Vita-Mix and blend until smooth and creamy, taking care any sweetener used has dissolved and is well incorporated. If desired, pour over ice or blend ice into the smoothie noting that this will water it down a bit; if time permits, refrigerating or freezing smoothie to chill is recommending.
Tips: Pour excess portion(s) into glasses and freeze ahead for later (30 seconds in the microwave is what I do to thaw in a hurry); pour excess into bowls and freeze for apple pie frozen yogurt; or pour into Popsicle molds, paper cups, or ice cube trays and freeze for homemade frozen treats.
Optional: Add 1 to 2 ounces of Rum, Vodka, Marshmallow Vodka, Apple Vodka, Apple Schnapps, Gran Marnier or similar, per smoothie portion, or to taste. Or add 1 to 2 scoops of vanilla or plain protein powder. Use caramel sauce in the mixture or drizzled over the top before drinking.
7.

Peach Cobbler Smoothie
If you love peach cobbler, then you will really love this smoothie. The addition of yogurt and rolled oats make this smoothie so thick and delicious! You won't be getting the added processed sugar because this is sweetened with honey – which will give you more nutrients and enzymes. It is so unbelievably creamy, and I really love the pairing of peaches with vanilla. I use vanilla coconut yogurt when I make this, and also fresh peaches (with more ice) if they are in season. This recipe was apparently found in a Food Network magazine before My Shine Project published it, to give proper credit to this deliciousness.
Ingredients:
2 cups vanilla yogurt
1 teaspoon vanilla extract
1 teaspoon honey
1/3 teaspoon nutmeg
2 teaspoons wheat germ (omit or use ground flax for gluten-free)
4 teaspoons rolled oats (use gluten-free as needed)
2 cups frozen unsweetened peach slices
8 ice cubes
Directions:
Put all ingredients together in a blender and process for about a minute! We found this in a Food Network magazine, and man, it's a new favorite
The banana split is a classic dessert, but the ice cream often used is full of way too much sugar than someone should be eating on a regular basis. That's where the banana split smoothie comes in! It is made thick with protein powder, and is sweetened only with bananas. You also get antioxidants from the strawberries, healthy fats from the chia seeds, and anti-inflammatory benefits from the pineapple. The whipped cream and chocolate on top are optional, because they aren't very healthy, but they taste good! I provided healthier alternatives in parenthesis if you still want to add them, but want a healthier dessert. If you use my substitutions, I don't see why this isn't healthy enough to eat after a workout!
Ingredients:
4-5 ice cubes
1 small banana
1/4 cup crushed pineapple (drained; or fresh pineapple)
3 whole strawberries (hulled)
2 Tbsp vanilla soy milk
1 scoop protein powder
1 Tbsp chia seeds
2 Tbsp whipped cream (or coconut whipped cream)
1 cherry
1 tsp chocolate syrup (or melted coconut oil mixed with cocoa and maple syrup)
Directions:
In a blender, combine ice, banana, pineapple, strawberries, milk and protein powder. Blend until fully combined. Add chia seeds and pulse until mixed into smoothie. Pour into a large glass and top with whipped cream, a cherry and chocolate syrup. ENJOY!
9.

Creamy Pumpkin Pie Smoothie
I'm going to be honest with you guys –I don't actually like pumpkin pie. However, I absolutely love this smoothie! It doesn't really make sense to me, but I don't really care because this smoothie tastes so good. It is sweetened with maple syrup, which has actually been shown to boost your immune system. This dessert contains anti-inflammatory ginger, antioxidants from the pumpkin, fiber from the oats, and healthy fats from the chia seeds. This smoothie is perfect for the upcoming fall when you are more likely to be indulging in other, unhealthy desserts.
Ingredients:
(makes 4 cups)
2 cups almond milk
1/2 cup rolled oats
2 tbsp chia seeds
1 cup canned pumpkin
1/2 tbsp blackstrap molasses
1 frozen ripe banana
2 tsp cinnamon
1/2 tsp ground ginger
1/4 tsp ground nutmeg
1 1/2-2 tbsp pure maple syrup
Coconut Whipped Cream, for garnish
Directions:
In a medium-sized bowl whisk together the milk, oats, and chia seeds. Place in fridge for 1 hour or preferably overnight. Add soaked oat mixture to blender along with the pumpkin, molasses, frozen banana, and spices. Blend until smooth. Add about 5 ice cubes and blend until ice cold. Add maple syrup to taste. I found 1.5 tbsp was perfect for me. Serve with Coconut Whipped Cream and a sprinkle of cinnamon on top!
You don't have to feel guilty about eating desserts anymore when you eat ones as nutritious as these! I believe that everything should be consumed in moderation, but as far as daily-basis desserts go, these are the perfect treat. They are all so naturally sweet, creamy, and filling too. What is your favorite healthy dessert that doesn't taste healthy?
Sources: greenthickies.com, mymostlyhealthylife.com, nutritionistinthekitch.com, damyhealth.com, ahealthyjalapeno.com, averiecooks.com, myshineproject.com, shugarysweets.com, ohsheglows.com
{{#comments_count}} Show Commnents ({{comments_count}}) {{/comments_count}}