These coffee-infused recipes will not only save you money, but they will also save your health. You probably know that the Starbucks drinks are packed with sugar and are not healthy if consumed on a regular basis. Even if you use the artificial sweeteners (light versions), that can lead to problems down the road if you drink it in excess. I'm all for balancing your diet and having the occasional Starbucks, but consuming one everyday has other costs too – they cost about 5 dollars each! The coffee-infused recipes I'm about to share can be for regular-basis consumption. They are all healthy, cheap, and most importantly, delicious. You won't even miss your daily Starbucks!
---
1

Coffee Ice Cream Sandwiches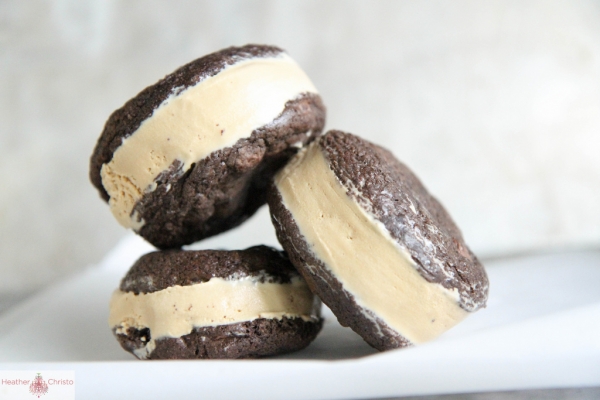 Ice cream sandwiches are perfect summer desserts. This is one of the coffee-infused recipes that tastes like a dream come true. The coffee-flavored ice cream goes excellent with the sandwich part, and will make you wonder why you've never thought of putting the two together. Making an ice cream sandwich at home may sound difficult, but it's really not! This recipe is dairy-free and egg-free, too.
Ingredients:
1 flax egg (1 Tbsp flaxseed meal + 2 Tbsp water)
1/2 cup unsweetened almond milk
1 tsp white vinegar
1/3 cup raw sugar (I used turbinado)
1 tsp vanilla extract
3 Tbsp melted coconut oil
1/2 cup oat flour (finely ground rolled oats)
scant 1/2 cup whole wheat pastry flour
1/4 cup unsweetened cocoa powder
1 teaspoon baking soda
pinch sea salt
1/4 cup dark/semisweet chocolate chips or chopped bar (non-dairy for vegan)
Coconut coffee ice cream or other coffee-based ice cream
Directions:
Preheat oven to 350 degrees F and lightly coat a baking sheet with non-stick spray. Prepare flax egg by mixing flax and water in a large bowl. Set aside. Measure out almond milk in a liquid measuring cup and add vinegar. Let set for a few minutes. Add the sugar, melted coconut oil and vanilla to the flax egg and beat. Add almond milk and beat again. Add remaining dry ingredients to a sifter and sift over wet ingredients. Beat until well combined. Add chocolate chips and fold in until just combined. Spoon 1 Tbsp measurements of batter onto the greased baking sheet (leaving a small space in between cakes) and spread around and flatten a bit – you don't want mounds, but rather discs. Bake for 10 minutes. Remove from oven, let set on tray for 5 minutes, then carefully transfer to a cooling rack to cool. Once cooled, pop the cookies in the freezer to harden so they're easier to work with. In the meantime, set your ice cream out so it begins to soften – about 15 minutes. Once soft, use an ice cream scoop to scoop out 8 large balls of ice cream onto squares of plastic wrap. Fold the plastic wrap around the balls and squash them into thick discs. Twist off tops to cover and place back in the freezer to harden – about 30 minutes. Once frozen, remove chocolate cakes and the ice cream discs from the freezer and carefully plop the ice cream on the top of one cake (face down) and then top it with another cake (face up). (SAVE the plastic wrap). Use both hands to carefully press the cake together around the ice cream, then place in a baking dish, re-wrap with squares of plastic wrap, cover with a lid and pop back in freezer. Will stay fresh for up to a week.
---
2

Carob, Banana and Coffee Oatmeal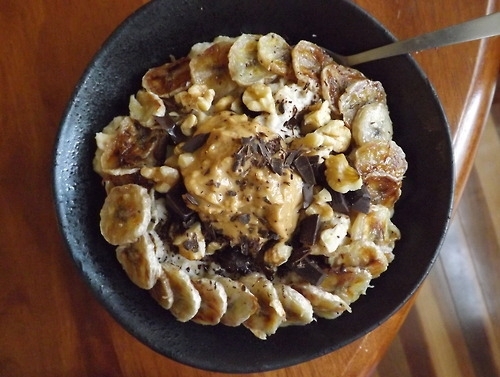 If you've got a sweet tooth, especially in the morning, give this tasty sweet recipe a go!
Ingredients:
1 serving rolled oats
1 small banana, sliced
1/2 cup of your favorite coffee, warm
Carob shavings
Directions:
Prepare the oatmeal according to the directions on the container, then stir in the warm coffee. Top with sliced bananas and the carob shavings, and a little almond milk if you like. When the carob shavings melt into the coffee, your sweet tooth will be totally satisfied, and you'll still get a healthy dose of tummy-satisfying fiber.
3

Turkish Coffee Ice Cream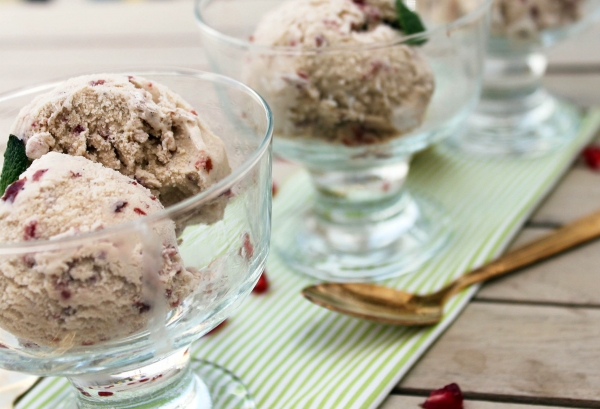 I love the fact that this ice cream is completely free of dairy. It also only has 7 ingredients, making it a cheaper choice than one with more ingredients. If you do not have arrowroot powder, you can always try cornstarch or another thickener. Coffee-flavored ice cream is so delicious plain, but you can also use this recipe for the ice cream sandwiches I listed before if you can't find it at the store.
Ingredients:
3 Cups Plain Non-Dairy Milk
3/4 Cup Granulated Sugar
2 Tablespoons Arrowroot
3 Tablespoons Instant Coffee Powder
1 Tablespoon Finely Ground Coffee Beans
1/4 Teaspoon Ground Cardamom
Pinch Salt
Directions:
Whisk everything together in a medium saucepan, beating thoroughly and scraping the corners of the pot to ensure that there are no lumps whatsoever before turning on the heat to medium. Cook, whisking every few minutes, until the mixture comes to a rapid boil, and immediately remove from the stove. Chill for at least 3 hours, until completely cold, before churning according to your ice cream manufacturer's instructions. Transfer into an air-tight container and stash in the freezer for at least 3 hours before scooping and serving.
---
4

Healthy Java Chip Frappuccino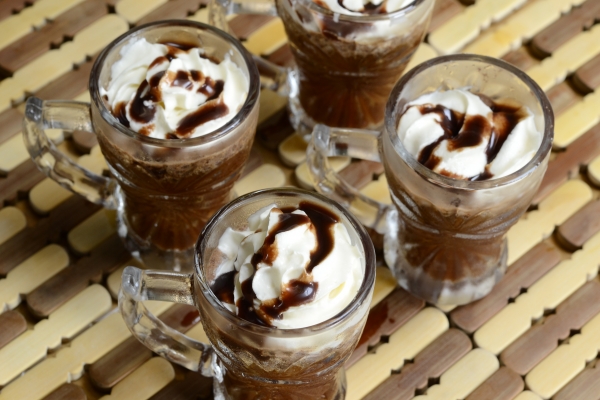 If that picture doesn't make you drool, I don't know what will. It looks so delicious, and it tastes even better than it looks (if that's possible)! This recipe is so much better than the kind you will buy at Starbucks, so please do yourself a favor and make this. It also contains only natural sweeteners, fruit for fiber, and nuts for healthy fats too. The coconut whipped cream and chocolate drizzle take this recipe over the top, in a good way.
Ingredients:
1 cup strong coffee (chilled)
1/2 cup hazelnut or almond milk
1 frozen banana, chopped into ice-cube size chunks
1 medjool date, pitted
2 TBSP cocoa powder
1 tsp vanilla extract
1/4 cup raw cashews (soaked 2 hours) or 2 TBSP cashew butter
pinch of salt
1 TBSP cacao nibs or chocolate chips
For the coconut whipped cream:
1 (13.5oz.) can full-fat coconut milk, refrigerated overnight
2 to 3 teaspoons agave nectar or other sweetener
seeds from 1 vanilla bean
For the chocolate drizzle:
2 tablespoons melted coconut oil
1 1/2 tablespoons cocoa powder
1 tablespoon agave nectar
pinch of salt
Directions:
In a blender combine all of the ingredients except for the cacao nibs and blend until smooth. Add the cacao nibs and pulse for a few seconds to break the nibs into tiny chocolate flecks. For the coconut whipped cream, scoop the cream from the top of the can of coconut milk, reserving the coconut water at the bottom of the can for other uses. Using a hand mixer or stand mixer with the whisk attachment, whip the coconut cream until smooth and fluffy. Add sweetener and vanilla seeds and continue to whip until incorporated. Refrigerate until ready to use. For the chocolate drizzle, whisk all drizzle ingredients together in a small bowl until well combined and smooth. To serve, divide the Frappuccino between 2 tall glasses and top with coconut whipped cream and chocolate drizzle. Serve immediately.
---
5

Mexican Mocha No-Bake Cookie Balls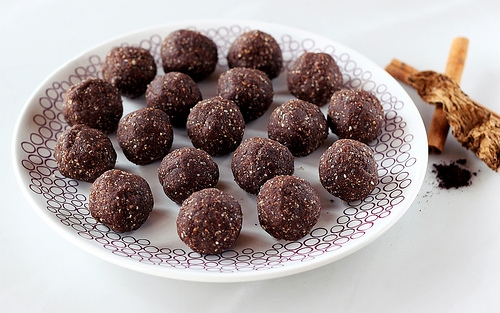 There are no grains in this recipe and it is also refined sugar-free and vegan. It is bursting with healthy fats from the almonds, coconut, chia seeds, and cashews. If the health aspects aren't enough to get you, consider the fact that these taste amazing! They are little chocolate-coffee energy balls that make a great pre-workout snack. I don't think you can go wrong with anything chocolate and coffee, am I right?
Ingredients:
1 /2 cup raw organic cashews
5-6 medjool dates, pitted and chopped
1/2 cup blanched almond flour (I like Honeyville)
1/4 cup coconut flour
2 tablespoons cocoa powder
1/2 teaspoon ground cinnamon
1 tablespoon chia seeds
dash or two of ground chipotle powder (optional)
1/2 – 1 teaspoon instant Espresso powder
1 tablespoon vanilla extract
Directions:
Add the cashews and dates to your food processor and pulse a handful of times until it becomes a chunky crumble. Add in the almond flour, coconut flour, cocoa powder, spices, espresso powder, chia seeds and vanilla. Process until it is a fine crumble, almost sand-like. Roll the mixture onto ball and place on a parchment paper lined baking sheet. Refrigerate for 30 minutes or so to firm them up.
---
6

Chocolate Brownie Batter Blizzard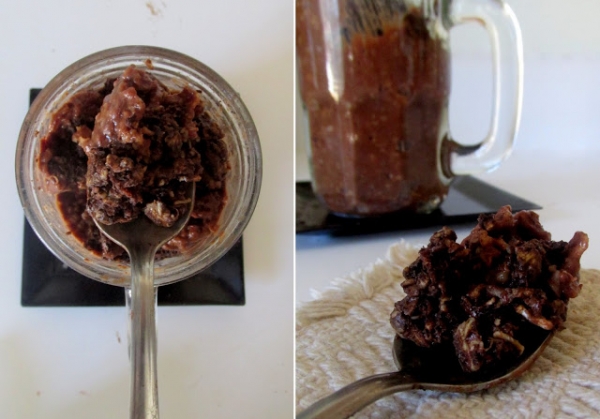 This recipe for a brownie batter Blizzard is completely dairy-free. It contains antioxidants from the strawberries and cocoa, potassium from the bananas, and healthy fats from the almond butter. However, this recipe does not taste healthy at all. It tastes like a creamy, smooth, decadent milkshake filled with espresso brownie chunks. Of course, you can just eat the espresso brownies plain, but I don't see how you can resist making this delicious blizzard.
Ingredients for two:
2 frozen ripe bananas, chopped prior to freezing
⅓ cup frozen strawberries
2-3 heaping Tbsp cocoa OR cacao powder
1 heaping Tbsp salted almond butter
1 – 1 1/2 cups unsweetened vanilla almond milk (sub soy or coconut)
dash of stevia or agave nectar (depending on sweetness of bananas)
⅓ cup ice
2 5-minute espresso walnut brownie, crumbled (recipe below)
Directions:
Place all ingredients EXCEPT brownies in a blender and blend until smooth. If you prefer a sweeter shake, add more stevia or agave. If you prefer it thinner, add less ice OR more almond milk. Divide between two serving glasses and layer with brownie crumbles. Serve immediately or freeze, covered for later.
For the 5-Minute Espresso Walnut Brownies...
Ingredients:
1 1/2 cups raw walnuts, divided
1 cup raw unsalted almonds, roughly chopped
2 to 2 1/2 cups Medjool or Deglet Nour dates, pitted
3/4 cup cocoa powder OR raw cacao if you have it
1-2 tsp espresso powder or finely ground coffee (depending on preference)
pinch sea salt
Directions:
Place 1 cup walnuts and 1 cup almonds in food processor and process until finely ground. Add the cocoa powder or cacao, espresso powder and sea salt. Pulse to combine and then transfer to bowl and set aside. Add the dates to the food processor and process until small bits remain. Remove from bowl and set aside. Add nut and cocoa mixture back into food processor and while processing, drop small handfuls of the date pieces down into the food processor spout. Process until a dough consistency is achieved, adding more dates if the mixture does not hold together when squeezed in your hand. Add the brownie mixture to a small parchment lined cake pan or loaf pan and add remaining 1/2 cup roughly roughly chopped walnuts. Toss to combine and evenly distribute, and then press down with you hands until it is flat and firm. Place in freezer or fridge to chill before cutting. Store in an airtight container to keep fresh. Will keep in the fridge for at least 2 weeks and in the freezer for at least 2 months.
---
7

Baked Espresso Banana Donuts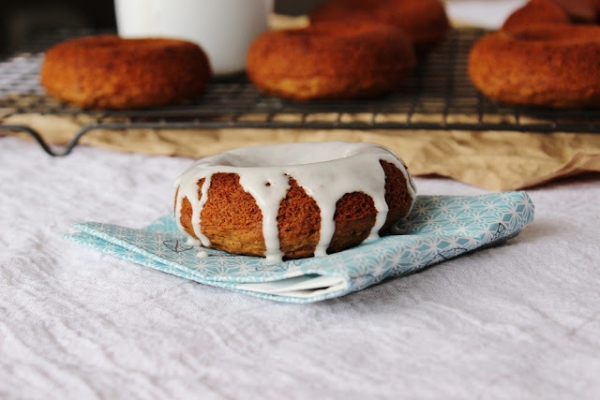 It is no surprise that coffee goes great with chocolate. However, this recipe does not contain any chocolate at all. It does, however, contain bananas. Bananas surprisingly pair excellently with coffee, making these donuts the almost perfect breakfast. Just imagine coffee-infused banana bread with slight notes of coconut and warmed into a fresh donut. Oh, and these donuts aren't your typical fried donuts. They are actually baked and completely healthy, made from whole grain flours and bananas.
Ingredients:
1/4 cup sorghum flour
1/4 cup brown rice flour
1/4 cup oat flour
1/4 cup arrowroot flour
1 tsp baking powder
1/4 tsp baking soda
1/4 tsp sea salt
1 tsp espresso powder
1/2 tsp cinnamon (optional)
1/4 tsp ground ginger (optional)
1/2 tsp flaxmeal
1/3 cup sucanat (or sugar of your choice)
2 tbsp safflower oil (or oil of your choice)
1/4 cup coconut milk
1/2 cup mashed ripe banana (about 1 small banana)
Directions:
Preheat your oven to 400 degrees and grease a standard doughnut pan. Mix together the banana, oil, coconut milk, and sucanat until smooth and combined. In a separate bowl, whisk together the remaining ingredients until combined, then add to the wet ingredients. Stir in the dry ingredients until a smooth batter forms. It may look slighly lumpy depending on how well you mashed the banana. Spoon the batter into the doughnut molds, making sure to only fill them up 2/3 to 3/4 full. Smooth out the batter in each mold. Bake the doughnuts for 12 to 15 minutes until they are puffed, golden, and pulling away from the sides of the pan. A tested inserted into the middle should come out clean. Cool the doughnuts for about 10 minutes in the pan before un-molding them. Makes 6 regular doughnuts.
---
8

Almond Café Mocha Green Monster Smoothie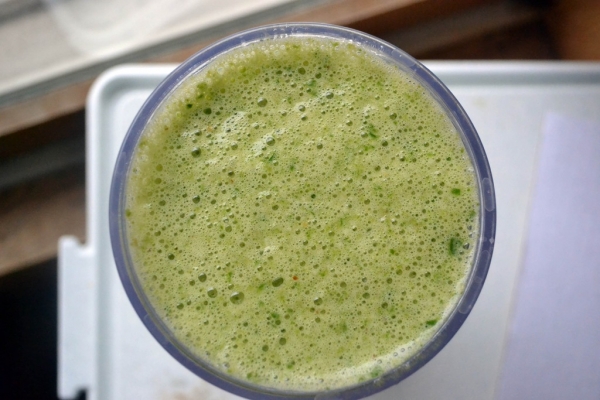 This recipe has it all. It's cheap, delicious, healthy, and only has 7 ingredients. Don't be turned off by the fact that it's green. I promise you, you won't even taste it because it will be overpowered by the other yummy ingredients! Aside from the looks of this smoothie, it tastes just like a Starbucks blended drink. The only difference is this one is healthy and bursting with nutrients from greens, bananas, and almonds.
Ingredients:
1 cup vanilla soy milk
1 1/2 cups baby spinach
1 frozen banana
1 tablespoon honey
1 cup coffee, brewed and chilled
pinch of cocoa powder
10 almonds
Directions:
Put in a blender and puree until smooth.
---
9

Chocolate Espresso Chia Pudding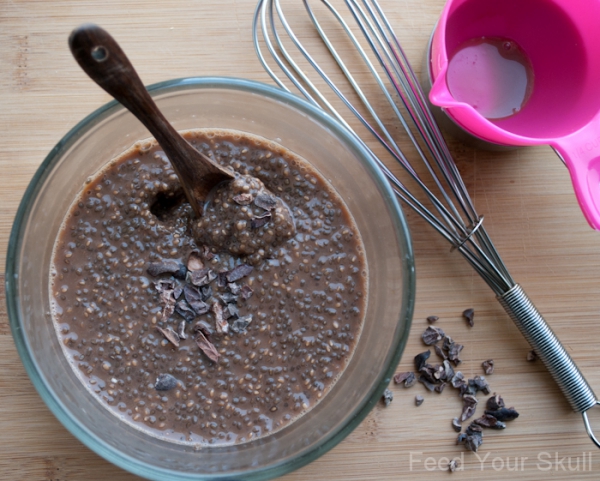 Chia pudding is so delicious and filling, and this recipe takes it to another level. Chia seeds are gaining popularity lately, and for a good reason – they are packed with healthy fats, protein, and fiber. They also absorb liquids quickly, so when combined with milk they turn into a pudding-like consistency. It is also cheap, containing only 3 to 5 ingredients! It is so simple to make, and tastes like something you would get at a coffee shop. This recipe is grain-free, vegan, sugar-free, and soy-free!
Ingredients:
2 tablespoons chia seed (I order mine from nuts.com)
1/4 cup coffee
1/4 cup chocolate almond milk
cacao nibs for garnish and extra pow! (optional)
1 TB agave or natural sweetener (optional - Jeremy liked it with Agave & I liked it plain) :)
Directions:
In a small bowl add ingredients and mix with a whisk for about 1 minute. Then let sit for 10 minutes while you shower, read, write this post, etc. Enjoy!
You can kick your expensive coffee habit once and for all by incorporating these delicious recipes. Even if you don't buy Starbucks every day, these recipes are delicious, healthy additions to any diet. What is your favorite recipe to include coffee in?
Sources: minimalistbaker.com, allaboutveganfood.com, veganculinarycrusade.com, tasty-yummies.com, minimalistbaker.com, sweetmiscellany.blogspot.com, mybizzykitchen.com, and feedyourskull.com
More
---
Comments
Popular
Recent