26 Yummy Chocolate Truffles to Satisfy Any Craving ...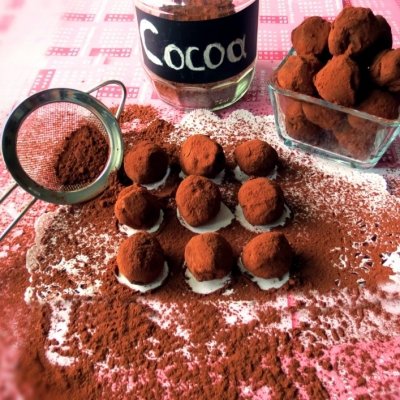 What could be more decadent than a couple of chocolate truffles? Not a whole lot if you ask me! The good news is that they are super easy to make and are yummy treats for any occasion. Or just when a chocolate craving strikes. There are so many ways to make chocolate truffles, so you are sure to find a few that are your favorites. It's going to be hard though. Get a load of these yummy options and you'll want to try at least one of each.
1.

Caramel Truffles

Via Caramel Truffles
There's nothing better than chocolate truffles that have gooey caramel inside. Yum!
2.

Banana Bread Chocolate Truffles

Via 65 Paleo Dessert Recipes
If you've never had banana bread combined with chocolate, you haven't lived! Seriously!
7.

Keep It Simple

Via Easy Chocolate Truffles
Of course, there's nothing wrong with a simple bowl of truffles either.
8.

Chocolate Bacon Truffles

Via Chocolate Bacon Truffles
A bit of crumbled bacon on top of your chocolate truffles is a trendy new idea that you might just love.
9.

Make a Lot

Via bloglovin.com
You better an absolute ton of truffles because they are going to be popular.
10.

Colored Sprinkles

Via Bake at 350: flavor-of-the-month
A dusting of colored sprinkles on top of your truffles adds some fun and flair.
13.

Chocolate Peppermint

Via Chocolate Peppermint Truffles
The mixture of chocolate and peppermint is a seasonal treat that you'll love at Christmas time.
14.

Truffles, Truffles and More Truffles

Via Truffles, Truffles and more Truffles
A mixture of various toppings makes for a tasty presentation when you lay out the truffles.
25.

Grand Marnier Truffles

Via Grand Marnier Truffles - Chocolate ...
Don't these little gems look tasty? I'd have a hard time not eating them all.
26.

Nutella Truffles

Via Nutella Truffles
For a really tasty treat, add Nutella or other similar creams to your truffles. You will not be sorry!

Don't you think truffles are a pretty gourmet treat? I plan to make loads of them with my kids this holiday season. Do you see a new favorite on this list?

{{#comments_count}} Show Commnents ({{comments_count}}) {{/comments_count}}